It's been a tightly-guarded secret for months, but we can finally unveil our cover star for the launch of MAXIM New Zealand. Welcome, Sarah. You're welcome, gents…
Congrats on being our launch issue cover girl for MAXIM NZ! Tell us a bit about your shoot. Are there any other funny anecdotes you can share about this shoot?
Always, it's me. haha the most bumble footed girl you'll ever meet. So I was getting changed behind a towel I hung over a tree andddd I fell through my bottoms and face planted on the sand infront of a family. Classic Sarah move.
When do you feel sexy and why?
I feel most sexy when I'm dolled up, ready to go out. I feel like I'm such a gym leggings, hair up girl these days so it's nice to get pretty once in a while and have an awesome time!
What is your best asset? Physically and otherwise.
Haha love that, I would say my best assets would be humility and honesty, physically I would say my face!
Give us a little more background about yourself and your life story so far.
Well, I'm originally a small town farm girl, fast forward to uni and I gained a scholarship for applied science… things took a different turn and I ended up modelling for a few years. Now I own two companies, Sachii watches and Leflex fitness with my partner and am focusing more on business than anything else right now! Speaking of we're currently working on something new… stay tuned!
What would people be most surprised to know about you?
Typically when I meet people off social media they're shocked to know I'm so weird and quirky, that and probably that I hate avocados… that seems to upset a lot of people. Haha.
How would you describe yourself in five words?
Quirky, honest, motivated, reliable, loud
How long have you've been modelling and what would do if you weren't modelling?
I've been modelling on and off now for four or five years, If I gave up modelling completely I would focus on our businesses and dabble in YouTube a bit more!
What have you learned about men over the years?
I've learned a lot, on social media you guys need to stop sending dick pics! Seriously?! Off social media I've learned that men seem to tell white lies in the hope they won't hurt you, but all I can say guys is be honest. It hurts less in the long run!
What's one thing men should always know about women?
That we love clean, confident men but not arrogant. There's a fine line I know, but if you can ace the confident yet kind man you'll do well.
What do you look for in a man?
Someone that's a little weird, loves travel and is goal driven.
Describe your ideal date.
Beach picnic with a bottle of wine and some rotisserie chicken and buns. Maybe some cheese too!
What can we get you at the bar?
I love a good Sav, or whiskey and ginger ale is a go to!
Got a hangover cure?
Hawaiian pizza from Pizza Hut! I know I know, I'm not five. I shouldn't like pineapple on pizza.
What's your best hidden talent?
Serious one would be drawing, I won artist of the year in New Zealand when I was younger. Funny one would be I can make basically any animal noise pretty good. Is it a talent? Probably not, but it makes people laugh.
Do you have any phobias?
Yes! Heights. To the point I lock up and vomit, I'm going sky diving this year so that should be fun.
Who is your girl crush and why?
Where do I start? Fellow MAXIM model Renee Somerfield. She's so kind when I post for her swimwear and she's the biggest babe out!
What's the freakiest/weirdest thing someone has sent you via social media?
Probably too much info, but a guy dressed his penis up in a ginger wig and put googly eyes on it once. I don't think I've ever been the same since. Mentally damaged forever!
What is your motto in life?
To roll the dice and do what you want no matter how big the risk. You should never do what you think will make your family and friends happy as in the end they're going to be a lot happier seeing you do what you love!
What's next for you? Any exciting projects on the horizon you can share with us?
Yesss! Launching two new watch lines this month and starting another venture later this year but it's top secret for now!
Finally, where would you like to be in five years?
It's funny reading back over my last MAXIM interview and seeing the difference to where I'm at now just a year later! In five years I hope to be married, have saved 10,000 dogs through our watch company (we donate $10 from every sale to the soi dog foundation). In five years I also hope to have bought my mum her dream place, along with our second home!
STATUS UPDATE
FULL NAME: Sarah Harris
HOMETOWN: Wanganui, New Zealand
BORN: 04th December 1993
INSTAGRAM: @iamsarahharris
TWITTER: @iamsarahharris
FACEBOOK: @sarahharrisofficial
PHOTOGRAPHER: Lescablair
HAIR AND MAKE-UP: Sammy Morris from Morris & Co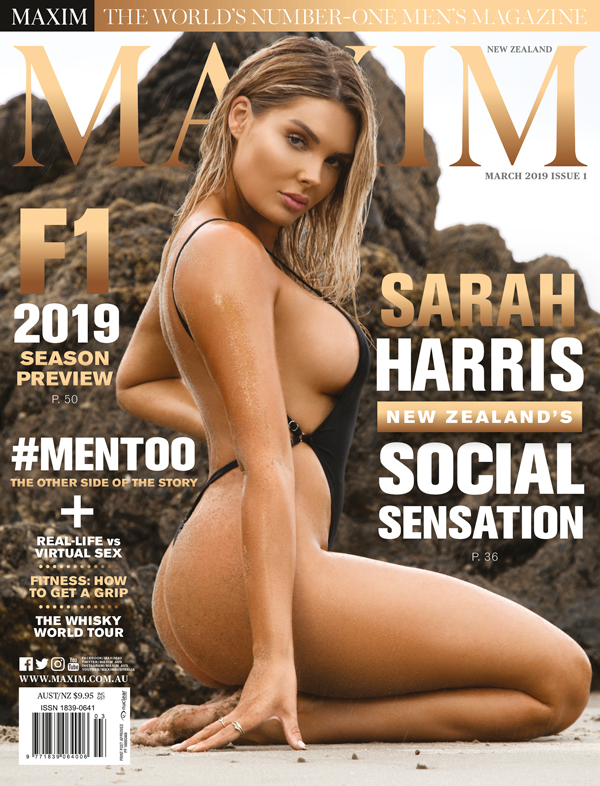 For the full article grab the March 2019 issue of MAXIM New Zealand from newsagents and convenience locations. Subscribe here.