New year, new season, new opportunities — yep, the 2018 Formula One season is expected to be a thriller and MAXIM gets you up to speed with the paddock rumblings…
Formula One 2017 was arguably the pinnacle of motorsport's most exciting season since the start of the turbo-hybrid era in 2014, and for very good reason. It had it all. A heated battle between two multiple F1 World Champions, action throughout the field and a multi-million dollar startline crash at the milestone 10th edition of the Formula 1 Singapore Grand Prix, which was voted by fans as its most dramatic moment.
It was also a breath of fresh air. For the first time in F1's turbo-hybrid era, we saw Mercedes under big pressure from the opening round in Australia, chased from lights out by a resurgent Ferrari, and later on in the year Red Bull Racing, when its performance and reliability issues were sorted. The result was an incredible battle for the world championship, between two men at the top of their games. Mercedes' Lewis Hamilton eventually defeating Ferrari's Sebastian Vettel for his fourth crown, the Brit becoming just the fifth driver in the sport's 68-year history to do so.
"Four is a great number, it is part of my racing number 44 but I want five now," said Hamilton, his aim to equal the late, great Juan Manuel Fangio. "Just the other day, I was reminiscing about growing up in Stevenage [England] and watching TV and dreaming about being in F1. Here we are, 25 years [on] or whatever it is and I'm four-time world champion." And while it seemed easy for Hamilton in the end, the Brit sealing his crown in Mexico care of nine wins, and points at all 20 rounds (something only Michael Schumacher and Fangio managed in their world title years of 2002, and 1954 and 1955 respectively) — the painful reality was that Ferrari also dropped the ball, as did Red Bull Racing with its second-straight slow season start. That bodes well for 2018, with both rivals hell-bent on making fewer mistakes, winning more — and finally toppling Mercedes' dominance.
THE DRAMA
There's no doubt about it, F1 had some cracking races last year, with Hamilton and Vettel scoring three victories apiece from the first seven events. Mercedes' new recruit Valtteri Bottas stayed ice-cool under pressure from Vettel in Sochi, Russia, to score his maiden Grand Prix win — a tally that he'd add to with more hard-fought wins in Austria and Abu Dhabi. Vettel, however, soon showed his weakness — crumbling when everything was on the line, certainly not what you'd expect of a four-time F1 World Champion. In Azerbaijan, the German deliberately crashed into Hamilton, after he thought he'd been brake tested under the safety car. Vettel was lucky to get away with a 10-second stop-go penalty and three penalty points on his licence (yes, even F1 drivers have them, 12 points and you get a one-race ban).
"The worst feeling I had [was] after Baku, just because I think I sort of ruined the race with something unnecessary, so I struggled with that," said Vettel, who can also match Fangio this year with a fifth world title, his first for Ferrari. The big moment, however, was in Singapore during the first-ever wet race start in Marina Bay, the heavens opening for the 10th edition of the event. On the run to the first corner, polesitter Vettel immediately cut across the track, sandwiching Red Bull Racing's Max Verstappen and his Ferrari teammate Kimi Räikkönen, forcing all three cars to dramatically collide in a multi-million dollar carbon fibre crunch, and retire on the spot. Incredibly, it was the first time in history both Ferraris were out of a race at the first corner. It was that big a deal, and a titanic blow to Vettel's title aspirations. He had arrived in Singapore three points adrift of Hamilton – and left 28 points down (more than a race win). The shockwaves were immense, and immediate.
"The race that made me jump out of my chair was Singapore," exclaimed Nigel Mansell, 1992 F1 World Champion. "That was the defining moment of last year. Mercedes weren't favourites to win that GP and it was handed to Lewis on a plate."
Singapore, though, will continue to focus the bodies and minds of the drivers ahead of the season-opener in Australia, as the ultimate benchmark for fitness — to tackle the toughest race on the calendar. For the fans, it's an epic experience with constant racing action care of F1 and other exotic machinery, trackside parties, race-themed activities, and loads of live performances from some of the world's biggest music acts. Last year's 10th edition line-up was one of the best-ever, with headline acts including global DJ sensation Calvin Harris, pop superstar Ariana Grande, synth-pop veterans Duran Duran, US pop rockers OneRepublic, American DJ duo The Chainsmokers, British singer-songwriters Seal and Lianne La Havas and spoken word performer George the Poet. The 2018 line-up is yet to drop.
For the drivers, it's a completely different experience as a brutal test of fitness and endurance, given the need to withstand cockpit temperatures reaching 55 degrees Celsius at racing speeds, made only worse by three layers of fireproof clothing and a helmet. So it's no surprise the drivers will lose up to 3kg in fluid over a two-hour period, with Australian F1 driver Daniel Ricciardo admitting he'll easily sink 5-litres of water straight after the race. "You feel the heat when you're in the car, but when you stop after the race and the adrenaline decreases you feel it even more," he says.
THE CHANGES
Change is inevitable in F1, and 2018 is no different. On-track, we're expecting a three-way fight at the front with Mercedes and Ferrari to be challenged by the now Aston Martin-backed Red Bull Racing from the opening round in Australia — where Daniel Ricciardo will be the focus. It's a crucial campaign for the Perth-born driver, who is in the final year of his contract with Red Bull — and knows the next one he inks is crucial to his world title hopes so must show strongly against his teammate Max Verstappen, who outqualified him last season 13-7.
Behind the top three, the brutal midfield battle will be white-hot, likely led by Force India, and its combative pairing of proven gun Sergio Pérez and highly rated young driver (and Mercedes protégé) Esteban Ocon. From there, only pre-season testing will give us a clue — with Williams running two inexperienced young drivers in Lance Stroll and Russian Sergey Sirotkin; McLaren powered by Renault after splitting with Honda; Renault's own works squad on the rise care of a strong driver pairing in Nico Hülkenberg and Carlos Sainz; and Toro Rosso running Honda engines, and two young drivers in Pierre Gasly and Brendon Hartley.
American squad Haas has retained Romain Grosjean and Kevin Magnussen for stability in its third year, while Swiss outfit Sauber has a new title partnership with Italian marque Alfa Romeo, and will run F1's top rookie prospect Charles Leclerc (a future Ferrari driver in the making) alongside Marcus Ericsson.
Hardcore fans will need to check their watches, with new timings for all of the races to try and snag a bigger international audience — every Grand Prix will now start at 10 minutes past the hour. For European races, including F1's return to Germany and France, check timings, with 10pm no longer the standard start time. Finally, the sport has made a bold move and given up on the use of grid girls, with grid kids — young racers competing in karting or other junior categories — replacing them. Yes, it's contentious, but at least the cars still have plenty of sex appeal.
THE HALO
It's a piece of carbon fibre-wrapped titanium that has the whole world talking. The new Halo cockpit protection device will be fitted to every F1 car this year — the wishbone-shaped part providing a semi-circular ring of protection around the driver's helmet. It's been designed and tested by the sport's governing body, the FIA, to deflect debris away from the car and further protect the drivers. And it has come to the sport as a result of fatal crashes caused by flying debris (such as carbon fibre), like Justin Wilson in IndyCar in 2015.
But the Halo has divided the sport, even before its race debut, with many saying it changes F1's DNA of open cockpit, open wheels. Regardless, Halo's safety benefits are huge — for not only is it able to withstand 15 times the static load of the full mass of the car; it significantly increases net protection against small debris. Importantly, visibility for drivers (cockpit view) is also substantially unaffected. At the time of writing, no cars had launched with the device — but it's expected that the Halo will be styled aerodynamically and with colour to blend in better, ensuring a futuristic look for 2018-spec cars.
2017's MOST DRAMATIC MOMENT: The Formula 1 Singapore Grand Prix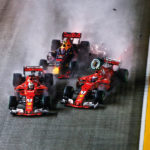 It had never rained during the first nine years of the sport's spectacular, original night race, the Formula 1 Singapore Grand Prix.
But as the start time neared (8pm local time, 10pm AEST) for the milestone 10th edition of the race last year, rain started falling and waves of excitement spread through the made-for-Instagram Marina Bay Street Circuit — this was going to be a historic moment, and a real unknown for the world's finest racing drivers.
The crash, as Scuderia Ferrari's Vettel sandwiched Räikkönen and Verstappen, was epic as the trio dramatically smashed into each other — catching McLaren's Fernando Alonso in the process. The rest of the field scattered to avoid them, the tail-end blasting at speed past the multi-million dollar crash scene. Naturally, the blame game between drivers started immediately.
"My start was a little bit better than Seb and I think he saw that so he tried to move to the left to squeeze me out of the line a bit but he did not know Kimi was on my other side," Verstappen said. "I think it wasn't the smartest move and you can't make excuses for it when you are fighting for a world championship." Vettel was far more confused, shifting the blame with, "I had an average start and then I moved slightly to the left trying to defend my position from Max," he explains. "Then I got bumped on one side as Kimi's car hit me. I'm not sure what happened."
Want to catch the first corner action at Marina Bay this year? Book your trip to the 2018 Formula 1 Singapore Grand Prix. Aussies flock to the event every year, with Ricciardo always competitive there and the event the perfect way to shrug off the post-winter blues care of balmy nights, racing under lights, trackside parties and a number of top international artists performing on stage. It's also very easy to do on any budget with single-day walkabout tickets starting from just S$128 (approximately AUD$122), with early bird prices available until May 8th), and plenty of affordable accommodation, both in and around the city.
■
BY STEWART BELL
For the full article grab the March 2018 issue of MAXIM Australia from newsagents and convenience locations. Subscribe here.