ASTON MARTIN V12 VANTAGE S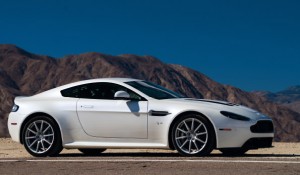 Spec Check
Engine
6.0 litre V12
Power
422kw
0-100km/h
3.7 seconds
Top Speed
330km/h
Release Date
Now
Price
$389, 300
Aston Martin's fastest-ever production car is here and it also happens to be the most explosive piece of machinery the wizards at Aston have ever conjured from their car-building cauldron. The principle is simple: squeeze your biggest, noisiest 6.0L V12 into your shortest chassis, then put it on a carbon fibre diet to starve it of speed-stifling weight.
It's a beautiful beast that sees sleek body lines meld into an aggressive front grille, with four greedy bonnet vents letting you know this is an Aston with a score to settle.
TOP GUN
The Vantage S's interior is a dark, foreboding, compact affair brimming with auto fetishist swag and tech. With a wheel and front facia maxed out with enough kit to unnerve a jet pilot, the console centrepiece has to be the menacing Sport button. One poke injects roids into the Aston's throttle response, gearshift speed, and engine note.
RISING DAMP
A first for the Vantage family is a 'controllable damping system', which is the techie term for 'totally tweak the car's performance'. Choose Track, hit the Sport button, and this Aston goes from sophisticated sporty gent to an outright racing hooligan. Awesome.
CARBON FOOTPRINT
It's all very well belonging to that exclusive 320km/h club, but if you can't stop quickly enough things are going to get very hairy. Fortunately, this Vantage comes clad in F1- inspired carbon fibre boots – ideal for dragging you back to a more law-abiding rate of knots.
Porsche Cayman S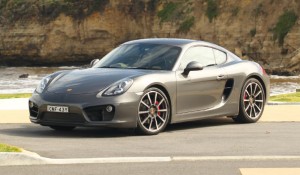 Spec Check
Engine
3.5 litre six-cylinder petrol
Power
239kW
0-100km/h
5.0 seconds
Top Speed
283km/h
Release Date
mid-2014
Price
139,900
At 6,000rpm, it's hard not to LOL in excitement as the rev needle rushes toward redline. Behind the steering wheel of this pint-sized sports car is an enviable position indeed. Said wheel feels directly connected to the front rubbers, despite the new electric steering system, which can often numb the experience. Acceleration is potent and linear, with the drivetrain available in a six-speed manual or seven-speed dual-clutch automatic. The manual gearbox tested is the definition of engineering perfection, with notchy and tight shifts. There's even a feature that rev-matches on downshifts automatically — it's the ultimate ego-booster.
For the full feature and images grab the March 2014 issue of MAXIM.
To grab a digital copy CLICK HERE. All past issues available for download.
To subscribe CLICK HERE. Australian residents only.
iPad Application also available. CLICK HERE. All past issues available for download.