Stunning model, Ashley Malon makes her MAXIM debut
Tell us a bit about your shoot
It was a beautiful sunny morning at Maroubra beach in Sydney, a few days before Australian lockdown. We knew it was our last chance to shoot together for a while. Maroubra has something magical about it. I always wanted to shoot there, but the shoot with Rocky was on a different level. He's got a great style. He really connects and pulls the story together. I hope we have more shoots ahead!
Are there any other funny anecdotes you can share about this shoot?
Yes. I knew that Rocky was a regular photographer for MAXIM Australia and MAXIM New Zealand. During the shoot I was joking around and telling him it was always my dream to be a cover girl for MAXIM. A few weeks later I got a call from him that he had submitted our images to MAXIM and later on I got approached by MAXIM New Zealand to be their May cover girl! I will never forget that day!
Have you ever been to New Zealand?
No, I haven't. I'd love to visit New Zealand. I dream about going nearly every day. I was planning a trip to Queenstown this June but it got pushed back to next year due to the Coronavirus situation.
Where else in NZ would you like to visit?
I'm crazy about snowboarding andNew Zealand's mountains are a snowboarder's paradise. So definitely Cardona, Coronet Peak and Treble Cone. They are on my bucket list!
When do you feel sexy and why?
I feel sexiest when I'm pushing my body to the limit. I'm a fitness guru. Getting moving and training and feeling my body work to its maximum always makes me feel alive. Yes I'm sweaty and exhausted but that endorphin feeling kicks you to a different level! That boosts the sexy feels for sure! What also makes me feel sexy is new lingerie, a great lipstick, a hot bath, a massage and firemen. 😀
What is your best asset? Physically and otherwise.
I've been told I have sexy body. But my favourite asset is my eyes. They are a brown-green shade.
Give us a little more background about yourself and your life story so far.
I was born in Prague, Czech Republic and both pf my parents are Czech. Besides modelling I was a professional dancer for eight years back in Czech Republic. After graduating University I moved to Sydney to get a new direction, new opportunities, new lifestyles, new careers. Sydney has gotten my heart and I've never left since. I fell in love with fitness and became a personal coach. I want to show all of you how to get your dream body, be healthy and celebrate the success together. If I did it you can do it too!
What would people be most surprised to know about you?
My real name is Jana. 🙂
How would you describe yourself in five words?
Loving,optimistic, positive, night owl and energetic. I can't stay still!
How long have you been modelling and what would do if you weren't modelling?
Basicallysince I was a kid. I was in fashion magazines when I was very young, but I only started modelling properly as an adult after I moved to Sydney. I have always had an interest in flying. I would like to be a flight attendant.
What have you learned about men over the years?
It's what he does, not what he says.
What's one thing men should always know about women?
We're impatient. Never stop wooing us. Everyone wants those butterflies!
What do you look for in a man?
That he makes me feel loved and special. He has confidence. He needs to be my friend and my life partner.
Describe your ideal date.
Dinner and a fireplace in the mountains. That sounds pretty perfect. It's really nice when a guy knows how to be romantic. Uhhhhh.
What can we get you at the bar?
A genuine smile and Bourbon please.
Got a hangover cure?
Eat! Just eat whatever you feel like. It works for me. Burger, chips and coke. It always helps.
What's your best hidden talent?
I can draw. Especially people's faces. I was pretty good with it when I was a teenager. I don't know if this is a talent, but I also love chocolate to the point of obsession. I can eat a whole pack of Tim Tams in five minutes and still ask for more. :-/
Do you have any phobias?
Yes. Snakes! A fear of all things long and venomous.
Who is your girl crush and why?
Pamela Anderson in her peak! I can't get over her charm! Her name is such a sex symbol of the '90s. I'm obsessed 100%.
What's the freakiest/weirdest thing someone has sent you via social media?
One day I opened the message request section and someone messaged me: "On a scale of one to America, how free are you tonight?" LOL.
What is your motto in life?
Always do your best!No more and no less.Also, keep your eyes on the stars and your feet on the ground.
What's next for you? Any exciting projects on the horizon you can share with us?
I have some projects coming up. It's going to be a busy year once they open borders again. Stay tuned to my Instagram. Also I'm writing a few e-books for those who want to know more about my life fitness secrets. But as far a work goes… who knows what tomorrow will bring! Life is always very unexpected. That's a beauty of it.
Finally, where would you like to be in five years?
Alive! I am passionate about traveling. In five years' time I am eager to experience new places in the world. Career progress is significant to me, so I look forward to taking on more responsibilities and gaining more industry awareness in the process. I will be looking for opportunities to expand my skills and I'm open to new challenges. I want to have made my own fitness app.
STATUS UPDATE
FULL NAME: Ashley Malon
HOMETOWN: Sydney
BORN: 25 June 1990
INSTAGRAM: @ashmalon
PHOTOGRAPHED BY ROCKY BATCHELOR
STYLING BY JACLYN MERLINO
LOCATION MAROUBRA BEACH, SYDNEY, AUSTRALIA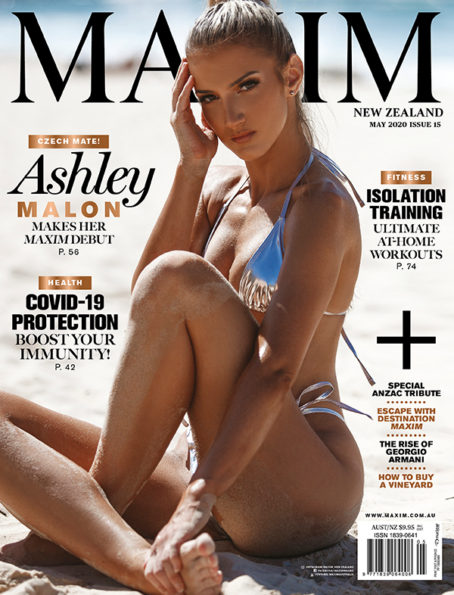 For the full article grab the May 2020 issue of MAXIM New Zealand from newsagents and convenience locations, or a digital copy from Zinio and Magzter. Subscribe here.