With all the biggest gaming franchises, a catalogue of killer exclusives and the futuristic experience that is VR, Sony's PlayStation 4 is a gamer's paradise. Each month we catch up on the latest and greatest PS4 news and announcements.
Just Announced
The turn of a new year can sometimes be a little quiet in the gaming space, but rather than rest on its heels, the industry has announced some exciting games for 2020.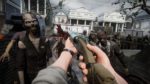 The Walking Dead: Saints & Sinners – Due on January 23, the famed comic/TV show is coming to PSVR. The story is set in New Orleans three-years after the outbreak and sees you dumped in a city, making decisions that will sway the battle between multiple factions, scavenge for food and tools, while also fighting to survive.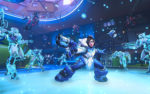 Overwatch 2 – The beloved hero shooter is getting a follow-up, which won't replace the original game, but will instead pair with it in a joint player pool for the PvP experience. Albeit one swelled by new characters, maps and game types. Unique to the sequel, however, will be two huge new co-op PvE experiences, with different levelling-up and ability customisation options.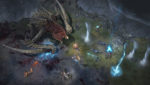 Diablo IV – The next entry in the iconic action-RPG series Diablo is going MMO, with a shared world for its players. You can team-up with people to tackle public bosses and dungeons, or go further along the story path in co-op as you see fit. While the top-down gameplay remains largely intact, a grittier, gorier story harks back to the style of Diablo II.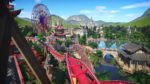 Planet Coaster – If you have fond memories of games like Theme Park or Rollercoaster Tycoon, you'll be happy to know that spiritual follow-up Planet Coaster is coming to PS4. Building, customising and managing your park is addictive, classic simulation gaming. Everything is here, from little eateries and attractions, amenities and queues, and, of course, giant, physics-defying roller-coasters.
The Continued Growth of VR
If there is one last minute purchase you should make, or put on your gift list, before the close of 2019, it's a PSVR headset. It's awesome, and in our view, essential for all PlayStation gamers. Unlike many peripherals we've seen over the years, PSVR is no flash in the pan. Not only will the technology continue to work with the upcoming PS5 console, but there's been a near endless stream of quality games arriving. Here's a couple of recent arrivals worth your consideration.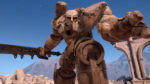 Golem – This long in development VR gem has you playing a young bed-ridden girl who escapes her misery by sending her mind out into the body of a giant stone golem. In this form she explores the streets of an ancient city, looking for hidden collectables, finding shortcuts and fighting other golems. While the exploration is fun, it's the one-on-one sword duels that are thrilling, asking you to parry, counter and strike by whirling the Move controller in front of you.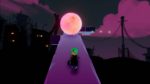 Carly and the Reaperman: Escape from the Underworld – This game follows in the footsteps of the equally excellent co-op platformer Astro Bot: Rescue Mission. The goal is to rescue spirits from the underworld as a little girl called Carly. As one player moves through the afterlife as Carly with a DualShock, a second player uses the VR headset. They appear as the Reaperman in the background, moving platforms and shifting the environment to create safe passage. It works a treat.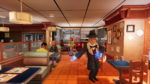 Groundhog Day: Like Father Like Son – One of the funniest movies of all time has received a sequel, and surprisingly it's a VR game. It stars Phil Connors Jr – the son of Bill Murray's character – who returns home to Punxsutawney, Pennsylvania, only to get stuck in the same loop as his dad. As you'd hope, there is plenty of humour in the adult-orientated story, as well as familiar faces and locations to discover. Each day involves puzzles and minigames to play, but also enough surprises to keep things from getting stale. One for the fans!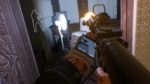 Firewall Zero Hour: Operation: Dark Web – One of the year's best VR shooter experiences was PSVR exclusive Firewall Zero Hour. Outside of the excellent shooting mechanics, it also offers fantastic cinematics that truly immerse you in each heart-stopping moment. A free expansion has just arrived for the game called Operation: Dark Web. It brings new maps, a new character, fresh tactical equipment (Motion Sensor and Smoke Grenade), and a range of cosmetics – the latter only unlocked if you decide to get the Battle Pass.
PS5 Watch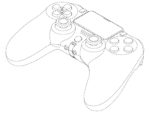 Another month, another slice of PlayStation 5 news to chew on. The console is still a long way off, not arriving till November 2020, but it's hard not to get excited. Especially as Sony has just put in a patent for a remodelled version of its famous DualShock controller. While it looks familiar, there are some subtly differences that may end up in the final DualShock 5.
We can see in this patent smaller sticks, larger triggers – now with haptic feedback instead of rumble support – a USB-C charging port and the return of the touchpad. There is no lightbar, however, which is an interesting omission considering that we know VR will be a big part of the PS5.
Elsewhere, Ubisoft has come out and stated that all the big games it is working on will be coming to the PlayStation 5 console. Specifically, the studio has mentioned Watch Dogs: Legion, Rainbow Six Quarantine and Gods & Monsters. But other likely titles to hit the PS5 are Skull & Bones, Beyond Good & Evil 2 and Just Dance 2021.
For the full article grab the January 2020 issue of MAXIM Australia from newsagents and convenience locations. Subscribe here.