MAXIM Australia favourite and TV Rubber Girl for Aussie auto-service giant, Ultra Tune – Tyana Hansen finally makes her MAXIM New Zealand cover debut with this brand-new exclusive shoot. I think you'll agree it was worth the wait!
Tell us a bit about your shoot – where, when, the idea behind it, etc…
This shoot was actually shot in America with one of my favourite American photographers, Arthur St John. The location was amazing. It was a huge mansion in the Hollywood Hills.
Are there any other funny anecdotes you can share about this shoot?
Yes. I almost got bitten by sharks and jelly fish. No joke. This house had a huge black water fountain which we thought would look really cool to shoot in, and just as we were about to jump in, the owner comes running down screaming "no no no, there are sharks and dangerous jelly fish in there!" Lucky he did otherwise I would have been dinner!
Have you ever been to New Zealand?
No I haven't, but it is on my bucket list for 2020. I have always wanted to do a snow/adventure trip in Queenstown.
If not, where would you like to visit?
I would love to do the big canyon swing and jump out of a helicopter and snow board to the bottom.
When do you feel sexy and why?
When I have a nice bronze tanned and beachy hair relaxing on holidays.
What is your best asset?
Physically I like my boobs, otherwise I also appreciate my ability to converse with just about anyone.
Give us a little more background about yourself and your life story so far.
I never saw myself becoming a model. All I have ever cared about is travelling, seeing the world and just being genuinely happy. However, since starting my role with Ultra Tune and, as a result, modelling, it has allowed me to both work and travel at the same time.
What would people be most surprised to know about you?
That I was a huge nerd in school. I loved to study and I loved doing my assignments and getting good grades.
How would you describe yourself in five words?
Crazy, spontaneous, funny, naughty and adventurous.
How long have you been modelling and what would do if you weren't modelling?
Almost four years now. If I wasn't modelling I would probably be back in construction working on site in the safety department.
What have you learned about men over the years?
Men are simple. They are controlled by sex.
What's one thing men should always know about women?
That women really do find everything out.
What do you look for in a man?
Kindness and a bit of adventure.
Describe your ideal date.
A surprise overseas trip. He picks me up, says "your bags are packed and we are going to the airport." I'm still waiting for that day to come…
What can we get you at the bar?
A gin and tonic with cucumber.
Got a hangover cure?
Garlic bread. The one from the frozen section wrapped in foil.
What's your best hidden talent?
My ability to adapt to any situation.
Do you have any phobias?
Yes, fish. I always have been and always will be deathly afraid of them. Though I do eat sashimi, but no whole raw fish.
Who is your girl crush and why?
Margot Robbie and Scarlett Johansson
What's the freakiest/weirdest thing someone has sent you via social media?
I'm not sure. I've had so many weird things sent over the years. These days I just ignore the weird messages and requests.
What is your motto in life?
Nothing lasts forever. I think it is good to remember, in both positive and negative situations, that if something is bad it is only temporary and if something is good we shouldn't take it for granted.
What's next for you?
Any exciting projects on the horizon you can share with us? Keep your eyes peeled for more magazines and photoshoots to come! I think the next place you will see me will be on a reality TV show! Also follow my social media to keep up with my travels.
Finally, where would you like to be in five years?
In five years I would like to be living on the beach, married and happy.
STATUS UPDATE
FULL NAME: Tyana Maree Hansen
HOMETOWN: Gold Coast, Australia
BORN: 1 April 1995
INSTAGRAM: @tyanamaree
PHOTOGRAPHED BY ARTHUR ST. JOHN (@ARTHURSTJOHN)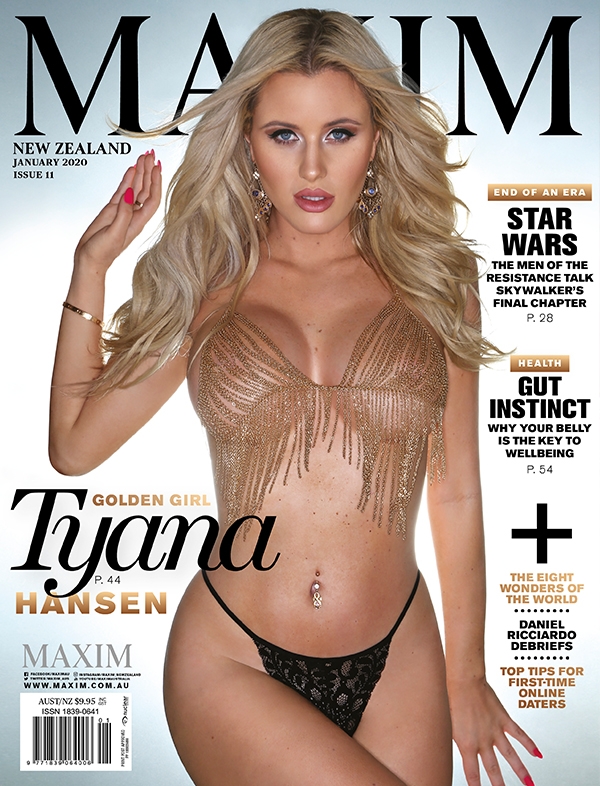 For the full article grab the January 2020 issue of MAXIM New Zealand from newsagents and convenience locations, or a digital copy from Zinio and Magzter. Subscribe here.