Wellness expert, lifestyle coach and bestselling author ANDI LEW shares some tips on how you can have more love and connectedness in your life – with a healthy dose of flirt – in today's society. You're welcome…
I'm not your everyday Cupid. I'm a Cancerian. For those who are fans of astrology, this means that the star sign Cancer is known to have traits that revolve around love and romance. We are natural nurturers, ruled by the moon and obsessed with love. Add to this mix – a love songs and dedications show on KIIS FM. I hosted the Melbourne radio show before deep-voiced, sultry Richard Mercer took over. Callers would ring in requesting love songs for their loved ones and they'd introduce it with a dedication. I remember the time we had a pre chosen song list, but one late night caller didn't mind which song we played. So, I let them go live to air as they wanted to send a heartfelt message to their partner who was in a coma. I didn't know this until I asked, "What would you like to say to your girlfriend?" He announced that he wished he could be there and told us of the coma. The song I had no control over kicked in and played – Ronan Keating's "When You Say Nothing At All". There was an awkward silence, as I recall, hoping nobody realised for the next three and a half minutes. Nonetheless, it was a beautiful way of courting someone and our expectations in romance and surprises keep escalating as we are addicted to getting our hearts racing.
Then I started pairing up couples in a blind-match-style dating game show called Shopping For Love, which aired nationally on Channel Nine. You may even remember I was the original Ultra Tune girl as the show was sponsored by them. We ran around trying to impress a potential date and getting to know them by having five minutes to rummage through their home and spending 15 minutes buying gifts to win over their potential match!
Crazy right? Yes, I've seen it all!
Over the last 15 years, singles have wanted to find new ways to meet their match. We had the rise of "speed dating", which then transcended into "online dating" and we got even faster when around four years ago dating apps began. We went from fast to faster to #swipelife and heck, we could "clock it" in the game of love from the comfort of our own lounge. What are the bonuses from finding a date on a dating app? Well, apart from saving you a whole bunch of time, you're saving a lot of money because it removes the need to have to court and win over your new mate by sending flowers to their work. You're probably saving a bunch of money on that first meeting at the bar where you buy numerous cocktails and risk never getting that phone number or follow up on one-on-one time. You move straight to second base on a dating app because your first meeting is basically a date. And it's a blind date!
Let's go back to how much time you're now wanting to bank. You are busy living your best life with a laptop lifestyle, or you're holding down a job and a family, or just a job with demands and finding time to go to the gym is a challenge. You don't have time for much else, right? And most of us want it all – yesterday! So, finding your Tinderella on an app has advantages but now there is a myriad of dating apps to choose from. Tinder really paved the way for the others – it was somewhat a pioneer of the "play mate" world. Then we had Plenty of Fish, Bumble, Happn, Hinge in America and clusters more popping up everywhere.
When I started researching apps, it came about as a newly divorced single mother. In America apparently it's called a SMILF with their new movie release's namesake! A girlfriend had come over for "Friyay wine time", and a little swipe party, as she showed me how to navigate my way through the world on Digital Dating as we now know it. It was daunting at first but she'd met her boyfriend on Tinder and four years later they're still together. I soon learned that there were others like me who had no idea how to court and connect. You'd have to be a comedian or writer to turn text messages into dates and who was to teach us all how to weed out the weirdos? Are they fake profiles or just socially awkward?
Well, judging someone based on a photo alone is pretty awkward. You're essentially putting yourself on the "Singles Shelf" and on the market. It really is a market! We thought that because we were being judged on the quality of our selfie that this is all we had to offer and we forgot what else we had to offer. As I went undercover to research my book #instalovers, I soon learnt that we wanted to court from our phones but it didn't come with a book of rules and "netiquette". So, I created one.
In my four years of art imitates life, or life imitates art, I found that when I'd reveal to some I was merely researching for a book, they'd reply, "Haha, that's a great line. I'm going to use that!" I'd reply, "But I really am!" Some would ask if we could date so that they could be in the book! I made many friends, fell in love at one point and even counselled a couple. The point is, we moved from being completely and literally lost in ourselves and that transcended into how we behaved on apps. But how we present is what we attract and in 2019 some hectic planetary activity happened and we started waking up. The world is woke! Have you noticed the shifts in moving from pure hook-ups into us all wanting more meaning in our connections? The selfie is so 2018. Now, we want people to notice us for who we really are, too. So, here are my top ways to court and date for 2019:
Use apps that allow you to adjust your preferences. They'll let you put in a location or even height, whether you drink or smoke, want kids or already have kids and even what you're looking for: relationship, dating or something casual. This way you're both up front before you begin a flirty chat!
Slide into someone's DM on Instagram. The direct message option is always worth a shot. Instagram has been known to be the unspoken date place. You can go on a 'liking spree' and like a few photos (no more than three or you'll come across like a stalker) and notifications will alert the person – if they're interested they might even slide into your DMs!
Pick up the phone and video call. If you have the phone number of the person you're into, send a quick text to ask if they're up for a call or a video chat. Some girls like to make sure they're wearing make-up or in good lighting to let you see them at their finest, but this is an awesome way to stay connected and get to know someone. Often we lose tonality or body language via text.
Have a networking party. Invite a bunch of friends or colleagues and allow them to bring someone to your gathering and make courting become to by-product of networking. Some apps like Bumble are even updating their platforms to have Bumble Bizz where you can do business with someone by matching on professional offerings and it allows you to be on the app without stigma. Then, before you know it, you're also on #teamflirt and much more relaxed about it all.
Don't be desperate. Have a purpose greater than yourself so that when someone shows interest, you're still on your own path and not waiting for the three dots of a reply. Having said that, make sure you always reply within a day. If we wanted to get a message answered longer; we'd send a letter by snail mail! Reply with keen interest and keep the conversation going by asking a question.
Create dates where you can establish more of a respectful connection, like doing an activity. It's not about always going out for drinks. Sometimes women like hikes, adventures and even group dates where there's less pressure.
Try to use emojis within your message at the end or beginning of the text. It highlights emotion so that your intentions aren't misconstrued.
Apply for a reality TV show! There are new ones coming out almost every season now. We are obsessed with finding love and watching other people find love, so why not try your hand at some healthy fun by putting yourself in your "divine discomfort zone".
Play it SAFE. If you do choose to "get it on" and share your sacred space with someone, make sure you're protected and prepared. A recent Australian study reported 37% of us are having unprotected sex. That's a lot of near misses! Now, go get 'em, Tiger, and good luck with it!
ABOUT ANDI
Bestselling author Andi Lew launches her seventh book #instalovers after appearing on several TV shows both in Australia, and recently the US, as a Wellness Expert. You may recognise Andi from when she played Cupid on Australia's popular dating show Shopping For Love and she was also the original Ultra Tune girl. As a certified wellness and lifestyle coach, she married her obsession with helping you have more love and connectedness in your life – and partners it with a healthy dose of flirt! Stay connected with Andi via Instagram @andi.lew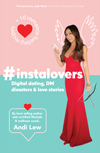 #INSTALOVERS – DIGITAL DATING, DM DISASTERS AND LOVE STORIES by Andi Lew is out now, rrp$27.99, available at www.andilew.com and book stores across Australia
BY ANDI LEW
For the full article grab the April 2019 issue of MAXIM Australia from newsagents and convenience locations. Subscribe here.