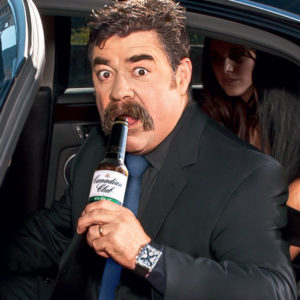 David Boon, cricketing legend and ambassador for Canadian Club and Dry, is no longer all about the beer
Word around the traps is that you're not as much of a beer drinker as you used to be?
The first issue of MAXIM Australia is probably as good a place as any for me to 'fess up. I'm drinking a little less of the amber liquid myself these days, and a bit more Canadian Club and Dry. It's refreshing and slightly different – like most Tasmanians.
When did you first decide to drink something other than beer?
They say a change is as good as a holiday. I've enjoyed beer over many years but thought it would be nice to dip my toe in the water and see what else was out there. Look, beer and I have enjoyed each other's company, and I will always enjoy a quiet one, but it doesn't hurt to have another option in the esky.
Is one of the reasons you've shifted to CC because there's no foam to get caught in your moustache?
That's certainly a bonus.
What's the key to growing a good mo'?
Obviously, good genes are important. But, like facing good bowling, you've just got to be patient.
What's the appeal of Canadian Club and Dry?
It just tastes great. I mean, why else would you want to drink something?
CC used to be the official whisky of the British Royal Family. You're already an Aussie icon. Reckon being the drink's ambassador will lead to a knighthood?
I'm not sure if our mutual love of Canadian Club will lead to a knighthood but I'd be happy to crack one open with Her Majesty! I might ask what happened to my invitation to Kate and Will's wedding, too.