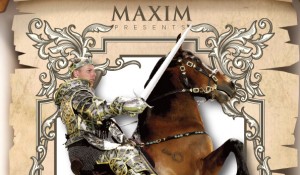 FIRST KNIGHT
I like fast bikes, fast cars, and going fast on a horse (and hitting people with a big stick). That's who I am. A lot of people ask me what it takes to be a good jouster. An acceptance of the consequences. With anything I do, I always make a quick risk assessment in my mind first. And the result is always, to paraphrase Nitro Circus, "Epic good or epic bad is still epic." I see jousting very much like FMX in that it's an extreme sport with tremendous risk appeal.
My friends and I used to joust on pushbikes as kids and I was always interested in the historical side of things, like swords and armour. I remember seeing a George Romero movie called Knightriders and it was about an American jousting troupe, except they did it on the back of motorbikes. That's actually how I started – just messing around on the back of a bike because I'd seen it in a movie! I wouldn't recommend jousting on the back of a bike – it's a mix of dangerous and dodgy.
From there, I started fighting on-foot with swords. It was then that I met a guy who owned horses and we were like, "Hey, you know what we could do?'
Back in the '70s, there were these guys called the Harris Brothers, who kicked off the whole medieval history re-enactment thing in Australia. They tailed out in the early-'80s. Myself and this guy, Justin, got serious about jousting in the early-'90s but because the internet wasn't around, our research involved reading all the books we could and sort of winging it. I'm surprised we lived through some of those early performances.
STEP UP TO GET YOUR REP UP
The first time I went over to North America was in 2003. I'm 176cm… all these guys were at least 180cm and built like NFL linebackers. I thought to myself, 'Oh, good God. Here we go.' The three days I was there I got beaten up and had bruises down to the bone on my upper chest from taking hits. However, I always got back up and carried on. That made my reputation.
I'd never done that style [see 'Styles', over page] yet ended up coming fourth by two points behind a guy who'd been doing that style for 20 years. The fact I was able to do it and cement my place as a serious contender made me proud. For knights back in the day – sure, they did it for prizes –renown was everything. Having your name known and remembered trumped all else. Funnily enough, though, Aussies aren't like that. We're modest, don't like to brag, but we're always up for having a go – we like to let our actions speak.
AUSSIE ASSAULT
We go and do shows around Australia, and have been doing so for years, so more people actually know about jousting than you'd think. And yes, we get a lot of "Jousting sticks!" quotes from The Castle. Another movie of note is A Knight's Tale – that was great for us. It came out in 2002 and even still I use it as a reference when people ask me what jousting's like. The only difference is they had weeks to film those jousts and we have to do them right here, right now in front of an audience.
We get big crowds, too. We've done royal shows, where you can get up to 60,000 people watching, and in April we did a festival in Bathurst which had an attendance of 20,000, and the stands were packed. There's nothing better than slapping the visor down, taking your lance, and charging in to the sounds of "We Will Rock You" and a pumping crowd.
In terms of competition, Aussies do a great job. If we're not taking home first prize, we're always up there in the placings. Back when I was competing, I won three world championships and came away with a lot of good results. Luke Binks, who's over in Norway right now, is really good. As is Sarah Hay. My wife Michelle, who doesn't do it anymore because she fractured some vertebrae in her neck a few years back, did a couple tournaments and beat every guy she took on. There's no women's division in jousting.
For the full feature and images grab the July issue of MAXIM, in stores June 20 – July 18, 2012.
To grab a digital copy CLICK HERE. All past issues available for download.
To subscribe CLICK HERE. Australian residents only.
 iPad Application also available. CLICK HERE. All past issues available for download.