We get cosy with the international model and mathematics guru from Germany… Maren Tschinkel
Tell us a bit about your shoot – where, when, the idea behind it, etc…
This shoot was made in February 2020 in Bali with the photographer Roberto Voltaire.
Are there any funny anecdotes you can share about this shoot?
I was very sick with the flu and was sleeping the whole day before and during the morning of the shoot, until Rob called me to tell me that he was at the location. I literally jumped out of bed, got ready in a few minutes and was still on time! Good thing nobody noticed it, until they read this here now.
Have you ever been to New Zealand?
I haven't been to New Zealand yet, but it is definitely on my bucket list! I would love to visit Auckland and see the beautiful nature that New Zealand is famous for!
When do you feel sexy and why?
I feel the sexiest when I am in front of the camera. It's what I love to do and that makes me feel comfortable and sexy.
What is your best asset? Physically and otherwise.
Physically: I would say my breasts. They are all natural and I believe have the perfect size to make my body look in a great shape and feminine. Otherwise, my empathy and compassion to people and nature.
Give us a little more background about yourself and your life story so far.
I grew up in a small town in Germany. After my high school graduation I moved to Australia for one year to do my English Cambridge exam. When I came back to Germany I started to study economics. During that time I won the Miss Earth Germany and got into international modelling. Now I am traveling the world with it.
What would people be most surprised to know about you?
I graduate in the top percent of my university in mathematics. Another fact about my look is that my body is 100% natural. A lot of people think I had plastic surgery done or other cosmetic enhancements but I can assure you everything on my body is 100% genetic and from nature.
How would you describe yourself in five words?
Loyal, honest, sporty, ambitious and optimistic.
How long have you been modelling and what would do if you weren't modelling?
I've been modelling for about three years now. I started during my university studies. If I wasn't modelling I would be just studying economics at the moment.
What have you learned about men over the years?
It is very hard to find the right one for yourself.
What's one thing men should always know about women?
Can't really speak for all women, but from my own experience, I believe we women like men who are there for us and can protect us. Men who support us to achieve our dreams. There are a lot of insecure men out there, who try to block us from achieving our goals.
What do you look for in a man?
Someone who is loyal, caring and honest. He should also share the same interests with me and stand by my side during the good and the bad times.
Describe your ideal date.
What matters to me is that the person is real and I feel that he is just himself with me. I just want to feel comfortable, share great chemistry, enjoy each other's company and laugh together.
What can we get you at the bar?
Lychee martini.
Got a hangover cure?
I never drink that much, so I actually never really experienced a hangover.
What's your best hidden talent?
I am very good at mathematics. Another skill is that I am good with people.
Do you have any phobias?
Yes. Maggots!
Who is your girl crush and why?
Candice Swanepoel
What is your motto in life?
An ugly truth is always better than a beautiful lie!
What's next for you? Any exciting projects on the horizon you can share with us?
I always keep my next steps secret! I believe it brings bad luck otherwise.
Finally, where would you like to be in five years?
I would like to look back on a fulfilled modelling career and have the love of my life by my side to build a family.
Status Update
FULL NAME: Maren Tschinkel
HOMETOWN: Ravensburg
BORN: 14 September 1998
INSTAGRAM: @maren_tschinkel
FACEBOOK: Maren Tschinkel
PHOTOGRAPHED BY ROBERTO VOLTAIRE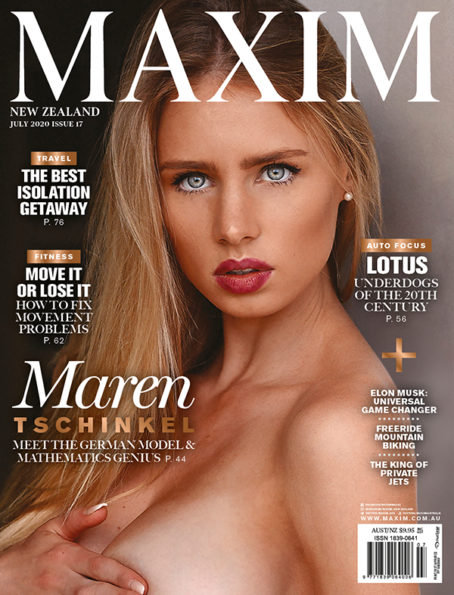 For the full article grab the July 2020 issue of MAXIM New Zealand from newsagents and convenience locations, or a digital copy from Zinio and Magzter. Subscribe here.