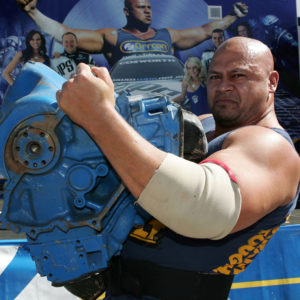 Derek Boyer has won every Australia's Strongest Man competition since the year 2000. The only thing that's bested the 190cm, 140kg titan is a baby elephant!
When did you first become interested in being a strongman?
When I was about 10-years old, I was really fascinated by superhero cartoons. So I made the decision to become the world's strongest man. My favourite superhero is probably The Hulk. Like him, I've split a lot of pants and shirts in the past.
At 42, you're no spring chicken. What keeps you motivated to stay in the muscle game?
I have an old saying, "When a person dies, they have no strength at all. When a person is close to death, they have very little strength. So it stands to reason that when a person is at their strongest and most capable, that's when they're most alive." That drives me to push myself to the limit.
Have you ever had any injuries?
I've had minor injuries all through my career but I try to minimise them and the downtime that comes with them. I'm undefeated in every strength competition in this country since 1997.
How do you stay undefeated?
I'm very meticulous. It's attention to detail that separates champions from the other guys. My routines are specifically tailored towards performance in a competition. I write extensive notes about foot placements, biomechanics, leverage principles and force principles to figure out how to get maximum results. I leave nothing to chance. I train when people are sleeping. When it's pissing down rain and my competitors are at home watching TV, I'm out there training. There is nothing I won't do to be better.
Is Australia's Strongest Man afraid of anything?
I'm just like anybody else. I have a wife and three children, and I have concerns about them. I have concerns about rising interest rates. But there is no physical challenge that I will not attempt. I've even taken on animals in the past. I had a tug-of-war against a baby elephant. He skull dragged me across the ground. They're immensely powerful animals and the fact they have four feet gives them a great advantage in terms of traction. I did a tug-of-war against a horse and won, though.
You have type-1 diabetes. How does that affect your training?
I live in a world where you either do or you don't. In professional sport, excuses aren't made. Nobody cares if you have jetlag or if you don't feel your best – either way, you have to perform. Diabetes does affect me and it's a balancing act. If I don't manage it correctly, it greatly affects my energy and performance. During an event, because of the adrenalin, my blood-sugar level fluctuates greatly. I've taken up meditation and yoga to control the release of adrenalin into my system.
Derek's proudest muscle moments…
► I'm the only Australian ever to make the finals of the World's Strongest Man. I beat Riku Kiri. He was the number-one ranked competitor and I forced him out of the championships.
► Every two years, I'm invited to Winton [in Central Queensland] to pull roadtrains. I've done that three times. I'll be doing that again this September. I've pulled an 80-tonne, 70m-long roadtrain 2.15m. It's the absolute biggest thing I've ever done and nobody in the world has come even close to that. Last time it took more than five minutes and I had nothing left afterwards.
► I've got the world record in an event called the Farmer's Walk. It involves carrying two heavy lumps of steel with handles on them. Each piece of steel weighs 160kg and involves pure grip strength. It took me 32 seconds to run 50m carrying the 320kg load.
► In May I lifted a block of cement that weighed 1030kg. I've boasted that I have a lot more in me and I was recently challenged to do 1200kg. I'm working towards that. Every week I lift up the back of my car – it's a Ford station wagon – then I start putting people into the back of the vehicle to increase the weight, which takes it to well over 1000kg. I'm having no problem lifting that.
► At the moment I've got the record for the biggest deadlift in Australia. That's 370kg.
For more info on Derek, go to: www.derekboyer.com