The PlayStation 4 is the most popular video game console this generation, and whether you bought it on day one, or have upgraded to the 4K-capable PS4 Pro and PlayStation VR headset, there's been no shortage of fun experiences. Here is what's hot on PlayStation this month…
Next Round of PlayLink Arrives
Have you had a chance to play That's You yet? It's the best party game in years. It uses a new feature on the PlayStation 4 called PlayLink. In it, players connect to the PS4 using their smartphone, and their phone becomes the controller. Not only does this allow lots of players to connect at once, but you can use the features of your phone in the game. For example, you can take selfies, draw images, use the microphone and more.
That's You was the first PlayLink game, and a quiz title that pitted friends against each other. The questions try and discern how much you know about those close to you, frequently with hilarious results. It's a great experience when friends who aren't gamers are around too! And after that success story, on October 25 a further three PlayLink titles launch.
Hidden Agenda puts six people into the middle of a detective thriller. It's narrative driven, but as a team you must make decisions and challenge your morals to progress, even though you're all working towards different objectives.
Knowledge is Power is a more traditional quiz game for six players, that throws extra scoring systems into the mix. You not only do you have to right, but fast with your answers, and other players have means of distracting you while you're answering. Last up, we have something more familiar: the return of SingStar. Yep, you heard right. SingStar Celebration sees the classic karaoke experience return with support for eight players. And here we were thinking it couldn't get any better!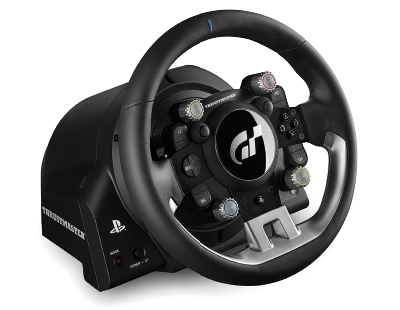 Thrustmaster TG-T is the Best Ever
Gran Turismo Sport is a serious man's game, and if you want to do it properly, best to do it with a serious racing wheel. Thrustmaster has long been a name synonymous with great gaming wheels, and the company has teamed up with Sony and Gran Turismo Sport for the TG-T. This wheel is built for use by professional race drivers that use sims to level-up their abilities. As well as all the buttons you'd expect on a DualShock, there are a number of race-car like additions, such as paddle shifters for gear changes, and rotary dials for fine tuning on the run. It's got everything.
What we love about it, is the feel, the finish and the incredible force feedback. Holding onto the wheel as you race through the tracks of Gran Tuismo Sport, it often feels like you're simply holding on for dear life. The slightest bump and the wheel will try and rip itself out of your hands, just like real life. Lose grip on a corner even slightly, and you can feel the car drifting through the wheel, giving you a great connection to both the car and the circuit. Add smartly designed metal pedals, and this is easily the best steering wheel we've ever used in game. For the hardcore, it's totally worth it.
In The News
· You can now watch Amazon Prime Video on PS4. So as well as movies and TV, you can also watch Amazon Originals like, The Tick, Transparent, American Gods and Goliath.
· Dead Rising 4 is coming to PS4! The hit zombie basher arrives on December 5 with a new Capcom Heroes mode that adds in fresh outlandish attacks, plus all the DLC and bonus content.
· Fans of old-school RPGs found a surprise on the PlayStation Store this month, when Final Fantasy IX – first released in 2000 – emerged out of nowhere. It follows news that another classic, Secret of Mana, is being remade for PS4 in 2018.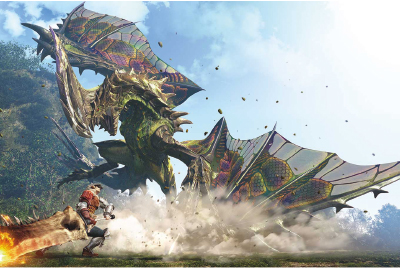 · The epic Monster Hunter World has a release date you won't forget! It hits PS4 on Australia Day!
· Inventive sidescrolling platformer Max: The Curse of Brotherhood is getting a surprise release on PS4 before Christmas.
· Two Limited Edition PS4 consoles have emerged; both $549 with 1TB hard-drives. The first is a Gran Turismo Sport livery, and the second a camouflage Call of Duty: WW2 livery. They release alongside the games.

News From A Virtual Reality
PlayStation VR is the killer addition to the PS4 ecosystem that truly sets the console apart. Even though it's only in its infancy, we're already seeing a tonne of amazing games come out. We've just got news of some really important release dates, too. Psychological horror game The Inpatient, by Until Dawn developer Supermassive, will land on November 22. The open-ended, creepy experience is set in a sanatorium during the 1950s.
Meanwhile, Bravo Team is locked in for December 6. It uses the AIM Controller — which launched alongside Farpoint — and is a cover-based shooter with an emphasis on teamwork. Helped by a large arsenal, it dumps you in intense firefights somewhere in Eastern Europe. Bethesda has also revealed dates for two of its anticipated VR releases. The Elder Scrolls V: Skyrim VR is out on November 17, while shooter fans can go old-school on December 1 with Doom VFR.
As for some just-released games to explore, there are a couple of options we recommend. Haunting, beautiful indie game The Lost Bear will stick with you, thanks to its smart use of VR mechanics and tight, 2D platforming. The Solus Project casts you into an alien world where you must try and survive by exploring, scavenging and solving puzzles. While thrill seekers can jump into the cockpit of Radial-G: Racing Evolved, which thunders you through a futuristic landscape on anti-grav tracks.
Just Out: Keep an eye out in stores for a new range of translucent DualShock 4 controllers. They're $99.95 each and come in Crystal, Red or Blue forms