The seventh instalment in the beloved Gran Turismo series turns in a new direction, offering an endgame you will not believe…
GAME: Gran Turismo Sport
By: Polyphony Digital
Genre: Racing
Format: PS4
Release: Out now
With close to 80 million sales packed into its immaculately recreated, shiny boot, the Gran Turismo series is one of the biggest brands in gaming. Since it debuted in on the original PlayStation in 1997, it has become the standard by which all other racing simulations are judged. Over the course of six games, developer Polyphony Digital — led by charismatic president Kazunori Yamauchi — has become renowned for its attention to detail. Not a decal out of place; not a track surface bump missed.
The proof is right in front of me. I'm standing among the mass of desks, screens and driving paraphernalia of the open-plan Polyphony Digital studio in Tokyo, Japan. Kazunori Yamauchi walks across to a screen where one of his designers is meticulously checking the way light bounces of a car's paintjob. On request the designer zooms in, and in, and in, right up to the inner edge of a tyre. And sure enough, the fine-print, logo and PSI are all there: painstaking etched into the rubber and accurate.
You'll never see it, of course. How are you going to notice such a small detail when you are roaring down Conrad Straight at 300km/h? But that's not the point. What is there in real-life, is there in Gran Turismo. It's the way it has always been.
It's this dedication to delivering the highest possible quality that has seen the series' release pattern deviate wildly over the years. Unlike other blockbuster series of its ilk, which may release a game every single year, the arrival of Gran Turismo Sport marks just the seventh core entry in two decades. Indeed, it has been four long years since Gran Turismo 6 landed on the PS4, but this time there's been good reason for the wait.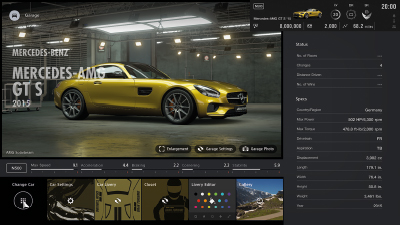 Time For A Change
After more than a decade as the undisputed king of virtual motor sport, Gran Turismo 6 stalled on the grid upon its 2013 release. While its five million sales isn't to be sneezed at, it's well below the efforts of its predecessors. In addition, it was the worst reviewed of the core lineage of titles, average eight out of 10 across the world. The fans were making themselves heard: after 16 years, they wanted a new challenge.
There was something else afoot as well: the arrival of the PS4 and then the PS4 Pro — the latter bringing with it advanced 4K resolution, high dynamic range (HDR) and the expectation of blisteringly fast experiences racing along at 60 frames-per-second. For a developer that prides itself on delivering the best possible quality, it presented yet another pivot point for change. So Gran Turismo pulled into the pits, went up on the jacks and was wheeled into the pits.
It just so happens, Polyphony Digital wasn't alone. The Federation Internationale de l'Automobile (FIA) was also looking for something new. The governing body of motor sport, it was founded back in 1904 and has grown to become the organisation that oversees the bulk of top tier race driving globally. It presides over the licensing and arbitration of the World Rally Championship and Formula One. And if you want to become an international race driver, then you need an FIA license. Which means, if you're a gamer who one day dreams of being a professional race driver, you will need an FIA license, too. Suddenly the road ahead seemed clear.
Gran Tuismo Sport delivers something beyond not only what its predecessors were capable of, but every other game in the genre. Complete the game's challenges, prove yourself online in competition with other players, and show that you have the skills and the sportsmanship of a professional, and you'll get what you desire. A real-world, FIA-ratified, race driver's license. Incredible.
It's called the FIA Gran Turismo Digital Licence and it's valid on-track, anywhere in the world. (As long as you have your standard driver's license as well, of course.)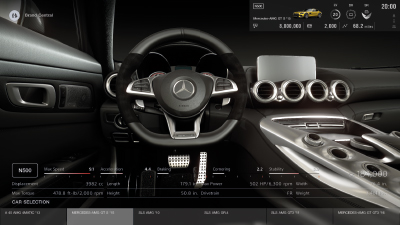 A Stunning EndGame
As I sit in Kazunori Yamauchi grand office, it's hard not to be impressed. The massive room is located right in the middle of Polyphony Digital's headquarters. Nearby a desk is covered from edge to edge by every conceivable camera lens available; used to take photos of his favourite cars and tracks. The walls hold trophies and proof he is as good behind the real wheel as he is behind a DualShock controller. A comfy couch sits in front of a large Sony TV, an early version of Gran Turismo Sport ready for testing. Ready for his approval.
Yamauchi does developing in true style. He is gaming royalty after all. And I know exactly what I want to ask him first. How on Earth did he convince the FIA to reward gamers with a real-world racing license?
"You've actually got it backwards," he answers with a grin. "The FIA actually approached us. They really had an interest in working with us and about four years ago invited us to their headquarters in Paris. They explained how they really wanted us to work together on defining the future of motor sports."
From that first meeting, the change in direction for the Gran Turismo series was set in place. "Immediately I had a lot of inspiration and a lot of ideas came to my mind," Yamauchi confirms. "I shared these with the FIA. From that time, Polyphony Digital and the FIA have been hosting workshops and discussions. We've been at the conferences that the FIA has with all of their automobile clubs — of which there are about 200 around the world — twice a year. We've been discussing what we can do [with the game] and it's through that — along with the FIA Gran Turismo Championship and its digital license — that all these ideas have started to take shape."
How Does It Work?
In order to obtain your FIA Gran Turismo Digital License, you don't have to win any tournaments or be the highest ranked player on the leaderboards: you simply have to complete the game. The main Challenge Mode is broken into four areas; Driving School, Mission Challenge, Circuit Experience and Racing Etiquette. Within each of these are hundreds of goal-focused race experiences designed to improve your overall ability.
This could be as simple as learning how to hit the apex of a particular corner at one of the game's legendary circuits, to understanding warning flags, or trying to overtake a certain amount of cars during a lap. Each of these missions comes with a video tutorial and teaches you basics that are not only transferable to the races you will enjoy in the game, but also to real-world racing should you end up going all the way.
As such the majority of the game experience requires you to be online to play. This is because the game always needs to see that you're performing to the standards of a real race driver, and not gaming the system. Those moments where you are banging the AI ruthlessly into walls and driving backwards on the track to annoy mates will be considered. Be warned.
Focusing in on eSports is a big part of the process, and also why the game sports a Sport at the end of its title, and not a seven. The game will be running on dedicated servers for optimal performance, will have full live broadcasts, a real-time news channel, unlimited virtual spectators and leaderboards. And your overall ranking is conceived from two sources: your result and your sportsmanship. This plays into the advanced matchmaking, and should make for a great, respectful online racing community.
"The process for an Australian to get their license starts with clearing several different modes within the game," Yamauchi confirms. "You then go into the online championships. Once you've run a number of races there, and cleared their prerequisites for safety, then you become eligible to purchase the FIA Gran Turismo Digital Licence within the store. So you go into the in-game store, buy the license, and then CAMS (Confederation of Australian Motor Sport) will issue you with their racing license. We actually have a very strong relationship with CAMS, and they were one of the strongest backers of the Gran Turismo Digital Licence."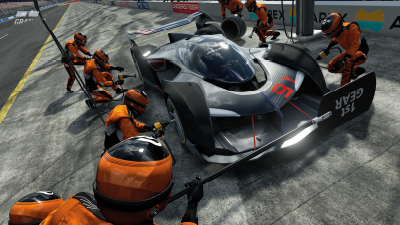 What Else Can Fans Expect?
While the endgame of being a ratified race driver is pretty awesome, it is far from all Gran Turismo Sport offers. The aforementioned eSports features are also a portal to global fame as a virtual racing champion, of course. There's a full arcade mode, too, where you can enjoy any track you like, jump into a splitscreen race, do time trials, complete drift trials, create a custom race and play in VR (see opposite page).
There is also Brand Central, a mode that not only allows you to go in and play with the look and feel of your cars in every conceivable way, but pose them in hundreds of locations around the globe. In fact, if you're into that creative element, the depth on offer is staggering, with close to a Photoshop experience included. You can tinker with just about every part of a scene to try and create a choice setting and vibe for your vehicular pride and joy.
At launch, you will have around 150 cars to jump into from 32 manufactures, including big guns like Ferrari, Mercedes-AMG, McLaren, Lotus, Lamborghini, Ferrari and Bugatti. There's also 28 tracks, including essential circuits like Nürburgring Nordschleife, Brands Hatch and the great Mount Panorama, as well as rally experiences. These numbers will grow post-release, too.
But perhaps most importantly — cemented beneath everything you have read above — Gran Turismo Sport is a great drive. As it always has. The thrill of flinging a supercar around the Nürburgring ring or across the top of Bathurst is as much fun as it is exhausting. It tests you to really understand how each car behaves, and rewards you with a great sense of accomplishment at the end of every lap. In addition, the engine sounds have come on considerably since previous titles and alongside the stellar visuals — in particular on PS4 Pro — creates a very immersive race simulation.
It's true that Gran Turismo Sport isn't launching with as many tracks or cars as previous titles, or even other games on the market. However, its ambition cannot be denied. With Gran Turismo Sport, the pathway from gamer to race driver is tangible. Prove your worth and your skill, and you will walk away the real deal in the real world. And just like that, Gran Turismo sets a benchmark again. ■