Prior to 2011, the Australian festival scene had been treading water for a while, if `not slowly sinking. Audiences had dissolved into a musically naive mass of wide-dilated-eyed teenagers, bar queues had spiralled into long waits for mid-strength insults, security was as much a menace as a safety blanket and the same old bands were being rolled-out year-after-year. The inaugural Harvest festival bucked the trend, with a mindblowing experience headlined by Portishead and filled by an audience of thirty-somethings revelling in the generous spaces, swift queues and friendly attitudes
What a joy then that the festival has really cemented itself in it second outing, with an even more spectacular lineup in an expanded venue – in Sydney at least – and a respect for the audience that has been disregarded by many of its long-standing rivals.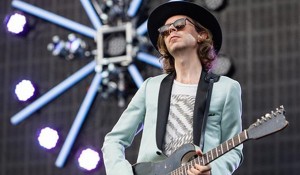 Pesky pigs and their evil canines aside, entry into the festival, a quick trip to the bar and an excellent position at the main stage were achievable in record time. The new main stage at the Sydney venue is excellent – a natural amphitheatre that provides easy visibility from everywhere without being too steep to negate dancing and providing enough exit and entry points to stop rivers of punters from streaming across your toes all set. It reminded this reviewer of the Woodford stage used most recently for two Splendour in the Grass festivals.
As with its first year, Harvest's promoters have clearly sought out established quality for their lineups and the result is excellent musicianship and well-practiced showmanship whichever of the multiple stages you ended up. The Dandy Warhols were the highlight of the early acts, and the rousing reception to Bohemian Like You was a clear indication of who the crowd was and what era of sound they were looking for. Cake would later get the same reaction to The Distance, although the decision not to play Short Skirt/Long Jacket was bewildering.
Also unfortunate was Beck's set. For its first two-thirds he befuddled fans with laidback song after laidback song of his obscure brand of country-flavoured melodies – including one "I wrote yesterday" – before finally dusting off the dancing boots and saving himself from lameness with a string of classics from Odelay (none more awesome than Loser). The reaction of the crowd said it all – why weren't you playing these the whole time? Some stops at Midnight Vultures would have been sweet, too, and despite the rousing finale, I'm a bit bitter about Beck's set.
Elsewhere though, the sound was firing. The Black Angels blew many minds as they shoegazed through a memorable set. The stage-filling live act that is Mike Patton's Mondo Cane was crazy in only good ways, winning over even the most confused Faith No More fan. Ben Folds Five pulled a huge audience and didn't disappoint with a fantastic set of new and old tunes – in hindsight, they would have been much better suited to the main stage in place of Cake (who were shifted there in the wake of Beirut's last minute cancellation.) While this reviewer was unable to see them, word on the street is that both Grizzly Bear and Santigold delivered memorable performances, too.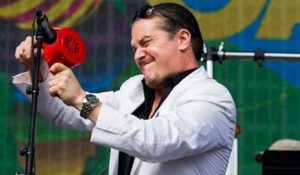 The finale provided an interesting if welcome dichotomy of sounds to choose between. On the main stage the acquired taste of Sigur Ros put on a dazzling show of lights and sounds that had hardcore fans melting in their dusty shoes. A slightly morbid sound for this reviewer, the alternative was the well-travelled dance-funk-electronic stylings of Crazy P and, after a day filled with mellow rock and old-school pop classics, it was great to jive the final night hours away to a showy, upbeat performance from a festival stalwart with an energetic lead.
I really love what Harvest Festival is attempting and while I had a few personal disappointments on the day, it certainly didn't sour the overall experience. Indeed, all 20 of the people I attended with loved it. Perhaps a few more food stores, a lot more beer – there were shortages come 6pm – and a bit more depth in the included genres (I think some dalliances with dub, reggae and funk would have gone down well with this crowd) would help glue its parts together a bit better in future years. After all, this is one festival that we don't want to see treading water. Onwards and upwards I say and thank you for a great day Harvest – I will most certainly return next year!
By Chris Stead