MAXIM spends 48 hours in Australia's Top End with killer crocs while drinking, million-dollar fishing and pub crawling in a helicopter…
DAY ONE: BARRAMUNDI, DADDY DINGO AND THE CAGE OF DEATH
The brief was short and simple enough. Fly to the Northern Territory, check out Australia's richest fishing competition — the Million Dollar Fish, enjoy a few too many beers, take a heli pub crawl and try to make a few friends along the way. Fishing, drinking and making a million bucks eh? They had me at fishing.
When you land in Darwin you find a frontier town that's been bashed by bombs, cyclones and racism over the years, but you can't help but feel welcome here. You are in quintessential Australia — the red dirt, the glistening sun, the characters who line the streets and bars… it's like a scene from an outback Aussie movie could unfold at any second.
Our first port of call is a place called Crocosaurus Cove. Albeit a tourist attraction, this place houses the Cage of Death (which sees you lowered into a tank of water and up-close and personal with a giant croc) and has less cheese and far more balls than any theme park I've ever stepped into. Set in downtown Darwin, Crocosaurus Cove is the best way to get a very crude understanding of how solid and strong these prehistoric beasts truly are. With heads uglier than a post-election Clive Palmer and a bite that makes Connor McGregor look weak, you literally come face-to-face with these monsters but also all your fears in this cage dive. It's like eye contact with your first girlfriend's Dad as you pick her up and take her away — harm could be inflicted at any second.
One of the handlers at the park is jigging a couple of whole-chicken baits around your head to arouse the croc into some well-timed snaps for camera but as I look at the deep gouges in the Perspex cage you realise just how strong these f—kers are! As their teeth and jawbones crack at the plastic cage you feel the weight behind their skeleton and the whole frame shuddering with their strength.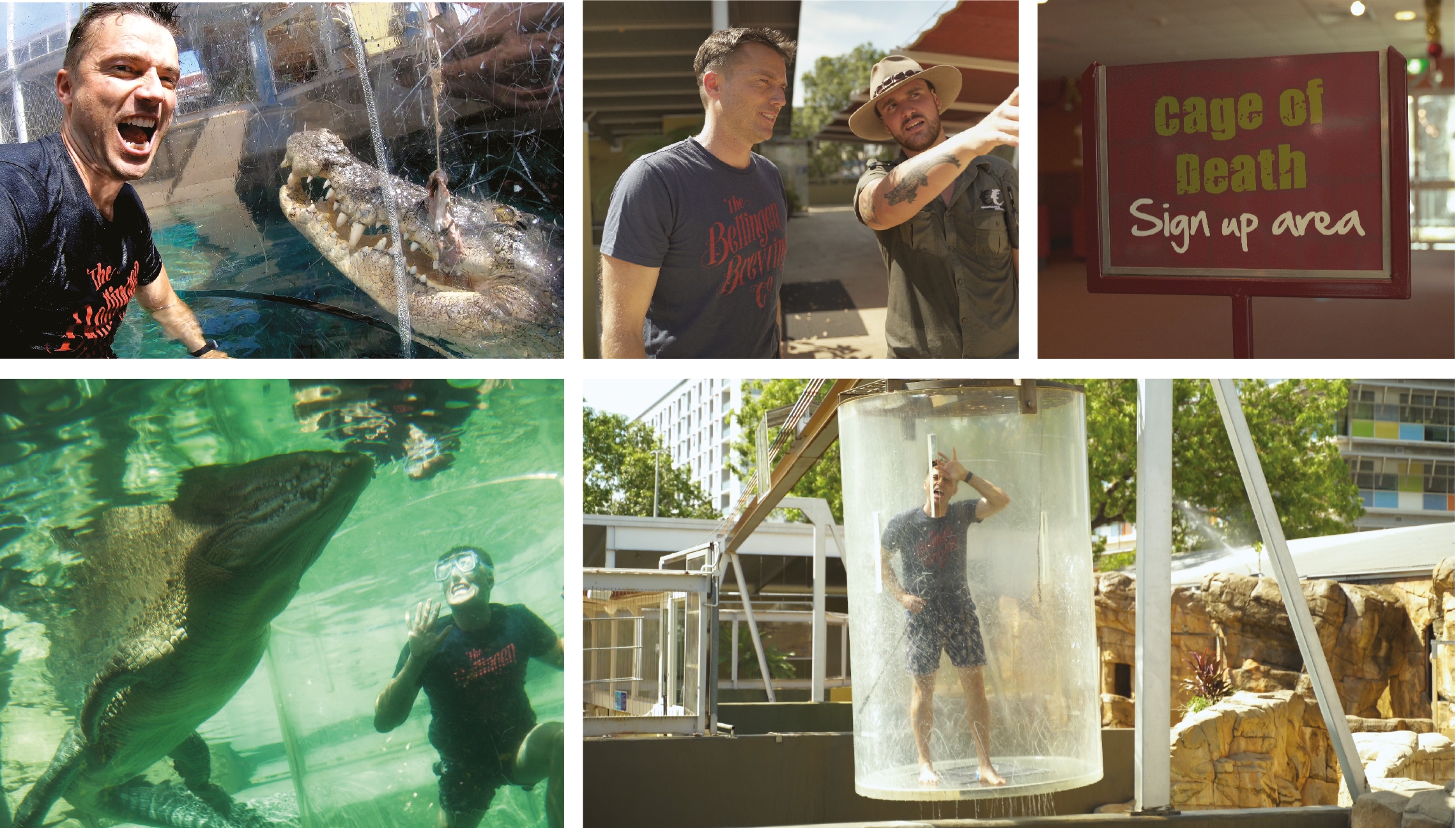 The entire experience is surreal — you can hold a baby croc, get snapped at by a bigger croc and, most importantly, get a bit of an understanding of these creatures lurking in the foreshores and how quickly you can become the hunted when trying to hunt those Barra in the wild. However, if you want to save some cash you can get a similar experience — just try walking past some of the NT pubs of an evening banging on the glass, pointing out the biggest bloke and miming how small a man he is. Of course, the only slight difference is that Crocosaurus Cove is insured with no fatalities on record.
Our next stop is an absolute must-do if you're on a quick trip to the NT, 100 percent want to catch a Barra and enjoy a beer or two whilst doing so. From littlies to many a solid metery, Barramundi Adventures Darwin is the place to be. Once an old prawn farm this place shut up shop as Aussies got a taste for the cheaper Vietnamese and Thai prawn supply, starving the local industry. Cue the violins until… a couple of local legends Dorian and Tommy showed some foresight and a vision of turning the whole thing into a fisherman's paradise. The gents were more than happy to take on the river-fed farm, drop some baby Barra in, build a Barra bar, a few decks and open their Barramundi Adventures doors to anything from family trips to bucks days.
Affectionately known as Daddy Dingo, Dorian's dad Ernie is the resident fish feeder who often gets up at 3am to feed the fish — so they still bite lures during the day when customers turn up. He is kind enough to give me a hot lap around the dam and I ask him if he has any life advice. "Just go for it," says the bloke who has travelled the world, lived in dozens of places and found this be his home.
The willingness to step outside your comfort zone seems to be a prerequisite of any full-time NT residents. A trait that seems to run through the Territorians who have predominantly all arrived here at one stage in search of something more from life with a willingness to live outside the perceived norm all with little to no concern for the opinions of others. This willingness to take risks to feel more alive is not only evident in any chat I have with a stranger at a bar or on the street, it's also infectious.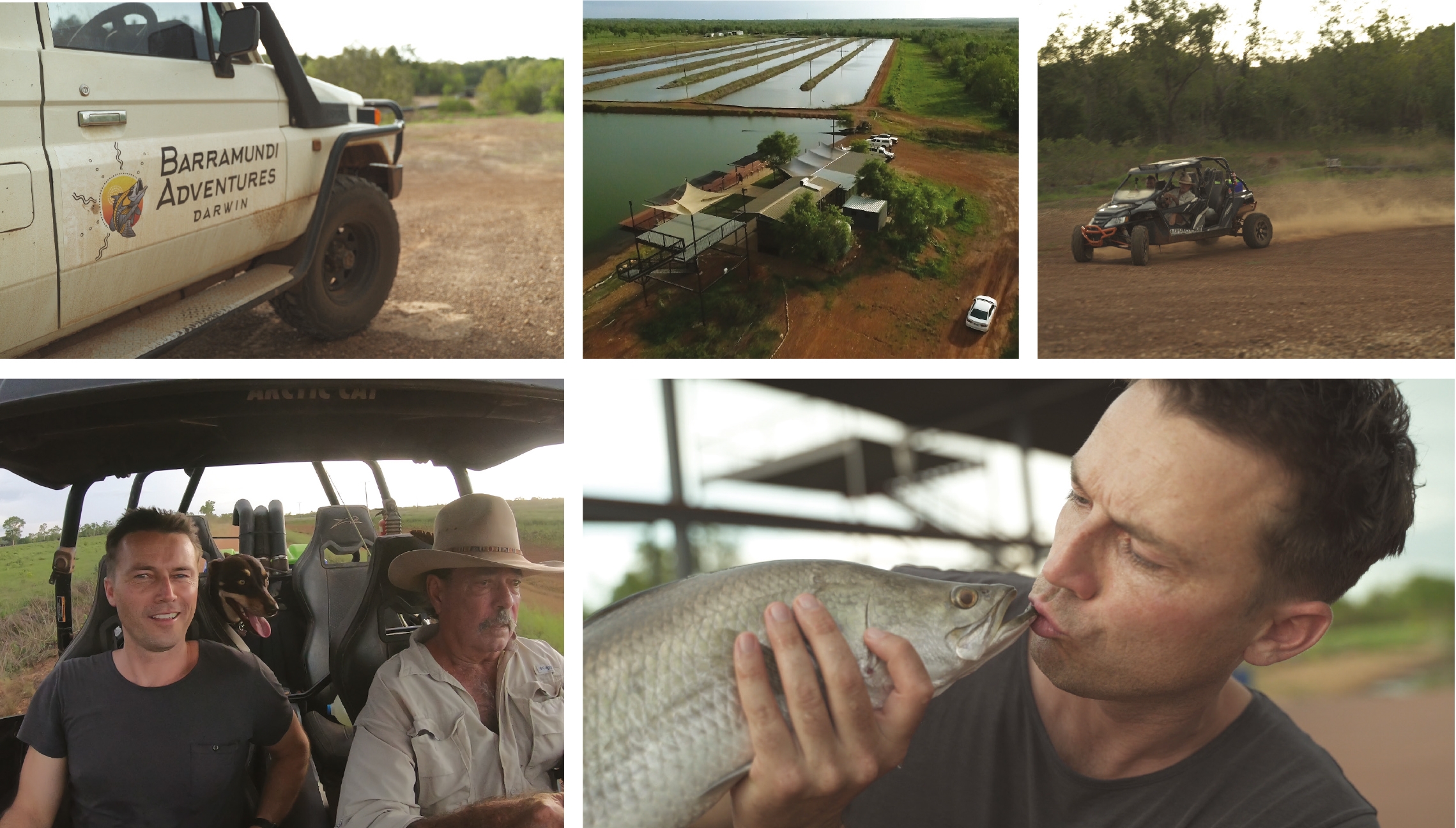 These boys give a pretty fair portrayal of what a Territorian is like. They are happy as can be to sit and chat with strangers as if you've been mates for years. As the coldies go down more and more, yarns turn to stories about the war — specifically, how when the Japanese were invading Darwin, the locals set up a mock-up of their beloved town (with lights) in the desert nearby and turned off the real town lights to trick the fighter pilots and save the town. Also during the war some of the wharfies started stealing supplies off the docks thinking Australia's defeat was inevitable — apparently the rectification of such behaviour involved machine guns and some shark feeding! We also chat about how one can legally get as pissed as they want in a boat in Darwin and how drugs are imported into the town. The stories get more and more epic and colourful as the empties bin fills up. Laughs are had and you'd be forgiven thinking you were on a trip with your closest of mates you'd known for years.
It starts to get dark outside, so we grab a feed at the nearby Berry Springs Tavern which has an incredibly impressive selection of beers… and a unique menu of wild dishes including a local-based fare of crocodile tail croquettes. Oh, and you can even pat a small resident croc while you eat and drink.
Day one has already painted a picture of NT as a very unique place with a deep sense of freedom. The minds and mouths of the locals aren't tied to expectations and conservative traditions. The banter is always good and cuts to the chase. I duck out for one more drink at a local bar and a bloke pulls out a dead-set sandwich bag of what I can only assume is flour to make some lunch for him and his mates tomorrow. Maybe. Yes, everything is bigger here, not just the Darwin stubby beer, but with a big day ahead I decided to make it a gluten free night and hit the sack.
We stay at Mindil Beach Casino Resort where there's a cracking buffet overlooking Darwin Harbour and a massive infinity pool allowing you to swim from your room to get a cocktail and then back to bed. And if you like a punt, playing a few rounds of blackjack or having a slap and spin on the roulette wheel — it's all in house. Can't wait for tomorrow.
DAY TWO: WILD BRUMBY, A DOG-EATING CROC AND THE HELI PUB CRAWL
We're up at 7:00am and grab a quick feed and smash a coffee, while standing in the infinity pool and taking in the harbour views, before booking the full-day Heli Pub Tour package with the team at Airborne Solutions. This pub crawl, via the NT skyways, will take us to five of the finest Top End watering holes where we spend an hour at each establishment and live to tell the tales of our journey. So far, things are looking pretty darn "top end" if I say so myself.
Roy, our pilot, gives us a safety briefing and I get as clear as I can on what boundaries we are looking at — so I know how far I can push things after a few beers. No nudity, no fighting, he has the right to refuse us anymore drinks, etc… all seems pretty tame, really. I tell a few stories about chopper-based fatalities that seem to send one of the guys, flying with us, whiter than Pauline Hanson's linen cupboard. He gets over it as Roy fires up the Golden R44 chopper and we track out of Darwin airport — this day is definitely off to a very good start.
We fly over Darwin Harbour high above one of the finishing stations for Paspaley Pearls, dropping back down closer to the mangroves where we see a few sea turtles, crocs, Aboriginal communities and fishing shanties. We then track north and get to our first drinking hole — The Lodge of Dundee. There is road access to Darwin here but the roads are long and you can already sense we are getting near the edges of civilisation. There's none of the cliché-bleed you see in cities where styles of bars, bathrooms or outdoor furniture are just an amalgam of all the recent styles. Here, instead, there are few f—ks given and the outdoor furniture is a mishmash of the decades and people that survived them — all slapped together.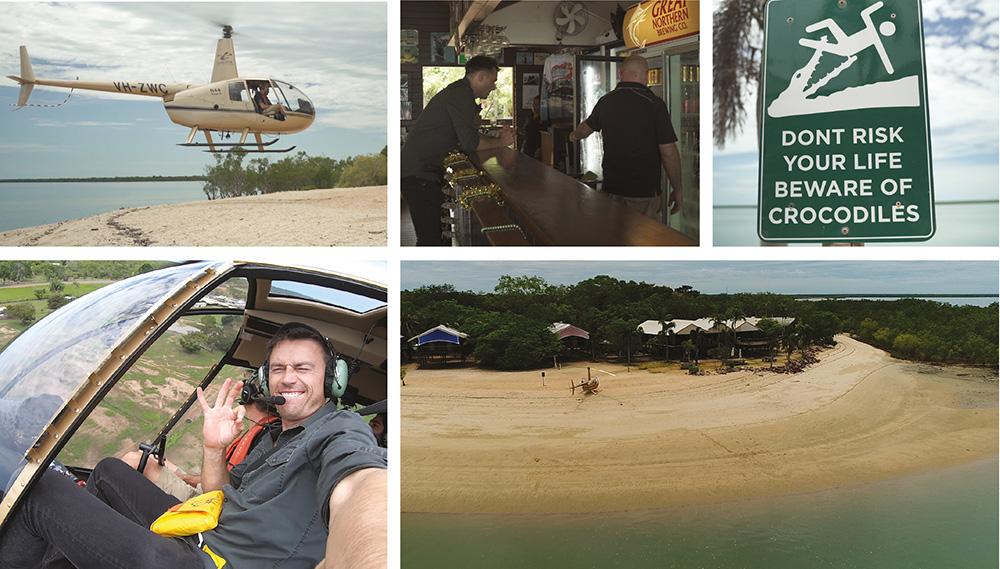 The bar is a similar time warp but you get those salt-of-the-earth, honest-as-f—k, golden, Aussie characters who unapologetically speak their mind and walk to the beat of their own drum. There's some massive GT's and blue water fish galore off the boat ramp out front, and as barman Shane-o says, "Not great for dating, but good for fishing". We get stuck into a couple of schooners as the five local council workers stand around watching the tide get low enough to start work on the cracking and crumbling concrete boat ramp. After just over an hour it's "back to zee choppa" to stay hydrated at a few more pubs.
We track to the next location — Crab Claw Island Resort. The owner, Wayne, isn't a big conversationalist — in fact, if you converted a metal detector to pick-up personality here, you'd get a flat line. However, with its stunning sand and impressive fishing waters, seeing a mix of Spanish Mackerel through to metre-plus barras, this place is a sure bet and well worth a look and a few days in the bungalow accommodation. I fly my drone across the bay, looking for some crocs, and back towards the main pavilion before some local kids come to check out the flying machine. I get ready to explain or let them fly it but they ask what model DJi drone it is and unimpressively say that their uncle works on the rigs and has a "heaps better one". It's time to leave.
Next up is the Darwin River Tavern — some of the best steak you're going to taste in the Top End is right here. Mud made bar, friendly staff and the owner, Scotty, is an absolute legend who manages to get me back to his place to show off his menagerie of animals. On the way he tells me that he used to play rugby league for the Tigers and we also get into a heated discussion about where the hottest and friendliest women are in Australia. He concludes, with passion, it's Newcastle in NSW — by a very long shot. The bravado subsides when we arrive at his home a few hundred metres from the pub.
This guy is the real deal — he came here for a holiday and never went home, pats his Brahmen bull like it's a wife, has a genuine paternal love for dozens of animals around his home, who were either abandoned or set to be put down, and he took them on. Arguably the best of his yarns is about his vegetarian cat named Asia. Asia's best friend is a bandicoot and apparently every day at 3pm they walk together down the path from its hole like best mates. He's convinced the bandicoot suckled the cat after its mum died in the wild — sidenote: bandicoots are generally killed by cats in the wild.
Is Asia vegetarian? Is her best friend a bandicoot? Do they walk paw-in-paw every afternoon? They say don't let the truth get in the way of a good story and although this particular tale could well have been 100 percent truth, what became apparent is how connected by story the locals are here in the NT. Good stories connect people and give us all a sense of being a part of something.
From here, things get beautifully weird. Kai, the one and only full-time resident of our next venue Goat Island Lodge, is a full-blown Aussie character and most days he can be found nude, wandering around the land. At first introduction it's hard to say if he's chosen this level of isolation or if society has chased him here. His old dog, "The Dumb Blonde" was eaten by a crocodile over a year-and-a-half ago. He shows me several videos of the dog, sharing he couldn't talk about the death for a year after it happened but he's OK to do so now. I ask what exactly happened to the animal and he re-enacted the death of his white lap dog being eaten by a 3.5 metre crocodile.
I grab a beer and the conversation persists — this time about how good his marriage is because his wife lives in Cairns. An absolute legend and one of the darkly, funniest blokes you'll find in the NT — people of all ages come to eat, drink and stay with him from all around the world. He has a confronting combination of a thick misogynistic skin that's cracked in the Territory sun to show plenty of vulnerability, warmth and a little crazy bleeding through. Also, the isolation and loneliness of Goat Island is evident in many shapes and forms — the RSI bandage on his right elbow is just one.
These are the sort of humans you can make movies about — these are the anomalies that give you months of stories with your mates, but most of all these people are genuinely them-f—king-selves. The inner-city pretending that life is fine, "I'm killing it" and general overselling of one's existence is simply non-existent up here. This is what strikes me most about Darwin and its surrounds.
We track off Goat Island and hit the skies looking for water buffalo. Instead, we stumble across some wild Brumby and follow them along to see a foal in the mix! Darryl Braithwaite's "Horses" kicks into all our heads and we watch the pack of horses start to cross one of the most crocodile infested rivers in the region. With the ban on killing wild crocodiles there are some huge reptiles in the region rumoured to be pulling whole cows off paddocks! The lead horse turns sharply and they all follow, the foal trails behind, falling further and further behind and we think we are about to see the show of shows. Suddenly they start powering through the mangroves with majestic magnificence and the little mate catches up to its family. The experience is no doubt enhanced by the beer intake levels on board the chopper.
Finally, we head to our last stop — the Humpty Doo Hotel. An incredible time capsule with some original refrigerators, bar and furnishings from the '70s and beyond, this place used to be as rough as they come — overrun with bikies and the owner used to wash blood off the joint every morning such was the brawling. The colourful stories still remain but the place itself is far calmer than its adolescent days — now there's more high vis than gang colours and a true sense of calm, blokes with their best friends and their dogs. Stepping out of a chopper, even after a few ales, makes assimilation with some of the locals tricky as they are arguably the most elitist transport known to man. Nevertheless, we get talking and laughing albeit with an expectation to shout a beer to anyone I converse with.
It's almost 6pm and we are now back in the golden beast heading to Darwin airport to fly straight out. After a day seeing the heart of Australia, meeting some interesting-as-they-come humans and consuming tinnies at every opportunity, it's hard not to get all reflective. I'd only been in the NT a couple of days but managed to jump straight into a pool of people who are more genuine, straight-up and just make you feel like you've been mates for years. One thing is obvious — in this place it's pretty hard to feel alone. The Territorians call it how it is and are more than happy to laugh and swear a little with any stranger they cross paths with. The Tope End serves as a solid reminder about what's important in life and if you and your mates ever get a chance to visit, do yourself a favour and we'll C U in the NT! ■
WHO WANTS TO BE A MILLIONAIRE?
Hook a big Barra with a million dollar tag and you'll eat and drink… well, for years!
The Million Dollar Fish competition was dreamt up by a couple of Northern Territory locals and it seamlessly blends two of our country's greatest pastimes — having a punt and flicking the rod around… and fishing, too! It sounds too good to be true but the only catch is you have to be registered at the time of nailing a big one – you'll see a MDF tag on the fish then redeem your dollars. So, head up north, get fishing and if you hook a big Barra with a million dollar tag, you'll eat and drink… well, for years. For more details on the next season get your fishy fingers surfing over to milliondollarfish.com.au
BY JAMES KERLEY
PHOTOGRAPHY BY ALI NOORIAFSHAR
For the full article grab the July 2019 issue of MAXIM Australia from newsagents and convenience locations. Subscribe here.