Does your dating app profile and actions make you look like you're on the prowl or a potential partner for your princess? Wellness expert, lifestyle coach and bestselling author ANDI LEW investigates…
Call me a modern day dating app Cupid. I've written a book about the myriad of ways to catch the attention of your next date from the comfort of your smart phone. After four years of research I came across plenty of apps and hopefuls that had it all so very wrong. Let's get one thing straight though. This is all a very new game of modern love. We aren't supposed to know how to court with messages and images. It's only something that began around five years ago and we are still working through our text teething problems. So if you start to sound like a stalker, or someone is asking to check you out a little more, it's ok. You're normal. In fact, you're healthy. You're just figuring it out, but I now need you to stop and start 'reading between the bubbles'.
On my recent American press tour I was asked by journalists about their notion of needing to know how do we ascertain if a 'match' on an app is going to be a weirdo or just socially awkward? It's a valid point. We all act a little weird when we aren't sure of the person we are speaking to. We could very well be socially awkward if we aren't very good at writing. We might actually be better in real life. When we text, we lose tonality and timing. We also lose body language. These three cues help us gauge where the conversation should go next. When you lose that, it's hard to read the cues. I wrote a whole chapter in my recent release #instalovers called "How to weed out the weirdos". Here are three top tips that will save you time and heartache:
ASK TO VIEW ANOTHER SOCIAL MEDIA PLATFORM: If they don't give it up right away or say they don't have any social media; they're probably lying to hide something from you. It could be to protect themselves until they feel a little more comfortable with you. However, you should aim to go with 'easy'. If it's getting too hard to search out someone, it might not be worth the investment. Essentially, go with your gut, but don't be gullible and always be polite.
DON'T BE TOO EASY: If they're too quick in revealing the social media account – it could still be a fake. Check the dates the pictures were posted. Check the comments under, too. How do the public or their friends intersect with them? It's all very telling! If you've given up your account to your match in order to validate who you are, take your time now. It's important to step back a little and watch someone a little more or keep a conversation going until you decide to make a date. You still don't really know each other just because you're now Instagram friends.
KEEP THE LIGHT BANTER GOING BUT DO SOME GOOGLE: If you have each other's social media, you might also like to do a little Google searching to make sure this isn't a blind date. There isn't anything wrong with any of this. You're not stalking; you're investigating! It sounds worse but it's needed. I walked into a police station once after receiving unconsented videos and photos from a match I'd just started chatting with. They were highly offensive, hence me making a report. The police officer told me that my then manuscript was genius because he gets at least a person a day with the same complaints. He explained the reality of its how blind a dating app first date can be. He says that when we meet someone in a public space, we've already observed them in their surroundings and how they interact with the world around them. So even though we've known them for a matter of minutes before the gym girl says "yes" to your post-workout protein shake across the road, it's not a blind date like an app.
So, when you investigate your digital dates who cares if you're having a "stalk". You're meant to! It also means you're doing your research which means you either: a) Value yourself and need to look out for yourself or b) You're getting to know your match so well that you're prepared physically and socially for the first meet. It's a shot at love and you're setting the bar high. Just because you meet on a dating app, doesn't mean you can throw all your standards and values out the window. Keep hanging on to them, they suit you.
Let's say you discovered your match is a little more of "maybe" or "bye bye baby" and you need to ditch the date. You're online and did the above but you're smelling something is up or don't like what you see. Make sure you leave that person better than you found them. Be honest and choose kind or thoughtful words like, "I'm just not vibing us" or "please excuse me, but I'm feeling like you're too good to be true and could be a fake profile." Remember this though: you can't text the wrong thing to the right person! If they're keen, they're going to be amazing to you. If you come across weird and feel like mid-text chat; your grip is slipping, then offer to call and pick-up the phone for a voice or video call. You're not a weirdo, you're just socially awkward, right?
Another thing you can do is use emojis to either be fun, funny or express/give time to your banter. I like to have a rule of at least one emoji every second text. This way the person on the receiving end can feel your vibe more with the intention behind the connection. Emojis save every conversation when you know how to use them well.
If you really feel you're being stalked, make sure you tell your "over-zealous match" that you want the harassing to stop or else you'll block them or will report them to the app's admin. Yes, you really can do that. Every app has an administration section in the settings page. If this tactic doesn't work you have the option of going to the real investigators – the police. ACORN is a cyber police division which can help you feel safe by making online reports about cyber harassment and other incidents.
If you want a dating app coach, you'll get all this and more in my latest book. And once you've read it, feel free to stay connected on social media so I can help you have more luck in "clocking it" in the game of modern love.
ABOUT ANDI
Bestselling author Andi Lew launches her seventh book #instalovers after appearing on several TV shows both in Australia, and recently the US, as a Wellness Expert. You may recognise Andi from when she played Cupid on Australia's popular dating show Shopping For Love and she was also the original Ultra Tune girl. As a certified wellness and lifestyle coach, she married her obsession with helping you have more love and connectedness in your life – and partners it with a healthy dose of flirt! Stay connected with Andi via Instagram @andi.lew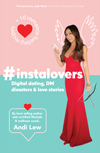 For the full article grab the June 2019 issue of MAXIM Australia from newsagents and convenience locations. Subscribe here.