The powerful personal stories of our mighty service men and women battling it out on the sporting arena at the Invictus Games…
The Invictus Games, held in Sydney last October, showcased the remarkable determination and talents of our incredible wounded service men and women as they battled it out in their respective sporting fields. These veterans of the Army, Navy and Air Force served in campaigns from Somalia to Afghanistan, and shared the scars of their service, both apparent and invisible. Prince Harry referred to "the healing power of sport" as he watched competitors from 18 countries around the world represent the nation for which they'd fought. Yet many of the competitors' compelling personal stories have yet to be told. Until now.
New book Unconquered: Our Wounded Warriors tells the true stories of Australian and New Zealand men and women who fought and triumphed over extraordinary challenges from the battlefield to the sporting arena. It also offers a deeply personal account of the trauma of armed conflict, the power of the individual to overcome fear, wounds both mental and physical and the persistent determination to succeed in the face of adversity. In this edited extract, we take a look at the very different personal accounts of two such Australian athletes…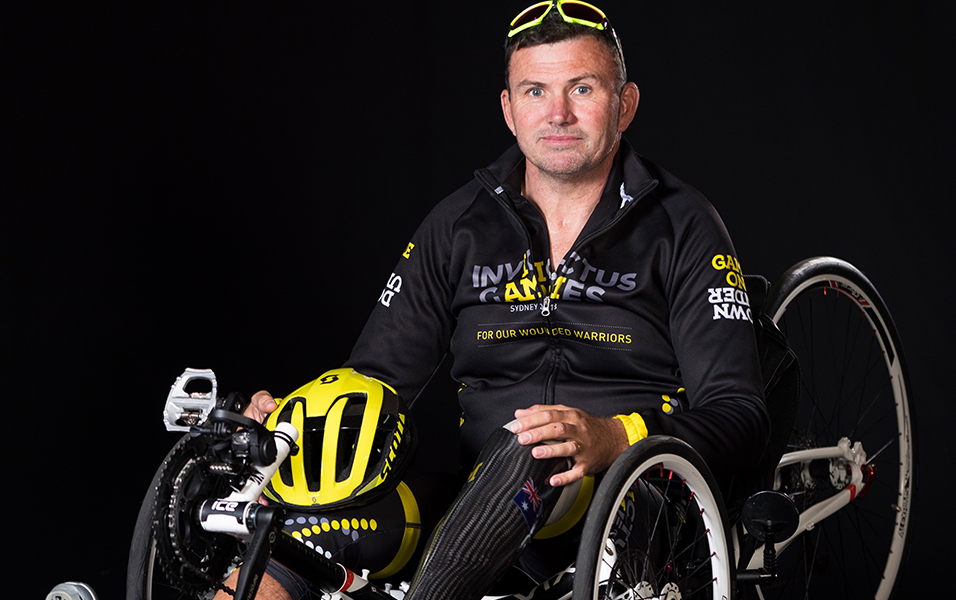 Garry Robinson DSM – 'Mr Invictus'
At the time of his medical discharge from the Army in 2016, Garry Robinson was a Special Forces sniper team commander with 21 years' service in the Army. To reach this position he had conquered the gruelling Special Forces selection process, endured intensive training in a series of demanding circumstances and completed multiple deployments to East Timor and Afghanistan. Challenges had simply become part of his life and overcoming them just a natural response. But the Black Hawk accident in northern Kandahar, Afghanistan, on 21 June 2010, would pose a far greater challenge than any he had faced. It would also redefine his life.
Garry was serving with 2nd Commando Regiment at the time of the accident. He was aboard one of four US Coalition Black Hawk helicopters carrying US and Australian troops on a night operation against Taliban positions in northern Kandahar. In pitch darkness, Garry's helicopter crashed in rugged terrain killing three Australian commandos and wounding seven. The American loadmaster was killed and four US personnel were also wounded. The quick response from the other Black Hawks certainly saved the lives of many who might otherwise have perished.
So severe were Garry's injuries that he spent weeks in an induced coma. "I sustained a severe traumatic brain injury and fractured multiple bones including transverse processes in my lower spine, sacrum, eight ribs, both shoulder blades and badly fractured left leg, which was later amputated below the knee, my right acetabulum, or hip socket, which left my right leg dislocated for over a week. I had a lot of internal bleeding and had to have my spleen removed. I also had a punctured lung. I had a large degloving wound to my backside from my scrotum to my lower back, which left me with a colostomy bag. I was in an induced coma for four weeks while my body healed, and I spent two years in hospital recovering from the brain injury."
It was towards the end of his hospital rehabilitation process that Garry heard about the Invictus Games. "I was coming to the end of my rehabilitation within the military – I had spent two years in a rehab hospital and then a further 18 months in a military hospital. I had a severe brain injury and I had no idea what I was capable of doing. I could barely walk or breathe, and I was actually confined to a wheelchair." Sport played a major role in his rehabilitation and Garry completed an application form, listing the three sports he wanted to try as soon as he felt capable. Then "I saw these games which I had never heard of and I started hearing about what the Invictus Games were and Prince Harry's involvement."
Garry immediately applied for selection in the three sports that he had hoped to try. "Within six weeks I was on a plane to London. In that six weeks I taught myself how to ride a bicycle and learned the techniques of target archery." As a member of Special Forces, Garry had been extremely fit and was a strong athlete prior to the crash. "Even before the accident I was always cycling, I was a good cyclist. Cycling has always been in my system and still is. But since the accident I probably prefer archery. My coach has brought me a long way because I used to be a good shooter and when I first started archery, he taught me to work with my ability. It would take years for me to become as good at archery as I was at shooting."
The atmosphere of his first Invictus Games is something Garry will never forget. "When I arrived in London and was surrounded by all the other athletes from all the other nations, it felt like I was in the Army again. I was back at work. I started to come out of my shell a bit and focus on the job at hand. Because I had lost three good mates in the crash, including my best mate, everything I do today and everything I did back then was for them." Garry has been to every Invictus Games — London, Orlando and Toronto. He attributes the success of his recovery to his family, who were with him all through his hospitalisation and rehabilitation process. They were his support system and provided what he regards as a lifeline. "I admire my wife Katrina and children Rebekah, Carly and Joshua, for the unconditional support they have given me since my accident. It has not been easy for them. They are the only ones who really understand everything I have been through. If I hadn't had their support behind me, I probably wouldn't be here today. I would have let myself go. So having that support and going to the Invictus Games has definitely saved my life. I'll definitely go back for more."
Sport and the Invictus Games have been pivotal to the success of Garry's rehabilitation. "Sport has been a big part of my rehabilitation, especially since competing in the first Invictus Games. I came home from that wanting to compete more. It gave me something to focus on. My abilities have changed over the years and, through sport, I have found ways to adapt so that I can stay involved and active." The games have also given Garry the opportunity to prove himself, particularly to his medical specialists who were convinced that he was incapable of playing sport at all. "For me, probably the biggest thing with these games is proving not only to myself but the doctors, nurses and surgeons who told me that I'd never be able to compete again because I was really badly hurt. I was a very good athlete before the accident and I know I have proven them wrong just by competing. Where I am today shows that para-sport is my recovery – I wanted to prove to them that they were wrong."
Garry is also convinced that the identity of the games is important to the athletes. "It's not the Olympic and Paralympic Games, it's the Invictus Games – the separate identity is awesome. In every sporting event, the Invictus Games have left a mark – you can't get that experience anywhere else. You can't buy that." He is filled with admiration for other athletes, particularly those he has seen at the very start of their recovery process. "I admire many of my fellow competitors, especially Peter Rudland, who has been on the Invictus Games journey with me. After being wounded, he couldn't even ride a two-wheeled bike but now competitively rides a recumbent trike. I also think about my mate Ben Chuck who, along with three others, was killed in the accident. He was in my team and everyone admired him as a great person and a great soldier. I am amazed by my son, Joshua, who has seen the worst that can come out of the Army – death and severe wounds – and has still chosen an Army career. These are the people who inspire me to push harder and be the best I can.' Joshua has had the extraordinary example of his father to inspire him.
Having spent his life accepting challenges and pushing through to achieve new heights, Garry is keen to continue competing as long as his new-found abilities permit. His journey to recovery is clear evidence that the inspiration, camaraderie and sheer joy of competing at the Invictus Games can prove life-changing.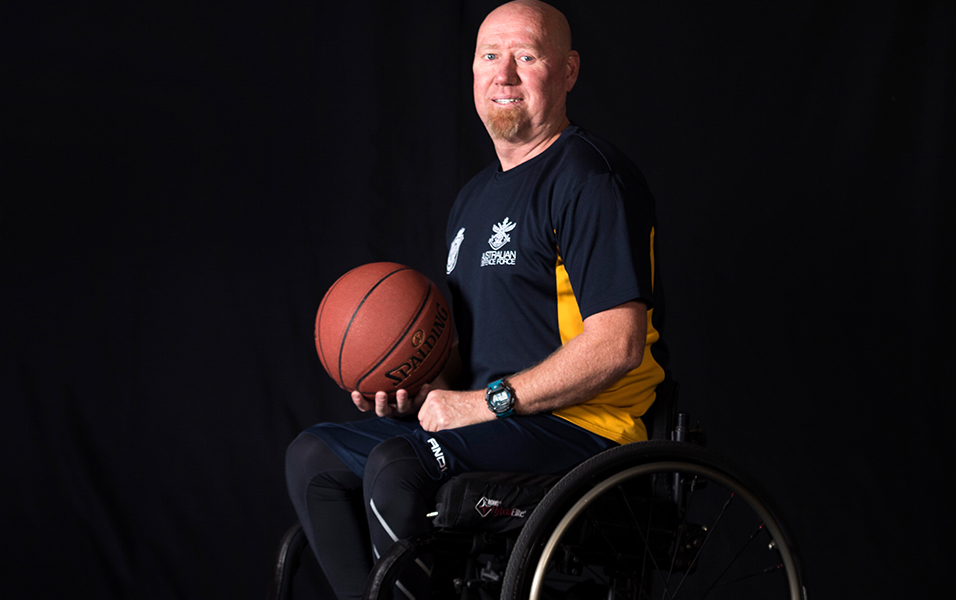 Jeff Wright
He joined the Army in 1986 when Vietnam veterans were still a common sight around Army units. He found them very impressive, recalling that he was "lucky enough to be exposed" to these and other veterans during those formative first few years in the Army. He joined the Royal Australian Corps of Transport as a driver, spending a number of years in transport units before a stint in 5th Aviation Regiment. He also served at the Land Warfare Centre in Canungra and, at one point, progressed from trucks to boats, in what he describes as "a diverse period". It was his posting to 35 Water Transport Unit that preceded his first deployment. In 1999 Jeff Wright found himself on his way to the troubled island of East Timor.
As a member of the International Force East Timor (INTERFET), Jeff's primary tasks were "to help secure the port, transport supplies and distribute items in and around the country". He enjoyed his deployment, describing it as "a good period". It was some compensation for having missed earlier operational tours. "When I was in aviation I missed a couple of trips to Somalia and Rwanda, so I was eager, I was ready. I wasn't thinking about being underprepared. I think I was probably over-prepared, so I was happy to go and ready to go." But Jeff had arrived at the start of the INTERFET operation and the situation in the strife-torn nation was still tense, with several militia groups terrorising the local people.
"We were able to save a couple of people from the militia at the start, we were able to protect a couple of women and a few blokes who were probably about to be hacked up. On a lot of nights I was able to visit the hills. No-one knew what we were really up to at the time. We had motorbikes so we could duck up to the hills and we found a little orphanage up there. They really didn't know what we were or who we were at the time and, through some really bad English translation, we were able to tell them what we were doing and they were quite happy to see us. When we went up, we would fill our saddlebags with lollies and the kids just flocked to us. It was good to see those people up in the hills and the orphanage that took in a lot of people at that time. I was really happy with the way we conducted ourselves and how we got the job done."
Jeff felt well equipped for his role in INTERFET and for the tasks that the deployment demanded. "I think I adapted really well. We had pretty good equipment to work with back then, although some of the stuff coming into the country was pretty slow getting there. But I think we had the right attitude with these soldiers. Everyone was there to do something. It had been quite a long time since there had been a serious military deployment and the government was very reluctant to send us anywhere, especially with so many soldiers involved. But in East Timor Australia took the lead. And General Cosgrove did an outstanding job – to have someone of his calibre in charge of all international forces in the country was incredible."
But returning to Australia at the end of his deployment and slotting into the family home and lifestyle was something of a shock for Jeff. "I was okay when I got back, although it was a bit of a shock back in the family home. I didn't know where I fitted in because they had moved on without me, learning to deal without me being there, whether it be paying bills or mowing lawns or washing the cars or just doing things. I did feel quite isolated there and everything felt very clean and clinical back here in Australia. We had a few interviews about our psychological state of mind and things like that, but I think that there was nothing for me really to discuss with anyone at the time. I didn't think it was worth talking about. We were used to coping with any difficult situation and I think that was it at the time."
Jeff left the Army in 2003, having decided to try something different – the police force. "I took long service leave and then I joined the police force. It was a really good distraction for me because I was keen to learn. There were so many transferrable skills from the military to my new role as a policeman, and in the academy they tapped into the skills we had. It was a good transition and I thoroughly enjoyed it. It was a different world, but so many things were similar – it was another environment in which I wore a uniform and took responsibility and also helped resolve life-threatening situations at different times.
He enjoyed life in the police force so much that he stayed five years. When he eventually left, it was a financial decision based on a better offer rather than through disillusionment with the police. "I was building an investment home with a local building company and, during the construction period, I was offered an opportunity to work for the company as a sales consultant and a custom home designer. The money was too great to ignore. So I decided that I would kick myself if I didn't give it a go. I resigned from the police to pursue a career in the building industry and off I went. It was a good decision. Things went really well and I eventually moved on to work for a local land developer and start helping him with his residential land development. That's when I had the accident."
Jeff had just enjoyed two days off work and was riding his motorcycle home. "I saw a vehicle in a right-hand turn lane up ahead of me – he thought the car was going to turn." But the driver hesitated at the last minute and, by this time, Jeff "was way too close and ended up colliding with him". As he remarks, "and that's when everything changed. Ended up being paralysed. Had my sides completely smashed in and I had a facial reconstruction. I lost sight in my left eye. My voice was damaged and I had skull fractures, multiple rib fractures, and spinal dislocations."
Despite this, Jeff considers himself fortunate that help came as quickly as it did. "I was lucky. Just minutes after the accident, four highly qualified paramedics were working on me, which is the reason I'm alive. I'm 100% sure of that. They took me to the hospital where I had urgent facial surgery." Jeff was flown to a major hospital for spinal surgery and a further facial reconstruction. "And then I went in for rehab. Normally you spend six to nine months in the unit. I self-discharged after nine weeks – 11 weeks total at the hospital." He had been overwhelmed by the intensity of the hospital treatment and the enormity of his situation. "I was just getting very depressed and becoming suicidal. I was really struggling with the whole idea of what had occurred and I needed to get out of there. It was a pretty depressing time."
Jeff couldn't go home to his wife and children as he could no longer cope with a normal house. "I couldn't stay home because the house wasn't appropriate for me, so I just stayed in a motel in town while I was trying to get organised to have modifications done to my house. I stayed there for three months and by then some slight modifications had been done to the bathroom so that I could at least use it till the insurance company was able to organise more permanent modifications."
The accident had a devastating effect on Jeff's family. "I'm no longer married. I ended up separating from my wife a couple of years ago now and that was a direct result of the accident. There was no bad feeling between us or anything like that, it was more that I needed to get everything from the past out of my system. That was the consequence of my mental state. My kids are still a really big part of my life. My youngest is 21. They had a fair idea that I needed to move on. I tried to fight myself for about a year. But I realised I was not going to get through if I continued. And then I moved out and now I have my own place and a great relationship with my kids and I still have a bit of contact with my ex-wife."
Part of Jeff's ability to recover has come from his contact with the Invictus Games. He first heard of the games while he was in rehabilitation. "I was in the rehab unit in the hospital and someone told me about wheelchair basketball. He kept on at me, 'Oh, you've got to come down and try. You've got to come down and try.' And I kept putting him off. I just didn't want to go and do it because I was still really convinced that somehow I would walk out the door any minute. But eventually I thought, 'I'll go and give it a try.' I had a go and fell in love with it and started playing. It became something that I really looked forward to and soon I was playing several times a week. We joined a couple of people to start a basketball program there and they had been to the London Invictus Games. And they said, 'You guys are so good at basketball. You should put in for the Invictus Games. And we did and the rest is history.
Jeff was selected for the Invictus Games in Toronto in 2017. "I tried really hard. I took it very seriously and I tried to be as good as I could be for Toronto. It was a big occasion. That was a big trip for me and was a bit hard to take, but I got there. I got there in pretty good nick really, to be honest. The time difference took a bit to get used to, but I had plenty of time before the competition started. I wasn't nervous and I wasn't worried and I watched a lot of YouTube clips on the games to see who the teams were to beat and who the good players were in those teams. I watched a lot of video footage to see what I was up against. And I actually thought there was nothing that I saw that we couldn't compete with."
He went into the competition feeling very confident, only to find that his confidence was somewhat misplaced. "So I was confident that we'd go reasonably well. And as it turned out we didn't go quite so well in basketball, but we certainly got their attention and won their respect for the way we played the game. For someone going into the stadium for the first time, it's an overwhelming experience. The stadium was so packed. It's so noisy. It was just a real vibe, but I was able to come straight into the game. Just trying to find that ability to concentrate on the game and not worry about the noise of the crowd and the response of the crowd was hard work."
Jeff has used this experience to build his confidence for the 2018 Sydney games and to ensure that these will be every bit as good as Toronto. "I think the camaraderie will work really well this year as it is a good mix of people who have been before and new people. I was able to get the senior guys to mentor a new person this year and just help him along. But the younger ones have come on so well that everyone's really feeling quite confident. We put the work in. We're so much better off this year than we were last year in both basketball and rugby. This is particularly the case in the way we've been able to play rugby this year — it has been quite impressive considering where we were at the same time last year. I don't like to talk about end results but I think we should expect to do well and everything else will take care of itself if we play to our potential."
The Invictus Games have made an enormous difference to Jeff's determination to push forward and continue what has been a remarkable recovery. "Being a member of the Invictus Games 2017 team was a most rewarding and fulfilling experience. I felt that I had unfinished business and wanted to compete again to better the results from last year and to experience the thrill of all that the Invictus Games are about."
In fact, sport has become a big part of Jeff's plan for his future. "I'm going to keep myself going and maybe look at going to the Paralympics. It's part of what I want to do. I enjoy the team camaraderie and the team sports, and it's good exercise to keep you healthy. So, as long as I can contribute to the game, I'm going to try to maintain training two or three times a week in basketball and get along to a tournament because the benefit is not just physical, but mental as well. It's exactly what I need and I think I'd be a completely different person if I didn't have it. For me, it has been the catalyst to revisit the camaraderie and competitive nature of sport, allowing for aggression, skill, teamwork and overall enjoyment. Sport helps me stop thinking that I am a person with a disability. Health and fitness are huge benefits for now and in the future."
For Jeff, "serving my nation in the Army and serving my community as a police officer" were his greatest achievements. To these he adds a feat that is just as remarkable, "surviving and thriving after a motorcycle accident". Selection for the Invictus Games must also rank alongside these achievements, particularly given the seriousness of his injuries. It is yet another step in an extraordinary journey to recovery.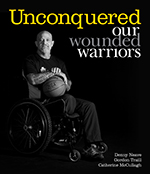 Unconquered: Our Wounded Warriors by Denny Neave, Gordon Traill & Catherine McCullagh (Big Sky Publishing $69.99) is now available at all good book stores and online at www.bigskypublishing.com.au
For the full article grab the May 2019 issue of MAXIM Australia from newsagents and convenience locations. Subscribe here.