Just because you only have a week off doesn't mean you can't jump on a plane to Los Angeles and eat, play and drink yourself silly. MAXIM takes on the fine districts of WEHO and SANTA MONICA for this discerning five-days-in-L.A. diary…
DAY ONE: THE DOORS, BARNEY'S, A PORN LEGEND & WEED
7:17am: It's a usual hazy Los Angeles morning as we touchdown in LAX. It's also peak hour and the city is abuzz. Our Uber driver isn't stoked about it, but we sit back and enjoy the sights as we head to our hotel in Hollywood.
8:11am: Once we check-in at the Andaz West Hollywood, located on the famous Sunset strip, we head straight up to the hotel's legendary rooftop pool, as featured in cult rock mockumentary This Is Spinal Tap, to start work on any jetlag that may be kicking in. We take a seat, grab a drink and look over the incredible view of LA.
10:36: The universe – or more accurately the Andaz cleaning staff – delivers us an early check-in and we head to our room. Legendary as a rock star haunt in the '60s and '70s, when it was known as the Hyatt House (and nicknamed Riot House), each room in the Andaz has lyrics written on the window. We get lines from The Doors Light My Fire. It's the first of many nods to Jim Morrison we'll have on this trip. The late The Doors singer would have been 75 last December. He, in fact, lived in the Andaz until he was evicted for hanging off his room's balcony. Probably why there's none to be seen at this residence anymore.
11:38am: So here's the thing, right, recreation weed is now legal to buy in California. It's a brave new world, where weed stores advertise on billboards, fast food restaurants market directly to stoners, and people openly smoke joints at LAX's exterior smoking area – although we're pretty sure the latter is not legal… yet. In the name of research and journalism, we are basically required to investigate. And so, we schlep down to Santa Monica Blvd to visit cannabis dispensary Med Men. Dubbed the "Apple store of weed" in this 'hood, the store features large counters throughout, displaying their wares, and touch screens allow customers to look up the effects and potency.
The store has an eclectic clientele; ahead of us in the line are a 50-something mother and her early 20s son, signing in for the first time. Weed might be legal but you must register at a dispensary and hand over your ID to be scanned.
It's illegal to smoke in public and at hotels, so smoking is tricky for visitors if you don't have local friends. That's where edibles come in – from brownies to gummy bears to ice cream… yep, they got 'em. But here's a handy tip: go slow. Edibles take around an hour to kick in, so don't consume more thinking the first dose hasn't worked. Also, make sure you have other food on hand: eating more edibles when you get the munchies is a chump's error.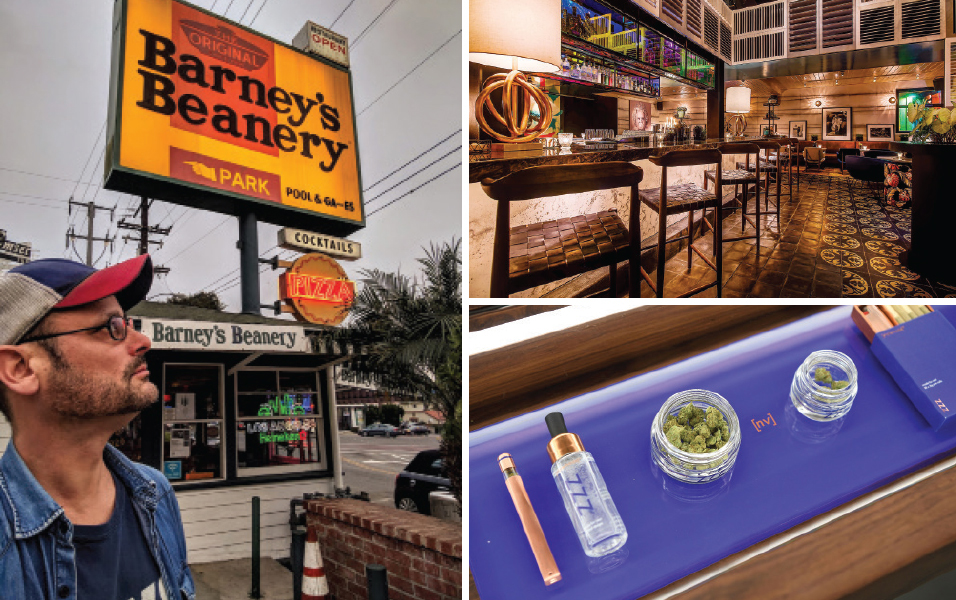 1:23pm: In a completely unrelated story, West Hollywood now has a Shake Shack, and we go there. Unlike the New York version of the burger and shakes chain – and the local In-N-Out Burger – there aren't seemingly endless lines. There are, however, delicious burgers.
6:45pm: After an afternoon power (see: Nana) nap and change of clothes, it's time to catch up with some of our local mates and get this show on the road. We meet at Skybar, the open-air bar at the back of the Mondrian Hotel on Sunset Blvd. Skybar makes the most of so many things that are great about L.A. – the weather, attractive people and fine drinks. Then there are the incredible views of both the city and the famous pool. Long a celebrity haunt, today this place sees a YouTuber we don't know posing for selfies with fans. Our drink of choice: The Modrian Margarita. Do it.
7:58pm: Our next stop is a short walk down the hill to one of our favourite joints in L.A. – the iconic Barney's Beanery on Santa Monica Blvd. A West Hollywood institution, the booze-filled diner with dive bar charm opened in 1920, and by the mid-'60s was a counter-culture hub, frequented by Marlon Brando, Jack Nicholson, and Bob Dylan. Some of the much-graffitied tabletops from those days are now mounted on the roof, including one Janis Joplin carved "JANIS" into with a knife. A plaque marks the spot Jim Morrison pissed on the bar. Is there anyone who could get away with that these days? We don't risk it, but it's not our first time at the Beanery and it won't be our last. Incredible history aside, it's got a great vibe. Drink of choice: Anything from the huge selection of spirits, beer or cocktails.
9pm: For dinner, we have reservations at Peruvian restaurant Rosaliné. While Rosaliné's menu is Peruvian inspired, the restaurant itself is pure Hollywood complete with movie-set-perfect design and subdued lighting. We order a bunch of dishes to share and our legitimate favourite is a beetroot (aka "beet") salad. We're told by everyone that the various ceviches – a raw fish salsa – are world class. We don't get to this seafood but the claim checks out – perhaps the edibles played some part in this? Drink of choice? Chicha (citrusy corn chicha, bourbon or Viejo Tonel Quebranta pisco, bitters)
10:23pm: As we stumble to our next venue we walk past a gaggle of paparazzi waiting around a club door. "Who are you waiting for?" we ask. "I don't know," he says, cagily. He's lying, but we don't hang around to find out. However, it's out the front of famed music venue the Troubador that we make our first celebrity spotting – porn legend Ron Jeremy is holding court with a group of colourful characters hanging onto his every word. We think twice about hanging around to ask him for some "tips" but instead head next door to Doheny Room.
10:47pm: Fronted by giant windows, club/bar Doheny Room features plantation shutters and giant indoor plants, and, as we make our way through, pumps sweet R&B and '80s punk. We head upstairs, where we appear to have crashed a birthday party for "Nick". We know this because of the giant balloons spelling out the name NICK. Despite wishful thinking, Nick turns out not to be Nicholas Cage, but we get chatting to security guy, an Aussie named Keiren. When in L.A. there's a big chance you'll come across an Aussie. We tell him we only got in that morning. It's midnight. "Man, how are you still awake?" he asks. We're not exactly sure how to answer him. Aside from the afternoon Nana nap, we haven't slept in almost two days. By 1am we feel it's as good a reason as any to call it a night.
Drink of choice: Moscow Mule.
DAY TWO: THE BARBER, IMPROV & WAY TOO MANY MARGARITAS
10:37am: After a decent sleep-in (see: jetlagged oversleep) and something that feels like hangovers, our first mission for the day is getting our hair and beard situation sorted out. So, we head down Sunset to hip barbers Like A Gentleman.
11am: Housed in what was once nightclub London Fog, of course we're told that none other than The Doors were the house band at this barbershop in the '60s. The vibe here is very much laidback-cool. Also, we very much have the least impressive biceps of everyone here. Head barber Mikey Caputo is tasked with shaping our manes. He tells us their neighbouring deli just launched a Like A Gentleman signature sandwich and that I should check out Aussie-owned bar and restaurant E.P. & L.P. "It goes off there on Australia Day," he says. We don't go into the Australia Day date debate because Trump is their President and they have enough to worry about. Mikey works so quickly that when he presents us with a mirror to check out his work, we're shocked that he's already done. And it's awesome. Admittedly he was working with two very good canvases, but if you're looking for a decent groom – this is the place to be. Drink of choice: water
1pm: Next stop – we jump into an Uber and head to Downtown L.A. to watch an NBA (U.S. basketball) game at the Staples Center. The Los Angeles Lakers are playing the Orlando Magic but we're really just there to witness one of the greatest ballers in the world – LeBron James. The Lakers superstar is the big drawcard since signing with them this season and America love their sports – L.A. in particular. They have basketball, football, baseball and ice hockey teams that you can get tickets for – probably best to organise this before you get to L.A. as it will work out cheaper. LeBron doesn't disappoint with his dazzling skills but the Lakers can't find a way to win the game. Still, the experience of watching a live sporting event in America is second to none. A great experience indeed. Drink of choice: beer.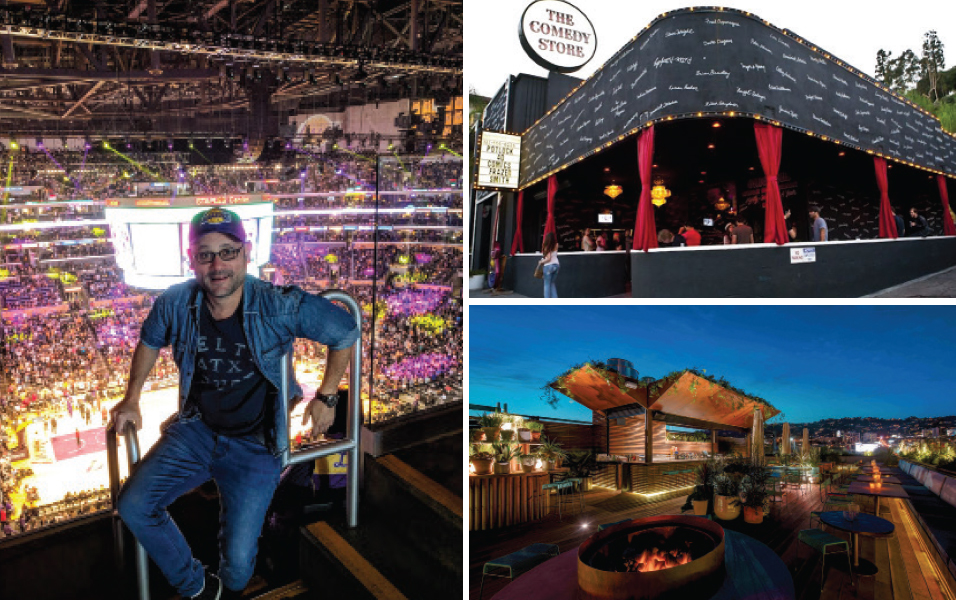 7:35pm: After a swim back at our hotel and a bit of downtime, we take barber Mikey's advice and meet up with some local mates at E.P.&L.P. A relatively new West Hollywood bar/restaurant E.P. is the restaurant portion of set-up where Fijian-Chinese chef Louis Tikram has assembled an Asian fusion menu, complete with specialty cocktails. We get some Asian Slaw and Lou Dogg's crispy skin chicken and wash it down with a couple of said cocktails. Then it's up to L.P., the rooftop bar which is a favourite of Aussie expats. Most weekends there are so many Aussie actors here that you could be mistaken for thinking you've stepped into a bizarre world where the Summer Bay Diner is now surrounded by the Hollywood Hills. Drink of choice: 99 Problems But A Herb Ain't One (a giddy combo of gin, lemon, kaffir lime, and ginger)
10.37pm: When in L.A., we reckon seeing some stand-up is a must. There's The Laugh Factory and the Improv (on Sunset), but tonight we're heading to The Comedy Store. Situated right next to our hotel, the Andaz, The Store is perhaps the top comedy venue in the world. Any night of the week there'll be someone you've heard of on the line-up. Tonight, we see a gaggle of comics MC'd by director/comedian Judd Apatow and featuring Bill Burr, Greg Fitzsimmons, Bobby Lee, and Montez from Workaholics, among others. Plus, table service means you don't have to stop sipping margaritas all night. We're seated unnervingly close to the stage, and our inevitable audience participation moment happens via a comic dressed as David Bowie. "Where are you from?" he asks. "Australia," we reply. "Ugh," he groans, rolling his eyes, and moves on to the next victim. It gets a laugh and we don't have to answer any more questions, so we're counting it as a win. The comics continue well into the early morning. We've enjoyed ourselves, and our margaritas, so much that when we finally decide it's time to leave the crowd has thinned somewhat. Evacuating our seats without becoming part of an act gets increasingly difficult, but with our eyes struggling to keep open, we make a run for it between comics. Mercifully, our hotel room is metres (and an elevator ride) away. Drink of choice: Multiple Margaritas.
DAY THREE: HANGOVERS, SHOPPING & THE FRIED CHICKEN WAFFLE SANDWICH
12noon: By the time we're able to move, it's brunch in WeHo. So, on recommendation, we Uber it to Santa Monica Blvd eatery Norah doing our very best to not look hungover. Let's act like we're successful. Inside the spacious, split-level restaurant, groups of friends have started to gather for mimosas, while a few suits pow-wow on the lower level (wearing suits on a Saturday should be illegal unless you're at a wedding). We're taken to a table on the top level by the rear garden. "Do we have any food allergies at the table today?" our server asks cheerily. We love Americans. After telling her, "No", we let her know that we've been recommended the cornbread. She nods, knowingly. "It's amazing," she replies. And it doesn't disappoint. Served hot in its own skillet, we're hit with the sweet aroma the moment it arrives. The flavour, the texture… we got the breakfast burgers too, and they're sensational, and as we write this we can still taste that delicious cornbread. Drink of choice: iced tea.
1:15pm: Our hungover stomachs satisfied, we head back out onto Santa Monica Blvd to the sound of Katy Perry's greatest hits blaring into the street. Across the road, at LGBT burger bar Mary's, a drag queen performs stand-up to a brunch crowd. It's 2:30pm, but, thanks to numerous mimosas imbibed by the boisterous punters, it may as well be midnight. It's perhaps a fitting farewell to our time in WeHo as we hop into an Uber and head back to our hotel to checkout and head to Santa Monica for the second half of our five-day L.A. trip.
3:35pm: About a 25-minute drive from WeHo (depending on traffic) Santa Monica is the beachside community sandwiched between Venice (famous for its eccentric residents) and Malibu (famous for very rich people) and is a pleasing balance of the two. Our home for the next few days will be the beach-side Hotel Shangri-La. We check into our room, with its incredible view, and despite still feeling the effects of last night, we brave a walk to get our bearings.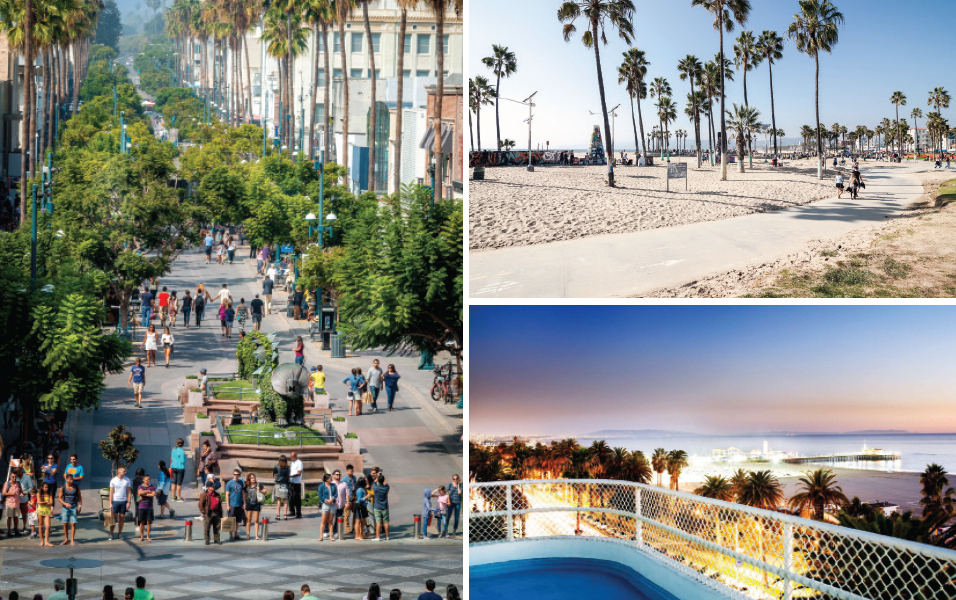 4:27pm: We do a lap of the block, feeling seedy as hell as we check out the cool cafes, bars and shopping on 3rd Street Promenade before deciding the most sensible use of our time would be a lie-down pool-side. After an hour, we go back to the Shangri-La pool area and slump into a sun chair – bliss! Three European blokes next to us have tequila delivered to their chairs. We catch a waft of it and wonder how we will ever drink again. They each take a shot, and quickly pour another. "You want a drink with us?" one of them asks, with the smiles of men who have just had their first of too many drinks, we politely shake our head and croak, "Thank, but we can't… yet." They laugh. A lot. Our WeHo hangovers are apparently written all over our faces. Drink of choice: shut up about it.
8pm: After a well-earned nap by the pool, we awake in need of food. Specifically: unhealthy food. We know instantly what we will be eating, having spotted our mark earlier. A fan of both chicken and waffles, and especially the combination, there's was no way we wouldn't be sampling Bruxie – home of the fried chicken and waffle sandwich – boom! Inner-city hipster eateries aside, Australia is yet to embrace this Southern delicacy, traditionally topped with maple syrup. Some will try to tell you maple syrup should never be served over fried chicken, bacon or eggs, but these people are either stupid or vegans. The fried chicken and waffle sandwich is exactly what we need in our lives right now. Drink of choice: Dr. Pepper and American lemonade.
DAY FOUR: THE BEACHSIDE, BIKES & BULLETPROOF LABS
9:26am: Feeling recharged and ready to get stuck back into it. Bring it Santa Monica! The beach adjacent to Australian cafe Little Ruby hosts our first breakfast here. It might seem odd to fly halfway around the world to end up at an Australian cafe in Santa Monica, but just try some American coffee and you'll be ready to cross town for a flat white. We've barely been away from Australia, but the thought of vegemite on toast is too good to pass up. Drink of choice: Flat white and an espresso – don't judge us!
11:30am: We really hit peak L.A. with a visit to Bulletproof Labs. Touted as the world's first body-hacking gym it was founded by silicon valley entrepreneur Dave Asprey (who also invented Bulletproof Coffee). This place is a Todd Sampson wet dream, using cutting edge technology to improve health and fitness. Biohacking technician Brandon Tobias shows us around. He takes us to the RedCharger, which looks like a mix between a tanning bed and hot plate. He says we're going to nude up and lie on it. Because life is crazy, we do. For 15 minutes we soak up red (630nm) and infrared (880nm) LED light which is said to boost mitochondrial function and improve circulation. What? Next up, it's cryotherapy time. This involves standing in a -156.7°C cryo-chamber for three minutes. We're given gloves and boots to protect our extremities. Women don't need to wear underwear, but they recommend men do – because nature is sexist. We step into the chamber as Stevie Wonder's "Do I Do" is pumps through the sound system and we both shiver our absolute balls off. There's a giant clock counting down our three minutes and the third minute is a real kicker.
We dance and sing through it but sadly, no video of this event exists. Finally, the door opens and toasty robes are waiting for us. But wait, there's more! Now it's onto the virtual float tank, which is actually a spinning pod that looks like something from a '70s sci-fi movie. We get in, put on an eye mask that flashes bright lights and headphones playing binaural beats and classical music. Brandon puts a weighted blanket over each of us. "It's been a few years since I was tucked in," Scott says. It isn't a weird moment at all. Despite the complete bombardment of the sensors, our minds definitely stray somewhere… but not quite the outer universes like some people experience. We leave Bulletproof Labs feeling noticeably refreshed but devastated to learn that a single visit hasn't resulted in rock hard abs. We'd definitely go back to this place – a great Santa Monica offering! Drink of choice: Something called Fat Water (which features "microdroplets of Brain Octane oil for fast energy from fat versus sugar").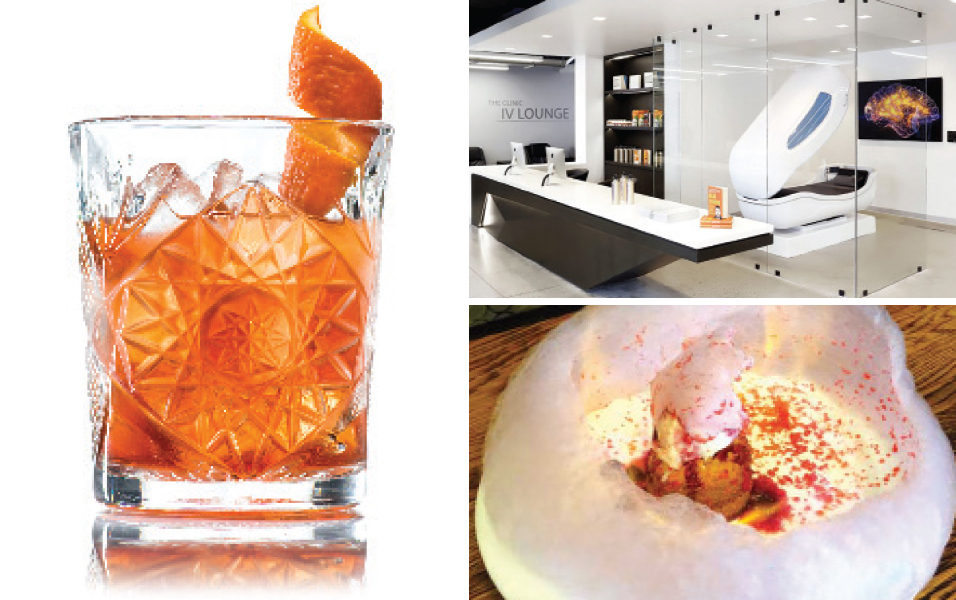 2pm: Like the share bicycles that littered the streets of capital cities in Australia a couple of years ago, Bird scooters are absolutely everywhere in Santa Monica and the locals (plenty of them skaters and surfers) use them like pros. Us? Well, let's just say we're no locals. Instead, we walk to Venice Beach where there's an array of really cool beachside cafes, bars, restaurants, and a shitload of touristy shops, not to mention the plethora of quirky characters – some trying to make a quick buck via various forms of "entertainment". But guess what? Jim Morrison greets us again via a mural on The Ellison Suites building. Venice just happens to be where Jim Morrison and keyboardist Ray Manzarek met and went onto form The Doors. You only have to take in the Venice Beach vibe and you'll understand why.
7pm: After a quick regroup at our hotel, we catch up with some friends at Santa Monica local, Sushi Roku, for dinner. One of us in the MAXIM duo (who shall remain nameless… Scott) is the dick who arrives at a sushi restaurant and announces he doesn't eat seafood. It's all good though, they sort him out with an selection of fish-free rolls and, oh look – YES PLEASE! – fried chicken. And you know that fried chicken on any menu should not be ignored. The real piece de resistance is the Carnival Cake which really tops off the meal. The cheesecake and ice cream enclosed in a mountain of fairy floss ("cotton candy" to the locals) dessert is set on fire at the table. Aided by Bacardi rum, the fairy floss disappears revealing the cake underneath. Having way too much fun here, we call it a night. Drink of choice: Fuji Apple Martini – go get it!
DAY FIVE: SHOPPING, THE BEST ROOFTOP BAR & CANNIBIS COCKTAILS
10am: After breakfasting at Ruby's yesterday, we decide to check out another Aussie cafe, Bondi Harvest. It's a little further from the beach than the name might suggest but sitting in the courtyard with a few familiar accents, and the smell of good coffee, you could almost be home. "It's 3am in Australia," we discuss while glaring at the menu. We're not sure how hungry we are. Our stomachs haven't quite caught up with the shift of time zone, but everything looks delicious.
The staff test us by convincing us to try three dishes. First up is halloumi toast with avocado and honey. It's salty sweet deliciousness but, as it turns out, Americans aren't overly familiar with halloumi. We also make a dint in a Caveman Bowl and some squash pancakes. The produce is all locally sourced, which is SO Bondi.
A totally L.A. feature on the menu is cannabis oil, known as CBD, which can be added to any drink for US$4. CBD doesn't contain THC and therefore doesn't get you high, but we take a dash in our coconut iced teas anyway. Detectable, the subtle cannabis flavour works very well with the coconut. "I didn't expect you to do so well," our impressed server says, looking at our near-empty plates on her return. Neither did we. Our bellies are overfull, but our taste buds are extremely happy. Drink of choice: Coconut iced tea with CDB oil.
5.28pm: After more shopping and wandering, we head upstairs to the Shangri-La's rooftop cocktail bar Onyx. With stunning views of the beach, brilliant atmosphere and a sunset to kill, it's definitely a must-do when staying in Santa Monica – even if you aren't a guest of the hotel. We have the first of countless Old Fashioned drinks for the night. Sipping a cocktail in an art deco style bar almost makes us feel underdressed, but luckily this is California and there's not a tuxedo in sight.
Being delightful company, we're soon invited to a private function, on the other side of the rooftop, which boasts views of both the beach and Hollywood Hills. We get so distracted by the acapella group singing pop medleys that we almost forget to leave. Also, the enormous table of hors-d'oeuvres and the Old Fashioned pours had absolutely nothing to do with it, of course. Drink of choice: Old Fashioned.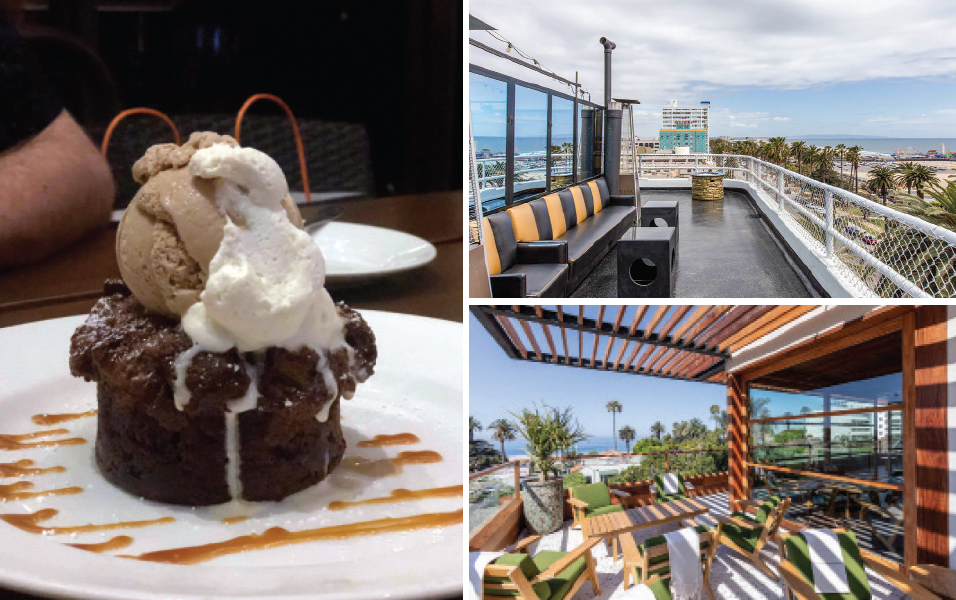 7.30pm: With quite the spring in our step we head down the street to Del Frisco's Grille for some classic American bar and grill good times. Situated at the entrance of Santa Monica's famous pier, a table out the front is the perfect position for people watching. The near accidents caused by Bird scooters alone made for fantastic viewing. We order yet another round of Old Fashioneds and peruse the menu. The friendly staff offer suggestions, but we already want too many things as it is. Truffled mac and cheese? Yes, please. Prime New York Strip? Hell yes! At this stage of the story, our food descriptors are getting rather hyperbolic – we should really be MasterChef judges. But, seriously, it was one of the greatest steaks of our lives.
10.48pm: With dinner done, we have one Santa Monica mission left – to go to its hottest new venue Élephante. Almost every person we met in Santa Monica asked if we'd been there yet. The rooftop "beach house" – a restaurant/bar with sweeping beach views – is complemented with design pieces from Northern Africa and Southern Italy (yeah, they told us this). This place is definitely worth the hype. Drink of choice: More Old Fashioned.
There's seriously no better way to end our L.A. trip than the same way we started it – downing a drink on a rooftop bar. It's been a sleepless, intoxicated, food-filled few days but we wouldn't have it any other way. As we stagger back to our hotel, around 1am, in preparation for our early morning flight back to Australia, we say farewell Los Angeles – it's been real. We'll definitely be back for more hijinks and we know it won't be too long before we are once again inebriated in you.
---
MAXIM RECOMMENDS


Where to stay in WeHo & Santa Monica
---
RAMADA WEST HOLLYWOOD
Address: 8585 Santa Monica Blvd, West Hollywood

Perfectly located in the thick of West Hollywood, on Santa Monica Boulevard, Ramada WeHo is a great base to explore the neighbourhood on foot. While L.A. isn't traditionally known as a walking town, here you're a short stroll to some of the best bars/restaurants WeHO has to offer like Melrose Avenue's bars, boutiques and restaurants, the trendy Sunset Blvd, MAXIM favourite Barney's Beanery and the Beverly Center shopping mall. On Friday and Saturday nights the free Sunset Trip trolley car will take you to all West Hollywood's hot spots and drop you back again. The hotel has a variety of rooms – our favourite being the spiral loft suites which feature a spacious living area and a spiral staircase that leads to your separate sleeping quarters. For lovers of vino, The V Wine Room, located at the hotel, features a huge array of California's finest wines. A perfect hotel to enjoy WeHo.
LOEWS HOLLYWOOD HOTEL
Address: 1755 N Highland Ave, Hollywood

If you want to be right in the thick of Hollywood Boulevard – famous for the Hollywood Walk of Fame – Loews Hollywood is perfect. Tinseltown can be hectic at the best of times, but the stylish room with coffeemakers and stunning views are anything but. Why not grab a poolside cabana and enjoy a drink in the Cali sun. Moreover, the famous street is home to Mann's Chinese Theater, the Dolby Theater – home of the Academy Awards, which are both at your doorstep, and plenty of interesting characters – be they dressed as Marilyn Monroe or Bumblebee. You can even catch a taping of hilarious late-night talk show Jimmy Kimmel Live! nearby and, while in Rome, why not dine out with class at budget-saving eateries Hooters or In-N-Out?
ANDAZ WEST HOLLYWOOD
Address: 8401 Sunset Blvd, West Hollywood

On the legendary Sunset Strip the Andaz was built in 1963 and, from 1967, was known as Hyatt House. Its proximity to music venues like the Whisky A Go Go and Rainbow Bar & Grill made this hotel a favourite of the biggest rock stars in the world and earned it the nickname "Riot House" (which is now the name of its ground level restaurant). The Riot House's infamous balconies – which the Rolling Stones threw TVs off and Jim Morrison dangled from – have been enclosed and turned into sunrooms. The Andaz is also next door to The Comedy Store, across the road from the must-see Mondrian's Skybar and within walking distance to Sunset Bar and The Roxy Theatre.
Hotel Shangri-La Santa Monica
Address: 1301 Ocean Ave, Santa Monica

Located on Ocean Avenue, the Shangri-La (unrelated to the hotel chain of the same name) was built in 1939. Designed to look like a ship, the building is an example of Streamline Modern architecture and inside it retains its Art Deco feel with modern flourishes. Every single room has an incredible view of the Pacific Ocean and located upstairs on the rooftop is the Onyx cocktail bar/night spot – the ride up in the classic 30s elevator is a story in itself. Stars like Bill Murray, Bill Clinton, Madonna, and Tom Cruise have all stayed here and you can really see why – the hotel is adjacent to the beach, close Santa Monica Pier, 3rd Street Promenade, Elephante, and Venice Beach. What's not to love?!
Montrose West Hollywood
Address: 900 Hammond St, West Hollywood

If you want to get a real feel for living in Hollywood, you can't go past the Montrose. Tucked away on a tree-lined street just off the Sunset Strip, the boutique hotel's funky-but-homely vibe makes it a favourite haunt for musicians and arty types. The Four-Diamond-rated hotel's spacious rooms feature pillow-top mattresses, coffee makers, fireplaces – seldom needed in Southern California – and some even include a feel-at-home kitchenette. There's a welcoming lounge area for meeting with friends and enjoying cocktails and an exquisite rooftop pool deck with incredibly stunning L.A. views. Oh, and make sure not to miss the nightly Vinyl & Vino Hour, where guests can enjoy a complimentary Cali wine as the DJ spins some tunes. Brilliant.
FOR MORE INFORMATION ON WEHO AND SANTA MONICA GO TO VISITWESTHOLLYWOOD.COM AND SANTAMONICA.COM
BY SCOTT KEENAN & SANTI PINTADO
For the full article grab the May 2019 issue of MAXIM Australia from newsagents and convenience locations. Subscribe here.