Kahili Blundell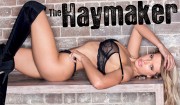 Congrats on your first MAXIM cover, Kahili.
Thanks! I feel extremely blessed and was in complete shock when I received the news. To shoot for MAXIM is a dream, and it's been a personal goal of mine, so there was no way I was going to turn down this opportunity. And it's not like any other shoot I've done before. I show a little of my personality and had a lot of fun.
You're named after a Hawaiian flower right?
Yep. My mum was flicking through a flower book and came across the Kahili Ginger flower. And being the creative person she was, she decided to turn it into a name.
Before we go any further, we just want to make sure you're no relation to Aussie country singer James Blundell.
If you ask me to sing I think my voice could answer this question for you.
Phew! You're mostly topless for this shoot. Do you, by any chance, sunbake topless?
I would like to say no but it depends on the location.
Do you ever walk around your house naked?
Of course! Who doesn't? Home is where the pants aren't!
At bedtime, are you a PJs, undies, or commando girl?
Two words: birthday suit.
OK, now describe yourself in five words.
Fun, adventurous, stubborn, loving, humble.
For the full feature and images grab the April 2014 issue of MAXIM.
To grab a digital copy CLICK HERE. All past issues available for download.
To subscribe CLICK HERE. Australian residents only.
iPad Application also available. CLICK HERE. All past issues available for download.