Allira Cohrs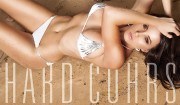 We hear you spent New Year's in Vegas. Do tell.
We lived The Hangover. It was so funny and so scary at the same time. People losing teeth, having half their head shaved… one of our close friends lost his girlfriend and she showed up two days later without her shoes or phone. But, hey, that's Vegas.
Were you well behaved?
I'm always well behaved. I'm not a big drinker, so I never let completely loose, but that doesn't mean I wasn't dancing on tables and having fun.
So if we interviewed your friends, they wouldn't tell us anything racy?
Depends who you interviewed, I guess. They'd probably tell you I'm crazy. There's a Good and a Bad Allira.
Go on…
One is very professional and has a vision and is in the zone. Then there's Allira-on-holiday, who relaxes and lets her hair down.
You're an aspiring UFC Octagon Girl. What are the criteria for that gig?
From what I can gather, they like you to be social media savvy, interact well with fans, and also have the ability to stay grounded, since it's easy for that sort of thing to go to your head. You need to be very fit, too. You cannot have anything jiggling around.
That's not entirely true.
OK, outside the chest region. These men inside the Octagon are so fit, so it goes hand-in-hand that you'd want smoking hot girls.
What is it about men beating the bejesus out of each other inside a cage that's so exciting?
I used to ask myself that every time I sat down to watch it. Initially, I was like, "Oh, my God. This is brutal." But now I see past that, and it's more about how conditioned these guys are and the effort they put in and the sacrifices they've made. Having said that, you could put in some amazing prep, but it's anyone's game when you step in that cage.
Would you ever get involved in MMA?
I study Brazilian jiu-jitsu, so I do get beaten up and put in triangles and various chokes. I'm covered in bruises but the thought of someone breaking my arm or kicking me in the face scares the living shit out of me, so I don't think I could do it as a career.
For the full feature and images grab the May 2013 issue of MAXIM, in stores April 17 – May 22, 2013.
To grab a digital copy CLICK HERE. All past issues available for download.
To subscribe CLICK HERE. Australian residents only.
iPad Application also available. CLICK HERE. All past issues available for download.