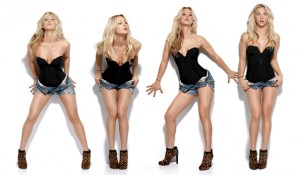 Does being a bad driver mean you've been in a lot of accidents?
I've had so many, I can't even count. Just yesterday I was driving along, and all of a sudden I hear this loud sound. I was like, "Oh, my God! What was that?" I totally knocked someone's mirror off their van.
Whoops.
I did leave a note – I was very proud of myself. It said, "Hi! Sorry! Broke your mirror! Call this number…"
You gave them your number?
Ha, well, it was my lawyer's number. Another time I was driving a Vespa in the Dominican Republic with my Big Bang castmate Johnny Galecki on the back like a little bitch. I ran us right into the wall, and he went flying. I almost killed Johnny Galecki. I'm dead serious.
Do the Big Bang producers think you're a liability?
I don't think the producers realise how much trouble I've been getting into. I want to take motorcycle lessons, but I don't know if anyone will let me at this point. I'm just obsessed with doing things that make me feel wild and crazy.
For the full feature and images grab the July 2012 issue of MAXIM Australia.
To grab a digital copy CLICK HERE. All past issues available for download.
To subscribe CLICK HERE. Australian residents only.
 iPad Application also available. CLICK HERE. All past issues available for download.