Milla Jovovich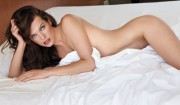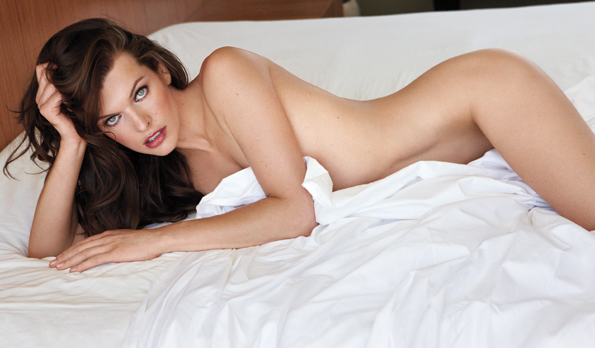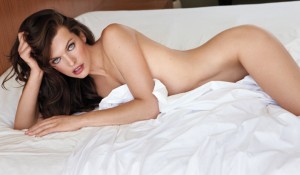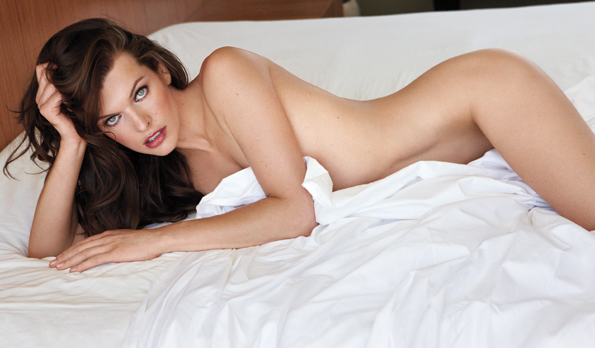 Status Update
HOMETOWN:
Kiev, Ukraine.
BIRTHDAY: December 17, 1975.

HOLIDAY FROM HELL: "I had a gruelling trip to Peru once. I was in the middle of nowhere with my mum and a couple of friends, and we just weren't prepared for the intensity of the hikes. At one point my mum was like [in Russian accent], 'They must send helicopter, or I will have heart attack.'"
WONDER WOMAN: "Yeah, you know, I have an action hero part of me. Since I was little, I always wanted to be a ninja."
DIET UPGRADE: "I was a big pizza and burger person when I was younger. Now I eat a lot, but it's good stuff, like
sushi or chicken."
WEIRD HOBBY: "I collect dollhouses – I have, like, nine. I'm really into creating worlds. I'll just sit for hours putting up the wallpaper and hooking up the electricity."

Hey Milla, love the shoot. It's very… nude.
It was really funny, 'cause the stylist was like, "So, it's up to you how far you wanna go. We have dresses here and all that." I was like, "Look, I do Vogue, OK? I'm not doing this to advertise a designer – I'm doing this to show my body. Lingerie and a sheet, OK?" She's like, "Oh my God, most actresses are so, like, 'Nooo! I don't want to put on lingerie!' I was like, "Uh-uh, it's all about my body, OK?"


You've been working since you were very young…
I've been modeling since I was 11 years old.

…yet compared with other young celebrities, you pretty much stayed out of trouble. What was the most rebellious thing you did?
Probably being on the cover of High Times as a teen.

How did that happen?
I was performing music at that time – and smoking pot – and the guys from High Times came to one of my shows. They were like, "Hey, wanna be on the cover?" It was just one of those stupid things you do when you're young. I thought it was a big joke, but my poor mum was so mortified. But it could've been a lot worse. When you look at all the horror stories of young, successful kids, I'm glad I didn't end up dead.

Do you still have a copy of the issue?
Actually, there's this big painting of me on the cover that my grandma has on her wall! I'm smoking a big fat hoochie joint, but I don't think she understands what it is. I said to my mum, "How could you put that on Babushka's wall?" She's like, "Where else to put it? It's an embarrassment – and nobody comes to Babushka's house anyway."

You've got about 40 flicks under your belt now. Do you ever watch your old movies?
I actually saw Zoolander the other day. It was funny, man. I heard something about a sequel, and if they do it, I really hope they bring back Katinka.

What about a Fifth Element sequel? You own that movie!
No, I don't think so. And if there were one, there'd have to be another incarnation of my character. Leeloo has to stay forever the way she was. She's very special.

Most blokes know you from the Resident Evil franchise, the fifth instalment of which comes out in October. How do you gear yourself up to play a zombie killer?
I do a lot of training for these films so I can do my own stunts. I think fans of Resident Evil love to know that it's really me doing everything. I definitely want to give that
to them.

Considering the types of movies you're famous for, how do you feel about being a dream girl for geeks?
I love that, man! I think it's great, because it means that smart men like me. Plus, nerdy guys are always the cool ones in the end. I mean, who wants to date a stupid jock? I think that, eventually, the nerds get the cool girls. Just do what you do really well and everything else will fall into place.
Patrick Carone

For the full feature and images grab the March 2012 issue of MAXIM Australia.

To grab a digital copy CLICK HERE. All past issues available for download.

To subscribe CLICK HERE. Australian residents only.

 iPad Application also available. CLICK HERE. All past issues available for download.