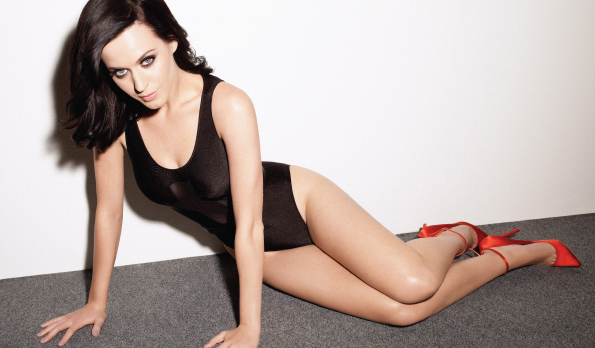 In your first-ever hit single, you admitted to kissing a girl and liking it. Have you actually got any girl crushes?
Zoë Saldana. She is so chic and cool. And Camilla Belle I love. She is the modern-day Liz Taylor.
How about a celebrity crush?
I've said Justin Bieber quite a few times, but I think I'm over it now. I think it's probably safe to say I married my celebrity crush. Don't barf on this magazine, please.
Too late. What makes a woman sexy?
The way she presents herself and the air she has about her. You can feel her power and confidence. Also, the way she uses her ability to communicate, her brain and personality. I think that's really sexy because you all know the hottest woman can be the biggest bitch – and that's not cool.
What would you say is your most attractive physical attribute?
Well, I think I'm more comfortable in my skin now than when I was a kid. But as I turned 20-21, my body began to take shape. I started to grow into a young woman, and I said, "OK, I can use this." I think my curves are something to be proud of.
For the full feature and images grab the January 2012 issue of MAXIM Australia.
To grab a digital copy CLICK HERE. All past issues available for download.
To subscribe CLICK HERE. Australian residents only.
 iPad Application also available. CLICK HERE. All past issues available for download.