We get up-close and personal with the gorgeous 'born-in-NZ' international model, fashionista, and animal lover… BROOKE CLAREBURT (@brookeclareburt)
Tell us a bit about your shoot
When I moved to Australia, we lived in the Sunshine Coast. When we were trying to find a location, I wanted to find somewhere close to where I grew up. We found a beautiful Tuscany inspired villa located in the Sippy Downs and I immediately fell in love. The house had such elegance and luxury and fit well with the idea behind my shoot and my wardrobe on the day.
Are there any other funny anecdotes you can share about this shoot?
There was a puppy that lived in the house we shot in, her name Cyrus which is funnily enough the same name as my Pug. Cyrus kept stealing our shoes and running away with them but luckily she's super cute so she can get away with it. I should thank Cyrus because she really helped me get my steps in that day chasing after her. Haha.
Have you ever been to New Zealand?
Yes! I was born and raised in New Zealand.
What are your favourite spots and why?
Pandora Pond: Me and my siblings would collect starfish in the pond and then we would make our own music videos pretending that we were Destiny's Child (of course, I was Beyoncé).
Rotorua: We used to have all of our family holidays there so I have plenty of fond memories as a child growing up.
Taupo: Our grandma used to take us to stay at Lake Taupo and we could see the volcano from where we stayed.
Where else would you like to visit?
I would love to go back and do the South Island. The landscapes and adrenaline activities really appeal to me. I am a HUGE adrenaline junkie.

When do you feel sexy and why?
Probably on shoot days. I have really been prepping hard to feel comfortable in my own skin by training every day and focusing on my nutrition. I love having my hair and make-up done and then being in my sexy lingerie and amazing swimwear. I just feel like a million dollars.

What is your best asset?
My best asset physically is my eyes, you can always sense what emotion I'm feeling with them as they change colour. It's like seeing into my soul. And my personality would have to be one of my favourite things about myself. I am easy-going, fun loving and always down to have a good time. I am also in tune with other people's emotions, and sensitive to how others feel so I think I can always help people when they're going through a hard time.
Give us a little more background about yourself and your life story so far.
Growing up in the capital of art deco in Napier, NZ, I got into modelling and fashion parades at a very young age. I was in a TV commercial for the Starlight Foundation, and when I was 9 years old I was involved in the Sweeney Todd musical production. I also grew up heavily involved in tap, jazz and ballet. So being in front of cameras and audiences was always very familiar to me. As a child I was always a vegetarian, but I have been a strong vegan advocate for the last four and a half years. I am very passionate about animal rights and have found my lifestyle has changed dramatically since making this a major focus in my life. I have two fur babies, a pug and a French bulldog named Cyrus and Evie. I have just recently rediscovered travel and SERIOUSLY have the travel bug. I have so many places that I cannot wait to see and cross off my travel bucket list.
What would people be most surprised to know about you?
I think a lot of people would be surprised to know that I can't actually swim considering how much swimwear I own and how tanned I am. Also funny considering I grew up in New Zealand and the Sunshine Coast so there are beaches EVERYWHERE. I am obsessed with reading crime novels, romance and murder mysteries. I even read so fast that I make a strange noise with my mouth out loud so my brain can keep up.
How would you describe yourself in five words?
Princess, generous, loving, bubbly and dramatic.

How long have you been modelling and what would do if you weren't modelling?
I actually started modelling as a child (my mum is the ultimate stage mum). When I moved to Australia when I was 12 I joined a modelling agency and did a catwalk course, editorial modelling and etiquette. From there I entered all the local beauty pageants in the shopping centres. I won quite a few of those. Then at the age of 18 I started entering pageants in local establishments and won my first title as 'Miss Noosa Reef.' Since then I have also been 'Miss Supermodel Australia' and 'Miss Caloundra.'.I was also the face of 'She Agency' on the Sunshine Coast. I moved to Brisbane City two years ago because I wanted to focus more on modelling rather than pageants and since have been able to travel overseas for photoshoots and work with some incredibly talented photographers. Irrelevant of all of my life paths, I think I would have always been a model so I don't think there was even a possibility of "what if I wasn't modelling." This was what was meant for me and my determination is what's made it possible.

What have you learned about men over the years?
Should I just pull out my diary?
What's one thing men should always know about women?
Be honest and communicate. We always want to be told the truth, no lies, even if it hurts us – ALWAYS be honest.
What do you look for in a man?
The one thing I look for in a man is a connection. If I don't feel fireworks and butterflies the minute I meet you I know it's not meant for me.
Describe your ideal date.
An ideal date is where a man does not have to ask me what I want to do. I want a man to take charge when he takes me out. Surprise me but also pay attention to detail and know that I will need to be somewhere that has a vegan menu (and cocktails).
What can we get you at the bar?
I actually have terrible taste in cocktails. Whenever I go out with my girlfriends they never let me choose what to order because I apparently always pick the worst ones. So you should probably ask my girlfriends what I'm drinking.
Got a hangover cure?
Netflix, Uber Eats, bed and give me attention. But from a distance. Do not touch me. Haha.
What's your best hidden talent?
My risotto. I have eaten at SO many vegan restaurants and always try the risotto, and although they are amazing, mine is still the best.
Do you have any phobias?
Spiders. I have literally broken up with a boyfriend for 24 hours because he wouldn't come and take a spider out of my home. I didn't go home for a week.
Who is your girl crush and why?
Margot Robbie – because it's Margot Robbie, enough said. I aspire to follow the same career path as girls like Nicole Thorne and Abby Dowse. They've kind of paved the way for girls like me and I think their achievements are incredible.
What's the freakiest/weirdest thing someone has sent you via social media?
The other day I had a stranger DM me on Instagram, asking ME for $18K so that he could go on a holiday in Bali.
What is your motto in life?
If at first you don't succeed, dust yourself off and try again.
What's next for you? Any exciting projects on the horizon you can share with us?
I can't reveal anything that I'm currently working on as they're secret projects. But I am super excited and all you need to know is you should be excited too.
Finally, where would you like to be in five years?
It would be nice if I could find love in the next five years! One of my goals in my five year plan is to own my own vegan restaurant. The vegan community has done such an amazing job in recent years but I have so many ideas of my own that I want to put into action. I hope to have travelled extensively and seen many of the places I have on my travel wish list and to have accomplished my existing goals in my current five year plan and to be working on the next lot.
STATUS UPDATE
FULL NAME: Brooke Clareburt
HOMETOWN: Napier, New Zealand
BORN: 27th April 1992
INSTAGRAM: @brookeclareburt
HMUA: Mell Lagerlow @_beautybymell
Hair and Make-Up By MElL LAGERLOW (@_beautybymell)
Photographed By ROCKY BATCHELOR (@rockybatchelor)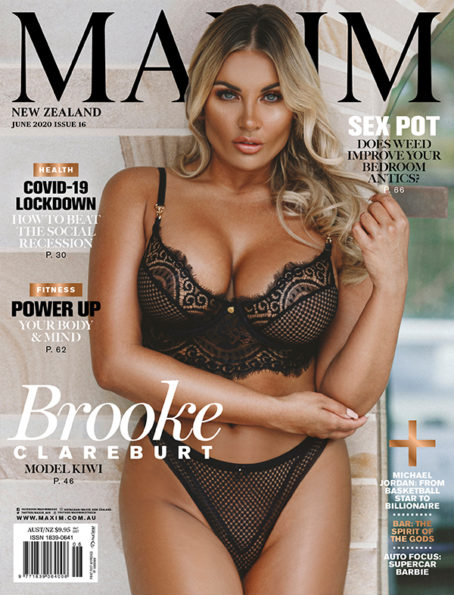 For the full article grab the June 2020 issue of MAXIM New Zealand from newsagents and convenience locations, or a digital copy from Zinio and Magzter. Subscribe here.