MAXIM's resident wellness expert, lifestyle coach and bestselling author ANDI LEW tells us which dating apps are best for you — and for what…
Remember when Tinder was the only dating app around? Flashback to 2013 and Australia first heard about the #SwipeLife culture. Oh, there were other dating apps floating around, but about six years ago it seemed that the pioneer of the dating app world — Tinder dating — paved the way for a myriad of others to follow. Tinder did a brilliant job being the guinea pigs to trial and error, and iron out creases, as we began to road test our way into courting on our phones via this app. In fact, earlier this year, for the launch of my seventh book #instalovers Digital Dating, DM Disasters and Love Stories, I asked Tinder marketing manager, Josh Metz, to write the foreword.
Since Tinder, we found more ways of finding love and connections. These days we don't just swipe — we also double tap, leave a comment and "heart" the potential people we like, to let them know we are interested and hope for a match. I've researched, tried and tested the plethora of these other very successful dating apps that keep popping up. I also now know that statistics show the average person is using three dating apps at a time. So how would we know which app is best for us?
On my U.S. press tours I was asked by American journalists and TV anchors if one dating app was better than another, or if one app was for "hook ups" and another for relationships? I'd always reply and maintain that "it's not just the app, it's the person. How you present is what you'll attract." Having said that, some apps now understand our needs more, or tailor to a different type of person. So, here's my lowdown on getting "loved up".
BUMBLE
Bumble is the "female first" social networking app that empowers women to make the first move. It's also the first app of its kind to bring dating, friend-finding and networking with career-building to a single platform via Bumble Date, Bumble BFF and Bumble Bizz. The busy bee team have a hive of women working behind the sweet spots who are inspired by company director, Whitney Wolfe Herd, whose mission has lifted the stigma of online dating by putting women in control of the conversation.
Bumble says no to lewd pics without consent and recently undertook in-app research which confirmed Bumble Australia users feel uncomfortable when they are sent an unsolicited lewd picture. The Bumble app will give you a little bee sting if your etiquette is anything but kind and respectful, as it won't tolerate antisocial behaviour when it comes to addressing gender equality. Besides Bumble being free and available to download in the App Store and Google Play, what I also love about it is that since I've been writing about safe dating and avoiding blind dates, via verification or using a video call before you meet IRL (in real life), they've improved their technology and you can video chat via the app without giving out your phone number.
RAYA
This started out in America a few years ago when the dating app first recognised a need for celebrities who wanted to also date and meet online in a safe and discreet community. Your RAYA profile will be a bunch of photos or videos in a montage to your music of choice. You can leave a heart on their profile to let them know you're interested or a direct request (which are limited and replenished weekly) to fast track your move.
RAYA shows your profession and Instagram handle and the rest is pretty discreet and straightforward. Lots have been known to say that RAYA is the hardest app to get on (obviously because you have to be a celebrity or someone high profile or in the "industry") but it's also notorious for people matching and never meeting up. The culture of daters usually inspires a super cautious community of people wanting to connect but probably too busy to ever do anything about it. Whilst I've noticed some incredible candidates on the app, I remain private a lot sharing who is on it. RAYA likes to protect its carefully selected community. You need three referrals to be considered to join and it could take years as they put you on a wait list. You'll also be reported, warned and possibly deleted if you screenshot any profiles.
HAPPN
Didier Rappaport founded Happn, along with Antony Cohen and Fabien Cohen. This French start-up dating app, which has now spread across the world, helps you find potential dates in your immediate area that you may have crossed paths with through the course of your day, via GEO location. It's totally safe because it won't show others your exact location and you get to send a message to these people to let them know you 'happn' to be in the area!
If it's a match, you get to meet up. If you notice the word "NOW" next to the profile, this means you're currently within range of each other. For privacy reasons, the app will not display the exact distance. You can also see an index of every user you've come across recently, listed chronologically and by the amount of time you've been near each other. If you're interested, you can "Heart" the profile. If that user "Hearts" you back, then you've formed a "Crush" and you can exchange messages.
It's the new, old-fashioned way of connecting via technology. Remember the days you'd meet someone at the cafe, gym or supermarket but wished you got their number or eye contact? This app allows you to still connect if you feel you missed that chance whilst crossing paths. It's easy to set up, using Facebook and Instagram profiles and it's also free.
HINGE
This is another current favourite of mine. It was developed by Justin McLeod in 2012 in New York, where he sought out to connect people who sought out less "quick to judge profiles", by removing a "swipe" action. Instead, you upload photos with questions and comments that inspire and create conversation about yourselves to get to know the deeper you, rather than a focus on face level only.
Hinge is known as a "relationships" app and when you set up your account, it'll give you a notice flashing "designed to be deleted". This means that the style of person it attracts will be someone who's after something meaningful and serious. The mere mantra is a good reminder for those logging on. When you "heart" or comment under a potential partner's picture, it'll notify them immediately and they can message you back which will create an instant match to connect and chat. Hinge also takes disrespectful behaviour, online abuse or fake profiles very seriously. I was super impressed with a report I had to make about unsolicited pics and abusive comments and the Hinge team followed it up very quickly and sent me a reply email asking for further information or possible screenshots.
Once you've met the Hinge date, you can record it as so, and Hinge will help you find similar dates or use your information positively to record that the date was successful to let them know or help you find new possibilities. If you're "ready for real", this is for you!
ABOUT ANDI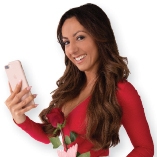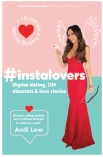 As a certified wellness and dating expert, lifestyle coach and bestselling author, Andi Lew appears on several TV shows, both in Australia and in the United States of America, helping one and all with her handy relationship and professional advice. Stay connected with Andi via her Instagram @andi.lew
#INSTALOVERS – DIGITAL DATING, DM DISASTERS AND LOVE STORIES by Andi Lew is out now, rrp$27.99, available at andilew.com and book stores across Australia
Want a FREE coaching call with me?
Email your receipt of purchase of my book #instalovers to the team at info@andilew.com and we will set up the FREE 10-minute chat to help you find love online!
For the full article grab the October 2019 issue of MAXIM Australia from newsagents and convenience locations. Subscribe here.