With their massive social media followings, you don't have to be Einstein to work out why Yilena Hernandez and Khloë Terae are setting the world on fire…
STATUS UPDATE
FULL NAME: Khloë Terae (LEFT)
HOMETOWN: Toronto
BORN: May 7, 1993
INSTAGRAM: @Khloe
SNAPCHAT: @KhloeTerae
TWITTER: @Khloe
FACEBOOK: Facebook.com/KhloeTerae
STATUS UPDATE
FULL NAME: Yilena Hernandez (RIGHT)
HOMETOWN: Holguin, Cuba
BORN: June 26, 1993
INSTAGRAM: @yilena_hernandez
SNAPCHAT: YILENA-hernande
FACEBOOK: YILENA Hernandez Barbie
Tell us a bit about your shoot – where, when, the idea behind it, etc…?
YILENA: The photo shoot was early on a morning in, California. It was so chilly outside I had goosebumps the whole time! It was so worth it though, because I worked with some very talented people that day and I think we really got some gorgeous shots.
KHLOE: Our shoot was in Santa Monica Beach! Yilena and I had SO much fun shooting together… but the weather had other plans! It was the windiest day ever!
Are there any other funny anecdotes you can share about this shoot?
Y: I would say we enjoyed the shoot with Brian, and Nickie was so nice to us!
K: Yilena and I had just flown in from Paris Fashion Week where we were front row for the Balmain Show. We even had the opportunity to wear styles from the runway at the fashion shows after party hosted by Olivier Rousteing who is a French designer and creative director of Balmain! It was iconic… but we didn't let jet lag stop us!
Have you ever been to New Zealand?
Y: I've never been
K: No I haven't but I've been to 50 countries and NZ is now on my list as a must-visit place as soon as possible!
Where would you like to visit?
Y: New Zealand is on my wish list, I want to visit the waterfalls park.
K: My top 10 places to visit that are on my to-see list are Egypt, Fiji, New Zealand, Antarctica, Scotland, Brazil, Tahiti, Sweden, Ireland, and India!
When do you feel sexy and why?
Y: Thank you! I feel sexiest when I am in a great outfit and all dressed up! I love doing my hair and my make-up, I love it so much I have an eyelash line coming out called Yilena luxury lashes. Fashion to me is a form of art and expressing yourself and I feel like I express that in what I wear. When I go out to an event with my friends and I am having fun. That is when I feel confident and sexy!
K: Whenever I'm on set doing what I love. I feel the sexiest when I'm all glammed up but also when I'm hanging out in my sweatpants at home watching sports. I feel like it's very important to feel sexy, whether it be on set or hanging at home or even walking your dog. I believe that feeling sexy is empowering and that nudity isn't something people should take offense to. Be proud of who you are.
What is your best asset? Physically and otherwise.
Y: I would say my personality. I am very loyal. Even on my bad days my family, and friends are there for me and I am there them. I always want them to know that I have their backs no matter what!
K: I'd have to say my eyes and my long legs.
Give us a little more background about yourself and your life story so far.
Y: I grew up in Cuba, it was a blessing in disguise! Even though it was tough, rough, edgy, and was painful at times. It made me strong and resilient, and taught me that if I can make it there, I can make it anywhere.
K: I was born in Toronto, Canada however am currently residing in Los Angeles. I consider the world my oasis. At a young age of 26 I've already been fortunate to have travelled to 50 countries. My modelling achievements compares to someone of who has decades of experience, but this is not the case as It actually came in 2012, when I was only 19. I was invited to work with Playboy. Since then my career skyrocketed and I've had the privilege to have been featured numerous times in Playboy, MAXIM, Sports Illustrated amd countless other magazines along with major media campaigns for world-renowned brands.
What would people be most surprised to know about you?
Y: I'm very unpredictable. My Cuban side keeps me saucy! I'm very outgoing and I'm not afraid to try new experiences.
K: I'm honestly the girliest Tom Boy you'll ever meet. I love sports, and I'm not afraid to get dirty! I was raised going to the lake every summer, so I'm a pretty outdoorsy girl!
How would you describe yourself in five words?
Y: Creative, passionate, driven, unpredictable, elegant.
K: Flexible, loyal, loud, stubborn, and charismatic!
How long have you've been modelling and what would do if you weren't modelling?
Y: I've been modeling 10 years now. If I wasn't modelling I would definitely be a fashion designer. Acting has also always been something I love as well. I am very good at it, but only a few know that.
K: My mum was a model and literally modelled while she had me in her womb! I started working right away and worked on numerous campaigns as a child. Although for a few years when I was focused on my gymnastics, I had a dream of being in Cirque Du Soleil!
What have you learned about men over the years?
Y: Any man who thinks he's smarter than women, is just a boy!
K: If you chase them, they'll run!
What's one thing men should always know about women?
Y: Women want to feel loved and cared for always!
K: Chivalry is the biggest form of flattery. Do simple things such as opening the door for her, or surprise her with flowers.
What do you look for in a man?
Y: Well I am in love, but when I used to date the first thing I looked for was the eyes, because the eyes are the window to the soul and I think you can tell a lot about a person through their eyes.
K: Physical attraction is important, but it is not everything. Having a sense of humour is very important. I tend to go for outgoing men, and someone who will be a good father.
Describe your ideal date.
Y: My ideal date is being with great company in a comfortable and relaxed atmosphere.
K: A spontaneous trip. I love to be surprised. If that's a little out of budget you could always take me to a hockey game. That's where you'll see the real Khloë!
What can we get you at the bar?
Y: I love a good Martini, and I also love a good bottle of wine.
K: My drink of choice is Rosé! But if I'm at a fancy steak dinner, I love Napa Valley Caymus, which is a Cabernet Sauvignon.
Got a hangover cure?
Y: Drink lots of water and watch lots of movies.
K: Drink tons of water before bed and take Dramamine!
What's your best hidden talent?
Y: I have a few hidden talents. LOL. But I can say my best is cooking. I just found out about this one, but I have to say I have good seasoning.
K: I am double jointed in both my shoulders and hips which makes me extremely flexible!
Do you have any phobias?
Y: I don't like bugs!
K: Styrofoam freaks me out and it has since I was a kid!
Who is your girl crush and why?
Y: Lady Gaga because for me she is one of the most sexiest and talented women in the world!
K: Margo Robbie! She's my ultimate girl crush! '90s Pamela Anderson was a big inspiration to me… a lot of people don't know this, but Pam is Canadian!
What's the freakiest/weirdest thing someone has sent you via social media?
Y: There are some creepy people on social media unfortunately, but I just block them if they are being too inappropriate.
K: Marriage proposals! There is a lot of NSFW messages that I find completely inappropriate and unsolicited dick pics which are gross. No model, and I mean NO model wants you to send those kind of pics!
What is your motto in life?
Y: "I'd rather be hated for who I am, then loved for who I am not." Curt Cobain
K: Catch flights, not feelings. Live life without regrets. Do what makes you happy!
What's next for you? Any exciting projects on the horizon you can share with us?
Y: I am going to keep striving for more. I set new goals for myself every week and I achieve them one by one. Challenging myself helps me grow further. Get ready to see more from me because the sky is the limit!
K: I just launched my official "Khloe" app which you can download in the App Store. I am also working on an exciting new project with the limitless brand for their model search!
Finally, where would you like to be in five years?
Y: I would like to have my own clothing line and have it be very successful!
K: To be Successful in my businesses so that I can focus my time and energy building a family. I've spent my 20s selfishly, which I think is really important. It builds character and cultivates values. I've travelled the world and I'm excited for the next chapter of my life, where I can bring my future family along with me on my adventures!
PHOTOGRAPHED BY BRIAN B HAYES (@brianbhayes_photo)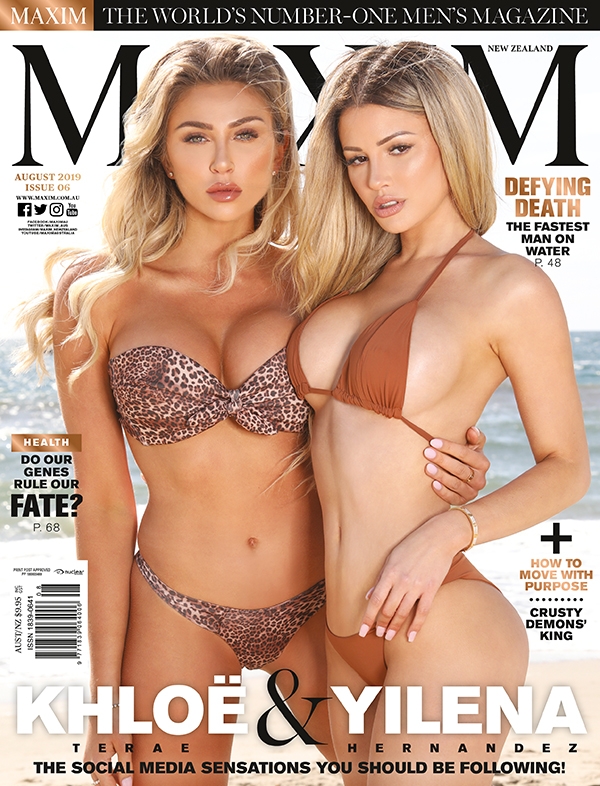 For the full article grab the August 2019 issue of MAXIM New Zealand from newsagents and convenience locations, or a digital copy from Zinio and Magzter. Subscribe here.