Polish racer ROBERT KUBICA returned to the F1 grid this year after more than eight years, following his horrific rally crash in 2011. We sat down face-to-face with the 34-year-old to talk Williams, his comeback and F1's original night race in Singapore…
You've gotten back to F1 through so much hard work and dedication. You must feel pretty emotional that this almost impossible dream has finally come alive?
It is definitely a special moment but I would not say that I am actually living those emotions now. In the end, Formula 1 is a big challenge to be back after so many years. It's a hard job. And in the end F1 is a very dynamic sport so you have to keep up your focus and concentration and definitely if I stop and have a think about Australia, being back on the grid, being back with the start lights, there are some kind of emotions. But once you keep going, there's a lot of activities, a lot of things to concentrate on, so you are not thinking about those emotions.
What was that first return test with Renault like?
Honestly, it was one of my best days of my life. The feeling was amazing and probably also because I drove, from a technical point of view, a very similar car to the last car I drove before my accident so it felt like being back home. Everything felt so familiar. The cars had not changed a lot. I tested in 2017, but the car was from 2012. So everything felt so very familiar. The initial laps were amazing. The feeling I got like 'wow, this doesn't feel like it was six years I haven't been driving F1 car.' And this gave me a lot of confidence and that day was very emotional.
You missed out on a race drive in 2018. What do you feel last year gave you in terms of taking that next step forward?
For sure I know much more than 12 months ago because I spent last year with the team [as reserve driver]. I had an opportunity to drive the car, I had an opportunity to work with the team. Also to see things from a different perspective. Normally when you are a race driver, you have your job and you don't see many other things. And when I was attending all races as a reserve driver I had much more time to see different things from a different view, and a different perspective. So it actually gave me a better overview and knowledge about team operation but definitely racing is a different story. So I did learn few things but I have to discover many more things. Formula 1 has changed a lot from a technical point of view, the race, the approach is a bit different so everything needs to be discovered but we are ready.
There's so much support for you across the sport. Are you surprised?
Surprised, no, but it's a good feeling to see big support and probably it also comes from the story after my accident, I was away for a very, very long time so it's something that normally doesn't happen. Someone is coming back after such a long time away from the sport. I think it's a combination of everything but one thing is for sure – there is no discount because of the story. So I have to race everyone like normal. And it will, for sure, take a bit of time to adapt – to get back those feelings, the way I was driving in the past. But I'm here and for sure the fans are happy.
You've said your limitations are much less in the car than in daily life. Can you give our readers an understanding of what it's like for you in the cockpit now?
Well, honestly, I don't remember how was it before. So I cannot compare it. But one thing I discover in the past year is how strong our brain is and how well we can adapt to different circumstances or how your brain will tweak things in your body to do the same things in different way. But you will still do it. Of course, I have some limitations, not always in an F1 car. So I have to adapt a bit, I have to compensate with my shoulder. But this is what is positive, it's coming naturally. So it's like my body, my brain learn how to do those things differently but achieving the same result.
The team is currently in a difficult spot, with no technical director. What are your thoughts on the team's situation right now?
The car performance is playing an important role, and this is something that will take time. And we have to keep working, but on the other hand there are things we have to make sure we are on top of them and we are doing our maximum. Every single member of the team. Even when you don't have a top car. Because in the end we are here to do our best. Of course every single member is doing a different job but we have to make sure we are giving our maximum and the team on-track is pushing really hard – and at the factory as well. Of course, we did have some issues, some problems, otherwise we would not be in this situation but Formula 1 is a very dynamic sport and things can change very quickly.
The sport's original night race, the much-loved Formula 1 Singapore Grand Prix, is fast approaching. What are your thoughts on that event?
Actually, Singapore has always been a great event. I think in the current situation it is definitely one of the toughest from a physical point of view, most demanding from a driver perspective so definitely it's something which you are not scared of, but you have respect. The track, you know, is a street circuit – and although there are some run-off areas but still the grip level is pretty low. The track evolution is huge during the weekend. The organisers are doing an amazing job with the lights because in the end you don't really realise it. First year when we were going there, you wonder how it will be once you are out of the garage, you don't really realise that it's artificial light. It's great, and the atmosphere is really nice, everything is spice it up a bit because of the night race and because of the city.
F1 has changed so much since your last race with Renault at Abu Dhabi 2010, how do you see the sport and cars as they are now?
A lot has changed. And Formula 1 is more open to the fans, which is I think good. Fans are able to see us more often, and come closer. But on the other hand, Formula 1 has always been seen as an elite sport. So I think it's correct to open up and the organisers are doing that. But it's a compromise and a balance and I think Formula 1 in the past, it has too much image of an elite group, which is not the true image of this sport. The fans are playing a very important role. The fans are coming to the races, seeing it on TV and they are part of this world. So I think the step towards them is the correct direction, the right direction and they are enjoying that as well.
F1 CALENDAR HIGHLIGHT
An instant classic from when it joined the calendar in 2008, the Formula 1 Singapore Grand Prix continues to inspire as one of the world's great events – one that goes far beyond the racing, with the hottest acts live on stage, interactive entertainment, and parties galore. On-track, it's a feast for the eyes – with F1, and a host of thrilling support categories, going wheel-to-wheel under lights around the glamorous streets of Marina Bay. The world's finest racers under maximum pressure – not only with cockpit temperatures soaring up to 60 degrees Celsius at racing speeds, but with the F1 World Championship on the line.
This year should see a six-way fight for the Singapore silverware, with Valtteri Bottas pushing his 5-time F1 World Champion Lewis Hamilton at Mercedes, 4-time F1 World Champion Sebastian Vettel under fire from his Ferrari teammate Charles Leclerc, and Pierre Gasly going head-to-head with Max Verstappen at Red Bull Racing. Daniel Ricciardo will wear yellow for the first time in Marina Bay this year, the Australian now racing with Renault.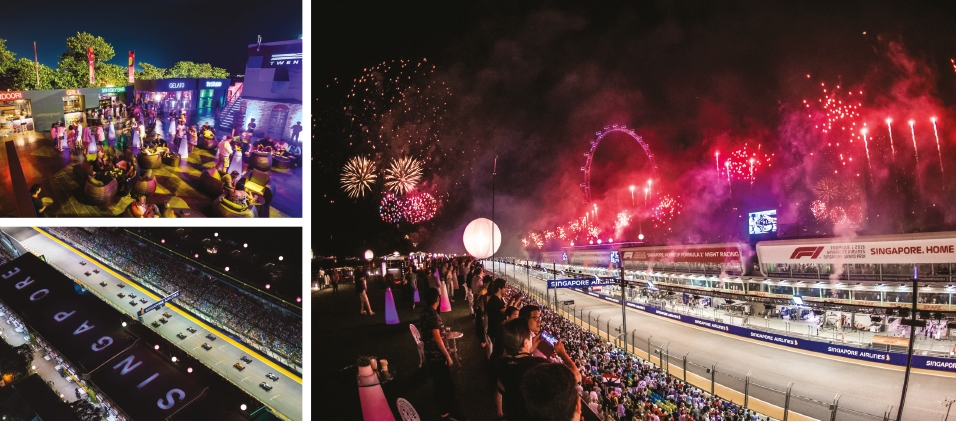 Once the racing finishes, the tunes begin – with Singapore renowned for its epic entertainment line-ups. 2019 is no different with 6-time Grammy Award winners, the Red Hot Chili Peppers, leading the Singapore'e events stellar 12th edition line-up, alongside Swedish House Mafia, Muse, Cardi B, Fatboy Slim, Hans Zimmer, and Toots and the Metals. Add to that the carnival atmosphere of a stunning night race in one of the world's great cities – and it's no surprise to learn that an average of 250,000 people attend every year. The action heats up as the lights go on, and the tension builds toward qualifying and the race.
It's an awesome post-winter getaway from Australia, with the short flight and weekend format making it easy on annual leave – and accommodation, dining, and sightseeing options all within reach of the Circuit Park. There's also an option for any budget with single day-walkabout and grandstand tickets starting from SG$98 (appox. AUD$100), and single-day hospitality packages from SG$1592 (approx. AUD$1638). Do it!
The Formula 1 Singapore Airlines Singapore Grand Prix 2019 will be held from September 20-22, with more information at singaporegp.sg.
BY STEWART BELL
For the full article grab the June 2019 issue of MAXIM Australia from newsagents and convenience locations. Subscribe here.