Already making huge waves overseas, rising Australian country music star MORGAN EVANS takes us through his debut album, Things That We Drink To, track by track…
Now based in Nashville, USA, this lad from Newcastle, NSW is blowing up in America and recently scored his first U.S. radio number one hit for his killer tune "Kiss Somebody". Now, with the release of his debut album, Morgan Evans tells MAXIM all about it.
"My album is a collection of songs I wrote over the last two years," he explains. "It's my story. It's leaving behind everything and everyone you know to chase down a country music dream on the other side of the world. It's the excitement of the unknown, it's the fun, it's the loneliness and it's the struggle. It's losing someone and finding the strength to keep your head up and make them proud. It's meeting a girl, falling hopelessly and marrying the love of your life. It's the Things That We Drink To…

1 – "AMERICAN": This is one of my favourite songs on the record. It's a love song but not in the traditional sense. I moved over from Australia to Nashville three-and-a-half years ago and I've just fallen in love with this country. Travelling around it, playing country music, getting to meet different people… and this song is like a love song to America and at the same time a love song to my American girl, too.
2 – "KISS SOMEBODY": This song came about as kind of like advice I was giving which is not something I often do. I became quite good friends with a guy in Nashville – I'd come over on writing trips from Australian, before I moved, and stay with him instead of staying at a hotel. He had a girl and they were in love and then they broke and he was heartbroken. I get that, I was there for him through the whole process. I went back to Australia and a year-and-a -alf later I came back and he was still heartbroken over the same girl. I was like, "Dude, you need to kiss somebody."
3 – "I DO": I guess this is just a pure love song. The whole idea sounds cheesy but you know when you meet the person and you get engaged and you get married and you go through all these kind of stages of emotion and it just feels like every day just gets better and better? Over the last couple of years I've been lucky enough to feel that and that's where that line came from – "Just when I think I couldn't love you anymore, baby, I do".
4 – "SONG FOR THE SUMMER": This is one of the first songs I wrote for this record and I wrote it with two of my good friends Chris DeStefano and David Hodges. You read the title on paper and it sounds like it's going to be this big, happy singalong but there was this moment in the studio where I said, "Hey, what if we were a song for the summer?" My favourite line is, "We sang along all night so right until it was gone just like a song for the summer".
5 – "DAY DRUNK": This was written about a real day. It was my wife Kelsea's birthday two years ago and I had the whole day planned, but she got home and was dead tired. We ended up just closing the blinds and opening a bottle of champagne. It's as much about being drunk on life as it is about being drunk on the actual champagne.
6 – "DANCE WITH ME" (FEATURING KELSEA BALLERINI): This is the magical moment of this record. It's the first song I wrote for my now wife and it just came from a pure moment. It's like one of those inspiration moments where I'm just sitting there on a guitar on a Tuesday morning and in 25 minutes this whole verse/chorus came out and made the record. And, at the very last minute, I decided to ask Kelsea to sing on the track. I thought the song was done but after she put her vocals on there it was just perfect.
7 – "ME ON YOU": This is definitely the sexy song of the album. It's summed up so well in the first lyrics of the chorus, "It's better than the buzz that I get from drinking, it's higher than a high that a drug can do. It ain't got nothing on me on you".
8 – "THINGS THAT WE DRINK TO": This is a special one. It was written for and about my manager of 10 years, Rob Potts. He discovered me in Australia, he got me my first record deal, he brought me to America for the first time and he passed away tragically last year in a motorcycle accident. The day of his memorial in Nashville I was in the studio with Chris and Josh and that's all we could think and talk about. Chris started playing this beat and I started singing the melody and that line "Things that we drink to". We wrote this song as a tribute to him and more of a celebration than a commiseration of all the great things that happen in life that you get to share. This is a song for him and a song for anyone who has lost anyone close to them.
9 – "WE DREAM": This is the last song we wrote for this album. It's funny, I really wanted this whole album to represent my life over the last couple of years and so much has happened. I moved to the other side of the world, I met a girl, I signed my first American record deal, which means I get to put music out here for the first time, and all of that great stuff that's happened was as a result of believing in this dream for lack of a word – the dream to want to come over to the home of country music and play it here to the people that love it most. I feel this song encapsulates that feeling and that's why we ended up having this children's choir singing on the start of it because it really is that childhood feeling of like that one day I want to get and believing in yourself through all the tough times along the way – to get to the point where I'm proud to say right now I'm getting to do that.
10 – "EVERYTHING CHANGES": This is about that moment when just one small thing could change everything and so often it's that moment when you meet that girl at that bar or it's that moment where you've been talking to this person for maybe hours, maybe months, maybe you've known them your whole life, but there's that moment where everything changes and it's about one of those nights.
11 – "YOUNG AGAIN": This is another special one because I feel like it's definitely one of those songs that I just want to play over and over at a live show and I finish the show every night with it. But it's also that feeling where I try to wake up every day, live in the moment and take the opportunity for the life that you have right in front of you. The line is "We will never be this young again" and it's so true. It's as true when I wrote the song on a mandolin and it's as true when I sing it to a festival crowd or whether I'm just listening to it as I drive around and making sure the mixes are right. So, hopefully you feel that as much as I did when I wrote it.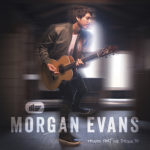 MORGAN EVANS' ALBUM THINGS THAT WE DRINK TO IS OUT NOW
For the full article grab the December 2018 issue of MAXIM Australia from newsagents and convenience locations. Subscribe here.