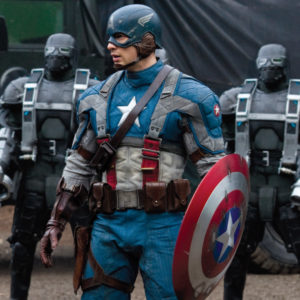 CAPTAIN AMERICA: THE FIRST AVENGER
We say: The big kahuna of American heroes finally gets the big-screen treatment, with Chris Evans as the man with the sturdy shield. Set in 1942, it's his task to take down Nazi scum – namely The Red Skull, a weapons expert who gives new meaning to the term Red Rocket.
Film nerds say: The Captain will also be appearing in The Avengers next year, alongside Iron Man, Thor and Hulk. We're already working on commemorative macaroni figurines to coincide with its release!
For more film reviews grab a copy of the August 2011 issue of MAXIM Australia – available from Woolworths, Coles, Coles Express, 7-Eleven, BP or your local newsagent until August 17, 2011. Or click here to subscribe. (Australian residents only).