PowerPlant Supplements' Principal Director and Head of Research and Development JAMES READ tells us why they provide the world's most trusted premium range of sports and health products with ground-breaking formulas leading the way in performance enhancement…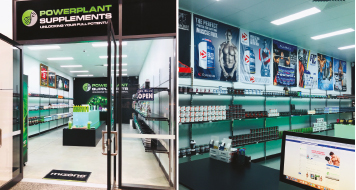 Why does PowerPlant exist?
After years of working in the health and performance industry we realised many of the products available have inferior ingredients in ineffective doses and no synergy in formulations. In order to get the results our customers deserved we had to formulate our own products and liaise with experts to carry only the best available in health and performance science.
What separates you from the competition?
We offer a much more diverse range of products combined with unprecedented education and results driven science being at the forefront. We spend a long time working with athletes and everyday people, helping them unlock their own unique potential, and we realised how much a service-based supplement supplier was demanded. Our aim is to aid customers by promoting and providing unique and effective products into the Australian market. We will also strive to work primarily with other scientific and credible brands that are based on performance and effectiveness rather than the regular trend of heavily marketed products with little substance.
Why did you create Powerplant Supplements?
I've always wanted to work with people and helping them reach their peak in health and performance. Our vision is to bring the world's most trusted and scientifically-proven supplements, to retail, attainable through business contacts and relationships I've built through 15 years working in the industry. PowerPlant firmly believes people deserve to look and feel their best. We have all witnessed a huge growth in supplement providers but all we see are more of the same with stores popping up on every corner offering the same over-priced and over-marketed products with little substance and designed for profitability. This is not our direction. We opened a professional supplement provider with a strong pretense on 'people over profits'. This explains why you won't see the same over hyped products in our stores that you are used to seeing everywhere else.
What is your background in the industry?
I have a wealth of knowledge and experience in the industry and completed my Bachelor Degree of Health Science, a Diploma in Exercise Science, Diploma of Business and specialised certificates in the health and fitness industry. I've continued to study, knowing in this industry you must maintain an open mind to the changes in the science field to become the greatest healer and to ensure you are at the upper echelon of performance science. I've worked with some of the greatest minds in health and sports science from around the globe and this knowledge assisted me in releasing my own brand and products in the U.S. market, making me the first Australian to do so. This passion for greatness has led to the formation of PowerPlant Supplements, which will be carrying top quality brands with scientific formulas and professional backing from top companies. These brands will compliment the existing PowerPlant brand and we will continue to push forward with product ranges that not only work but that can be trusted by athletes and customers and ensure we achieve our goal of offering the best in sports supplementation.
For more info go to www.powerplantsupplements.com.au
For the full article grab the September 2018 issue of MAXIM Australia from newsagents and convenience locations. Subscribe here.