With glaciers, volcanoes, the northern lights, and these days, five-star digs and a thriving food scene, what's not to love about Iceland?
"Land of Fire and Ice" might sound a little overwrought, but it's definitely an apt nickname for an island built by volcanoes and covered in glaciers. This contrast provides for some of the most awe-inspiring landscapes on the planet, as city-size glaciers carve their way through magnificent lava fields and turquoise mineral waters and majestic waterfalls dot the landscape. You can chill out in an ice cave or heat things up at a recently active volcano — and experience it all in comfort and luxury. There's a reason Iceland has become the hottest tourist destination on earth.
---
AQUATIC TOWN SQUARES
Geothermal baths are the heart and soul of the country's frigid communities…by JUSTIN ROHRLICH
The Vikings once enjoyed soaking in Iceland's multitude of volcanically heated geothermal pools, and modern Icelanders proudly continue the tradition today. At the Laugarvatn Fontana geothermal baths, the boiling water not only soothes bathers but also powers a geothermal bakery on-site, where steaming loaves of rye bread are made. Iceland also heats homes, schools, and hospitals with the geothermal waters. Some of the best pools include the iconic Blue Lagoon (pictured here), the Jarðböðin Nature Baths, Landmannalaugar, Grettislaug, and Nauthólsvík Geothermal Beach. But Iceland's natural tubs are more than just functional; think of them as aquatic town squares of a sort. "Because of the weather, we don't have proper plazas in the Italian or French style," writer Magnus Sveinn Helgason told the New York Times last year. "Beer was banned in Iceland until 1989, so we don't have the pub tradition of England or Ireland." You'll find people in these bubbling hot springs at all hours; early morning is an especially popular time to have a soak and catch up with friends before work.
---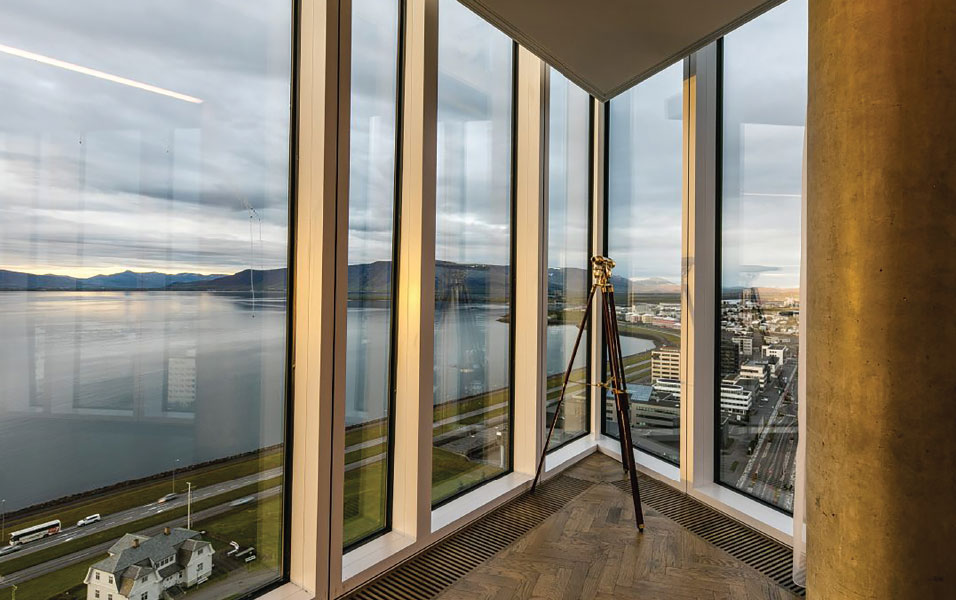 ICY HOT
Iceland's tourism industry is scorching — and finally catching up to luxury demand… by KEITH GORDON
In the past decade, Iceland has gone from, well, a frozen island in the middle of the Atlantic to one of the hottest tourism destinations in the world. In 2010, fewer than half a million foreigners visited the island, but thanks to annual increases of around 20 percent, the country's tourism board expects that number to reach nearly 2.37 million visitors this year. To put that in perspective, in 2017 Iceland will see seven times as many tourists as there are citizens of the country (334,000).
The tourism boom is the result of several factors: Icelandair's frequent layovers on transatlantic flights; the appeal of the country's Instagram-ready natural wonders; and Iceland's star turn on Game of Thrones. This influx has placed enormous stress on the small nation's infrastructure, and the hospitality industry has been overwhelmed. The demand for premium accommodations has also soared, as backpackers and budget adventure-seekers have been replaced by a more moneyed class of visitors with expectations of luxury and world-class hospitality.
While still short of meeting demand, Iceland Now boasts some of the most coveted properties in the world, showcasing a flair for Scandinavian minimalism with a five-star experience worthy of any global luxury destination. Until recent decades, Reykjavík, the capital, was a small, sleepy village. Even as it developed, skyscrapers never materialised, and tall buildings are still rare. The closest you'll get to a property with an aerial view is Tower Suites, a collection of eight exclusive units on the 20th floor of one of the tallest buildings in the city.
Located near tourist-friendly areas, many of the suites offer beds and bathtubs that face floor-to-ceiling windows with spectacular panoramic views. The Trophy Lodge is an exclusive resort located beneath Langjökull Glacier, by the same folks behind Tower Suites. Formerly the private hunting retreat of chef and adventurer Jóhannes Stefánsson, the Trophy Lodge has been transformed into one of the most exclusive private properties anywhere, thanks in part to its top-notch dining, custom spa treatments, and über-luxurious decor. If you can land a reservation here, you'll be in rare company; Bill Gates and Beyoncé are among the property's past guests.
A chic boutique option in Reykjavík is 101 Hotel, with its sharp monochromatic color scheme and minimalist, Scandinavian-inflected design. The in-house bar and restaurant are both well worth a visit. Still among the most coveted rooms in the city are those in the 87-year-old Hotel Borg, a 99-room art deco property in the city center featuring stellar service and comfort — a luxury experience honed since before WWII. Currently under construction is Edition Hotel by Marriott International. The company's attempt at a luxury-lifestyle collection, Edition promises to be an "anti–hotel chain," in that each of the Edition properties will be customised to fit its location, rather than hewing to a consistent brand style. Located in the Austurhöfn (East Harbor) neighborhood, Reykjavík's up-and-coming hot spot, Edition will be at the heart of a complex featuring a concert and conference center.
One of the most impressive properties in the world is the new Retreat at Blue Lagoon. Comprising the 62-room Moss Hotel, the Moss Restaurant and the high-end spa Lava Cove, the Retreat is an extension of the hyper-popular Blue Lagoon, a man-made attraction created by collecting the mineral-rich "wastewater" from a nearby geothermal power plant. The hotel's aim is to "erase the boundaries between nature, wellness, hospitality, and affluence," a mission that was aided by an expansion in 2016 that grew the size of the lagoon by 50 percent.
---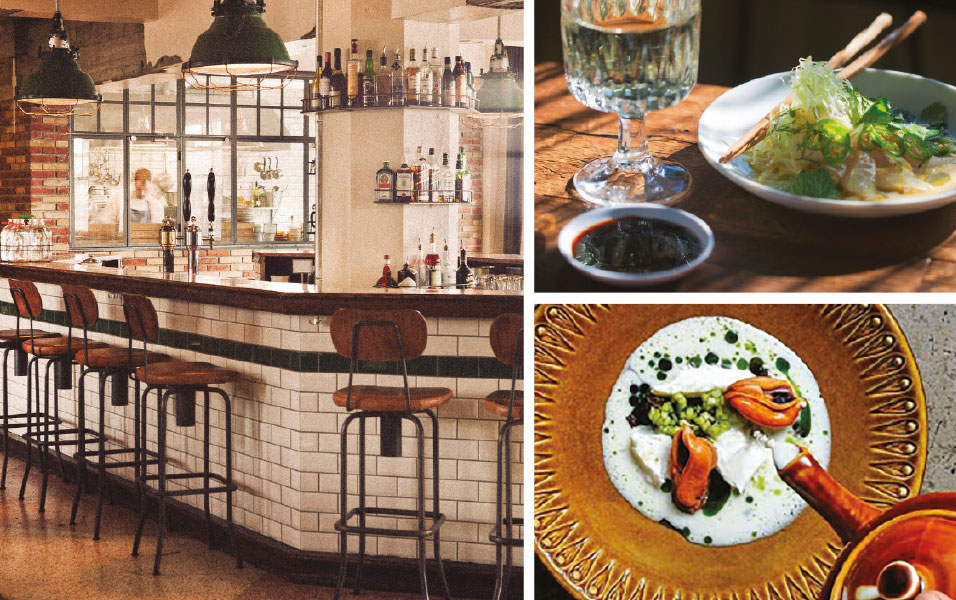 FROM THE GROUND UP
The Icelandic culinary scene has flourished by starting over completely…by NICHOLAS GIL
For most of the 1,100 years since Iceland was settled, the island's food had more to do with surviving the long, sunless winters than it did with making something that was remotely palatable. In order to eat when the ground was frozen and the snow too thick to venture outside, fish was pickled in whey or smoked with a combination of hay and dung. Then there were rank foods like skata, or rotten skate, which would stink up clothes so badly diners would have to toss them out afterward. Throw in 500 years of Danish rule, which did little else but cause mass poverty and suppress traditions, and the occasional volcanic eruption that killed all crops and most livestock, and you have a culinary tradition that was so confused and inefficient it needed to be rebuilt from the ground up.
Fast-forward to 2009, when fine dining in Reykjavík consisted mostly of gimmicky tourist restaurants serving whale and puffin. Then a restaurant called Dill opened and everything changed. Aligned with the emerging New Nordic cuisine movement, it embraced traditional methods like winddrying catfish and smoking lamb in dung, and reintroduced native barley, dulse, and blue mussels into the Icelandic diet. Dill is still going strong, and this year it earned the country's first Michelin star, even though founding chef Gunnar Karl Gíslason has relocated to New York to run Noma cofounder Claus Meyer's Grand Central Station restaurant, Agern (which also boasts a Michelin star). Gíslason still oversees a mini-empire of Reykjavík restaurants, including Dill, which is now headed by chef Ragnar Eiríksson in a building in the chic 101 neighborhood. The space, with stone walls and beamed ceilings hung with drying fish, evokes a dark barn or fishing cottage, yet one where progressive seven-course menus are served with natural wines.
Eiríksson has also launched a series of regularly sold-out themed pop-ups called Matartíminn, held on uninhabited islands or focusing on open-fire cooking. These days, you don't have to go very far for an excellent place to eat. For example, climb the stairs to the floor above Dill and you'll discover Hverfisgata 12, an unmarked eatery and bar decorated like a carnival by set designer Hálfdán Pedersen, offering eclectic gourmet pizzas and small plates like fried duck eggs with coppa, cauliflower, Ísbúi cheese, and fennel. Go one more flight up and there's a branch of Danish cult beer bar Mikkeller & Friends. "Lately we've been seeing higher-end restaurants changing their concepts or even closing," Gíslason says. "More and more restaurants are focusing on casual, fun, and cheaper meals." You'll find elevated Icelandic home cooking at bistro Matur og Drykkur, and a decent pan-fried cod in burnt butter at all-day café Bergsson Mathús. Old favorites like the famous hot dog stands (Baejarins Beztu Pylsur, to name one) and the lobster soup at Saegreifinn are still worth trying, but the all-around quality of eating in Reykjavík has improved considerably.
There's Oslo-level coffee at Reykjavík Roasters and bakeries like Sandholt and Brauð & Co that are experimenting with ancient grains, as well as 10 small restaurants in a new food hall in the former Hlemmur bus station. "We obviously have a huge increase in the number of restaurants," says Olafur Ágústsson, who runs the always lively gastropub Sæmundur í Sparifötunum inside of Kex, a hostel in an old biscuit factory on the Reykjavík waterfront, which also produces its own line of craft beers. "As a country boy, I am also really happy to see better restaurants opening in the countryside." During the summer, catch a short flight or ferry to the tiny volcanic island of Heimaey off the south coast, where chef Gísli Matthías Auðunsson and his family run a seasonal restaurant called Slippurinn in an old shipyard machine workshop. Wild herbs and seaweeds are foraged around the island, while he picks up fish next door at the market for dishes like whole cooked cod head and langoustines with sea truffles.
In the fishing village of Seyðisfjörður on the east coast, try Nord Austur, a sushi restaurant that's named after the direction of the wind and works with local fishermen. Despite Reykjavík's raucous nightlife scene, up until 10 years ago it was impossible to find a decent drink. That has quickly changed, as a new fleet of colorful drinking dens, such as Geiri Smart and Slippbarinn, have opened. In addition to internationally known vodka brands, bartenders are working with Icelandic microdistilleries to turn local flavors into their own spirits.
The Foss Distillery uses Icelandic birch to produce a liqueur and a schnapps, Björk and Birkir, respectively, while Eimverk Distillery makes a pot-distilled gin with botanicals like angelica root and creeping thyme and single-malt whiskeys with Icelandic barley. "Drinking has become one of the national pastimes in Iceland," says Ólafur Örn Ólafsson, who recently opened the bar and live-music venue Rosenberg.
"Most people still do their binge drinking at home before going to bars, but more and more craft beer and cocktail bars are opening. For example, imported beer has lost most of its market share to locally brewed craft beers, most of which are well above mediocre." Beer was prohibited until 1989, but has quickly rebounded, taking advantage of the country's pristine, glacier-fed water supply. There are dozens of microbreweries around the country, from tiny Borg in Reykjavík, with its sheep-dung-smoked Imperial stout, which won the gold medal at this year's European Beer Star competition, to the rural Ölvisholt Brugghús, which runs tours of its farmhouse brewery in the south of the country. Then there is Steðja microbrewery in West Iceland, which makes a beer with a whale testicle, butchered according to tradition and then salted and smoked with sheep dung. What could be more Icelandic than that?
---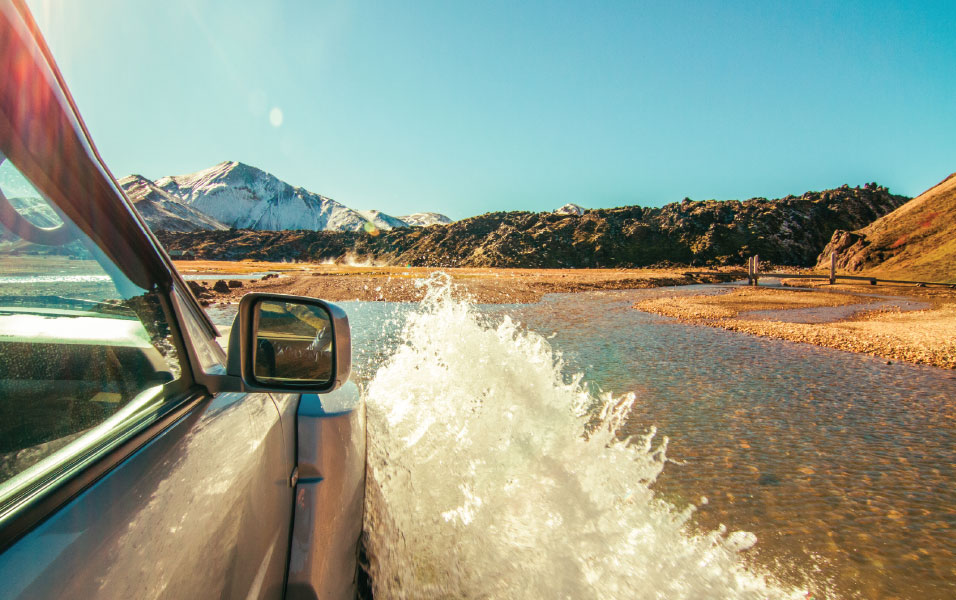 ROCKY ROADS
To explore Iceland, you need the right wheels. Not any vehicle will do — the country's brutal terrain can inflict more damage than your supplemental liability insurance can cover. To reach Iceland's wonders, a more rugged ride is needed: the Super Jeep. Complete with suspension, tires, and powertrain designed for the toughest terrain (volcanic rock, ice fields, etc.), the Super Jeep, which is offered by many of the country's guided tour facilitators, can take you to the top of a volcano or the base of a glacier in relative comfort. The term applies not only to Jeeps, as heavily modified Land Rover Defenders and Toyota Land Cruisers are also included in this category of adventure vehicles. —KG
---

OFF-PISTE
Iceland remains one of the world's best undiscovered heli-skiing destinations
Before overfishing put an end to its proud run, Siglufjörður was known as the herring capital of the world. Today, this tiny burg of some 1,200 hardy souls near the Arctic Circle is considered one of the best places on the planet for heli-skiing. Climb into a chopper and be at the summit of a pristine 5,000-foot peak in less than five minutes. In late spring, the sun shines — and the skiing continues — until nearly midnight. Up here on Iceland's Troll Peninsula, where local folklore has it that Iceland's last living troll was killed by an angry farmer in 1764, the snow also lasts longer than it tends to elsewhere. This means you can ski all the way down to the black volcanic beach at the base of the mountain well into June. (The season starts in March.) There are a number of outfitters in town; Arctic Heli Skiing (info@arcticheliskiing.com) and Viking Heliskiing (info@vikingheliskiing.com) offer packages lasting from two to seven days. Virgin snow awaits. —JR
---

DEEP DIVIDE
The Silfra fissure offers one of the most dramatic diving experiences on earth…
Tucked within Thingvellir National Park is one of Iceland's most incredible natural wonders. The Silfra fissure is a crack that formed between the North American and Eurasian continental plates, and it's filled with some of the clearest and cleanest water on the planet. It's also a bucket-list item for any serious scuba diver. The fissures formed when the two plates moved away from each other 150 million years ago at a rate of around two centimeters per year. At the Silfra fissure, the water is so clear that divers can see clearly for 100 metres or more. A natural current "cleans out" any disturbed sediment and discourages animal life, leaving only the unusual algae that provide splashes of blues and greens. At certain spots divers can actually touch both walls, connecting the two continents with their hands. —KG
---

KINGDOM OF THE NORTH
Iceland features prominently on HBO's Game of Thrones, and tour providers are catching on
If you're a Game of Thrones fan, you're already well acquainted with Iceland, even if you don't know it. Not only is one of the show's iconic characters an Iceland native ("The Mountain" is played by former World's Strongest Man contestant Hafþór Júlíus Björnsson), but many of the series' most recognisable locations are found here as well. Several local tour companies can take you to them. Thrones fans might recognise Grjótagjá lava cave near Lake Mývatn, which served as the secret love nest for future "King in the North" Jon Snow and his love interest, Ygritte. Vatnajökull National Park, home to the largest glacier in all of Europe, served as the setting for the area north of the Wall. Thingvellir National Park is also a popular stop on the GoT route; It was used as the location for the wildling camp. For the full experience, we recommend the Game of Thrones: Beyond the Wall tour by Iceland Travel (starting at US$865). The five-day trip visits all of the filming locations, and it's led by local expert Jon Thor Benediktsson, who served as a guide for the film crew. Beware the White Walkers in comfort and style with luxury travel company Zicasso, which offers a customisable Game of Thrones Season Seven tour, beginning at US$4,390 for a seven-day excursion. —KG
For the full article grab the June 2018 issue of MAXIM Australia from newsagents and convenience locations. Subscribe here.