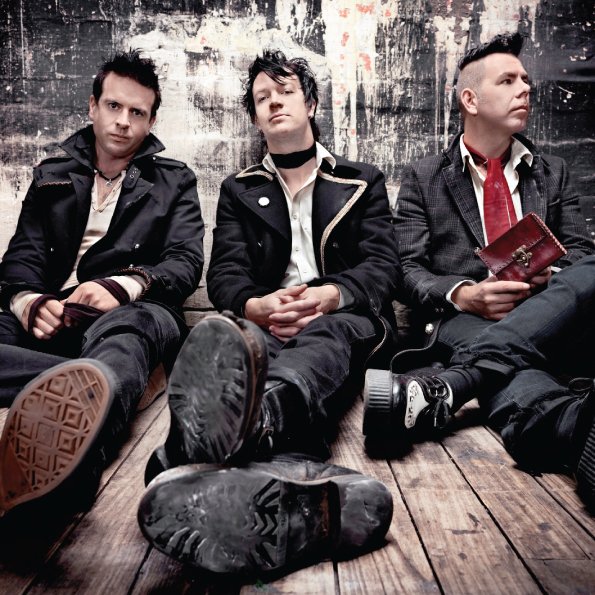 The Living End frontman Chris Cheney (centre) is big in Japan and taller than the Son of God.
Three number one albums, four platinum and one gold album, and your new one – The Ending Is Just The Beginning Repeating – goes like the clappers. Is it time to announce that you're bigger than Jesus?
The industry announced that with the first record – and sent us into shock. Too much, too soon. This is album number six. It's not too soon to say it now. OK, we are bigger than Jesus. Well, we're probably taller.
You guys have a swag of awards. Do you keep them in a trophy room, with moose heads and rifles on the wall, or just a basic pool room?
God, I wish. Not a single moose head nor rifle in my house. I do have a man room. There are a couple of couches, a bar, a stereo and lots of alcohol in there.
What's been your coolest festival experience?
We've done some in Japan that are just mega. The amount of people and enthusiasm is crazy. Splendour is right up there. There's always a killer line-up and the layout is really cool. We've played it four times and every time it's been a cracker of a show. I'm almost afraid to play this one, in case we stuff it up.
Is there an item you wish people would throw onstage?
You're welcome to throw money. Paper airplanes made from hundred-dollar notes are fine.
Kanye West demands baby wipes in his rider. What's in yours?
A bottle of Johnny Red is about as classy as we get. And a shitload of bogan beer. My favourite is VB. Always.
What eases your pain after a big night?
We all know a hangover cure doesn't exist but what seems to aid it is The Black Doctor [Coca-Cola], plus Berocca and a couple of Panadol. If that fails, hit the nearest pub – immediately. It's been a while, actually. We've been so under the hammer trying to do this record, we just couldn't afford to waste a day. I'm looking forward to getting smashed!