Years ago, consumer drones were little more than toys — high-tech offshoots of radio-controlled model airplanes. Today these robots are cameras with superpowers. Whether you're an aspiring filmmaker looking to add a helicopter-style establishing shot to your short film, a daredevil hoping to document your next adventure from a bird's-eye view, or just someone who wants to see what your backyard looks like from five stories up, there's a flying machine out there waiting to do your bidding.
Kaiser Baas Delta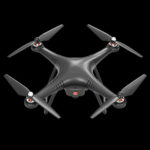 Easy to fly and guaranteed to please the most avid drone enthusiast, this magnificent machine is one of the few drones that enable users to mount their own personal action camera, such as the GoPro™ and Kaiser Baas X-Series Action Camera, to its base. With an impressive 400m range, 17 minutes of flight time and a 2200mAh capacity, this bad boy can also lock its altitude in a hover and features a built-in RTH function which will bring it back to its take-off location. Pack more than one battery and enjoy and extended time in the air! $699.95

DJI Phantom 3 Standard


A drone is only as good as its camera, and the Phantom 3's is a pro-grade, 2.7K-resolution shooter. It packs more image detail than most high-def cams, and its three-axis motorized gimbal fights rotor shake while delivering cinematic tracking shots. $899
For the full article grab the April 2016 issue of MAXIM, in stores from March 24 to April 21.
To grab a digital copy CLICK HERE. All past issues available for download.
To subscribe CLICK HERE. Australian residents only.
iPad Application also available. CLICK HERE. All past issues available for download.