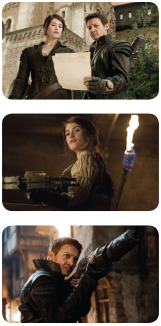 WHAT'S IT ALL ABOUT?
As kids, the titular (man, that word is funny) siblings were captured by a witch, who was all like, "I'm totes gonna eat these kids." Then they pushed her into an oven. After that initial experience of witch slaying, things progressed naturally. As Hansel (Jeremy Renner) says in the trailer: "Me and my sister. We have a past. We almost died at the hands of a witch. But that past made us stronger. We'd gotten a taste of blood. Witch blood." Other basic deets you need to know: It's out February 7, is directed by Tommy Wirkola (don't worry, he's cool – he made a movie about Nazi zombies), and tosses action, horror, and comedy together to make a delicious, bloody salad.
TELL ME SOME COOL STUFF:
When asked what the best way to waste a witch is, Hansel replies, "Cutting off their head tends to work." Decapitation is always welcome – in fact, every movie would benefit from noggin removal scenes. Something else cool is the array of high-powered weaponry the duo uses to dispatch malevolent paranormal motherf—kers.
WHO'S THE BABE?
That's British lovely Gemma Arterton. Perhaps you know her as the sexy agent from Quantum of Solace, or the sexy priestess from Clash of the Titans, or the sexy princess from Prince of Persia. Now you can enjoy her in steampunk mode, friend.
WHY AM I SEEING THIS, AGAIN?
Because it's a tongue-in-cheek, blood smeared, prey-to-predator story. It's 200 years since the original yarn was scribed by the Brothers Grimm, so use that historical fact to couch your argument when you're trying to persuade your special lady friend.