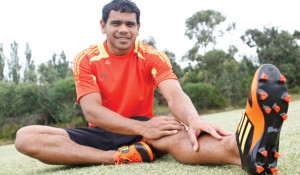 You're an ambassador for the Adidas MiCoach Speed_Cell. What is this gadget exactly and how does it help with what you do?
Speed_Cell tracks all your on-field performance through a little chip you can slot into your boot and then lets you sync it to your iPhone or PC. It's good to know your distance and speed – having that sort of data during training is important if you're looking to improve on the actual footy field.
You're a speedster. Overall, how important is being Speedy Gonzalez on the field?
It's very important in the modern game. You need pace behind you to get away from and chase down opponents.
In terms of training, how do you maintain that? Like, how much is ability and how much is workout-related?
You can better it by doing repeated sprints and working on your endurance. The better you are at endurance, the more chance you have of reaching and being able to maintain top speed. Obviously, it's about leg work in the gym – just giving them more power, so you can be more explosive.
If it was you, Usain Bolt, and a cheetah in a race, who'd take first place?
I'd say Usain, then the cheetah, and you'd find me lagging about 50 metres behind.
OK, that's a bit unfair. Who out of you three do you reckon would take the best mark? You're all contesting the ball at once, of course.
Well, that'd be me, for sure. I can see myself taking it on top of Usain Bolt's head.
What did you take away from last season? You went down in the Preliminary Final 68 to 65 to Collingwood, which was pretty heavy.
Probably the fact that we're up there. I mean, we were one game away from the Grand Final. Although we had a bad loss, the boys gained a lot of confidence from how we went in 2011 and hopefully we can bring that into 2012.
What are you guys expecting from 2012?
We're ready to go one game further this year. It was a good pre-season and there are so many great guys out on the track, so even if we lose a player this season to injury, we've got a lot of depth, so there's someone else who can get the job done. Personally, it's pretty basic: I want to be injury-free, have fun playing the game, and win.
Your coach Alastair Clarkson wants a little less reliance on "Buddy" Franklin. How do you think that'll affect the team dynamic?
Look, it's so hard not to kick it to him. He's a dangerous player but he's also a big target. So hopefully we can get an even spread around the team this year and take a load off
Buddy's shoulders.
What do you do in the offseason: Are you the type of bloke who never stops or do you sit on the couch playing Xbox and eating pizza?
I take two weeks to kick back once the season's done but that's it. We still have our program that we need to do and the last thing you want is to come back overweight and out of shape. I'm the sort of guy who likes to do his work, even in the off-season.
Just talking fitness in general, can you give us a couple of personal tips?
I keep away from junk food. This is a bit different, but I've been doing Pilates for three years and I also enjoy yoga. I started Pilates after injuring my hamstring, to strengthen my core and help my balance. Pre-game, I'll have an ice bath and a light jog – that gets me going.
To grab a digital copy CLICK HERE. All past issues available for download.
To subscribe CLICK HERE . Australian residents only.
 iPad Application also available. CLICK HERE. All past issues available for download.