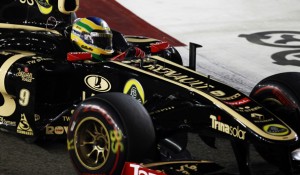 You had a big 2011 in which you replaced Nick Heidfeld mid-season to secure a regular spot for Lotus Renault GP. Was it a big change from your first year at Hispania Racing?
It was a big change from 2010. It was the first time I had a real chance in a Formula One car. Hopefully it will create a nice career path.
Was it always your dream to drive in Formula One?
When I was in go karts at five years old, I was looking forward to driving Formula One cars. It has been very special achieving the dream. I feel privileged already.
As the nephew of the great Ayrton Senna, do you feel pressure to live up to your famous surname?
A lot is expected from me, but pressure is what you make of it. If you take it on board and do what you're able to do instead of what people expect you to do, then it's normal. I try to keep my feet on the ground.
Ayrton once famously said, "If you think I'm fast, just wait until you see my nephew, Bruno." You must have known how to floor it in a go kart, mate.
No pressure. I was quick when I was young. But being a race driver is the whole package: good with the press, consistency, being smart.
What effect did Ayrton's death have on you in 1994?
It effectively stopped my racing progression. I was 10 years old and it took me until 2004 to race again. My grandparents were upset about it, so racing became a difficult subject. I had to go live a normal teenage life, but eventually it bothered me too much. When the racing bug bites you, it doesn't let go.
Was there a fear factor when you got back behind the wheel after 10 years?
No, when you're inside the car you have an idea of how much risk you're taking, and you are in control most of the time. I never feel fear in racing. Even after having some big crashes, what concerns me is looking at the mechanic knowing he has to fix the car for the next day.
Is the recent documentary, Senna, a fitting tribute to your uncle?
These guys managed to put an amazing film together that captures his personality, his life, and the way he looked at life. It is very strong. People who love motor racing love the film, and people who don't get into motor racing also love it.
But initially your family was reluctant to be involved, right?
You never know what the movie is going to be like, but we met the producers and were very comfortable because they were really positive and knew what they were doing. We couldn't be happier with
the result.
Do you love the F1 lifestyle?
I'm more of a guy who likes to be home because you have to focus a lot in Formula One. But it's nice to chill out and party a little bit. I don't think any guy would mind it, but it's more the TV actors who get the women. Racing fans tend to be more about racing as a sport.
What do you get up to away from driving?
Relaxing, movies, music, cycling, sport in general. I live in Monaco, right on the sea. And being Brazilian, that makes me happy.
Being Brazilian, you must be football mad?
In that respect, I'm a bad Brazilian. I'm not really into football, mostly due to the fact I'm a very bad player. I just leave it to the professionals.
Gavin Dennett
To grab a digital copy CLICK HERE. All past issues available for download.
To subscribe CLICK HERE . Australian residents only.
 iPad Application also available. CLICK HERE. All past issues available for download.