Exotic, mysterious and inspirational. "In my life there is never a plan B."
Tell us a bit about your shoot
I wanted to incorporate all the things I love; ocean, bikinis (Beach Bunny Swimwear to be exact) and the sun. I truly believe I was a mermaid in my past life and the ocean is my sanctuary. I would live my life in a bikini if I could. I guess I kinda am given my career as a model!
Are there any other funny anecdotes you can share about this shoot?
My top came untied and I accidentally flashed my photographer while there was a wedding going on in the background! I can only imagine the stories the wedding attendees may have gone home with! I'm sure it will be one of the most memorable weddings they have ever been to.
Have you ever been to New Zealand?
Not yet but it has always been a dream of mine to visit.
Where would you like to visit?
Queenstown, Abel Tasman National Park, Aoraki – Mount Cook and Auckland
When do you feel sexy and why?
When I'm wearing Calvin Klein underwear and matching sports bra. This brand and look has always been iconic to me. I like to imagine/manifest my future Calvin Klein modelling shoot when I have it on.
What are your best assets?
My best assets are my giving heart, charming personality and work ethic. Unlike one's physique which can be changed through diet and exercise, these are assets that tend to be inherent in someone.
Give us a little more background about yourself and your life story so far.
I started my journey with a broken heart. In an attempt to overcome this I wanted to challenge myself so I started competing in bikini competitions. All I knew about competing was that it would get me in the best shape of my life. What I discovered is that it would break me even more than my past relationship. I was forced to dig to even deeper levels emotionally and mentally but I have gained a level of confidence I never had before.

I spent an intense 15 weeks preparing for first show in 2017. I hadn't the faintest idea what I was really getting myself into. It was the exact challenge I needed mentally, physically and emotionally. For the first time in my life I felt like I was doing something for myself and no one else and learned to love myself at a deeper level than I ever thought possible.

Competing unknowingly prepared me for my career in modeling to follow. Here I am, three years later, having competed in four fitness bikini competitions (I'm the current Miss Bikini Southern California 2019), shot with a multitude of photographers and have found myself moving into acting. Most importantly reaching another goal of mine… finding myself on the cover of MAXIM New Zealand!

I want to tell every dreamer out there that even at your lowest you can rise above anything. You have a choice. Nothing is permanent. With hard work, dedication, consistency and purpose anything is possible. Don't let life beat you down. Keep fighting for your dreams and what is true to you and you will find freedom!
What would people be most surprised to know about you?
My life has not always been easy. My parents worked very hard to give me a wonderful childhood and instilled in me the same values. I'm determined, motivated and ambitious. In addition, I am a person of my word. If I say I'm going to do something, consider it done. In my life there is never a plan B, only plan A.
How would you describe yourself in five words?
Authentic. Pure. Wild. Fun. Adventurous.
How long have you been modelling and what would do if you weren't modelling?
I started modelling in 2017 after my first bikini competition. If I wasn't doing this I would be travelling the world with a non-profit organisation and giving back to those in need.
What have you learned about men over the years?
All the good ones are taken.
What's one thing men should always know about women?
We rule the world.
What do you look for in a man?
Someone who will take care of me. Not materialistically, but take care of my soul and my heart. Those are things money can't buy.
Describe your ideal date.
Sailing in the ocean at sunset while listening to music and having a glass of wine.
What can we get you at the bar?
A 1942 Don Julio Tequila shot or any drink with Mezcal.
Got a hangover cure?
Menudo is the best medicine! For those who don't know, it is a traditional Mexican soup, made with cow's stomach (tripe) in broth with a red chili pepper base. In México some people believe this tasty and aromatic soup has the ability to actually bring someone back to life.
What's your best hidden talent?
I can read minds. In fact, I'm reading yours now.
Do you have any phobias?
I don't enjoy crowds. They drain my energy.
Who is your girl crush and why?
I have a few but if I had to pick one it would be Salma Hayek.
What's the freakiest/weirdest thing someone has sent you via social media?
I had a guy pretend to be the Chief Editor of MAXIM USA, Sardar Biglari. He tricked me into to having an interview over the phone via FaceTime. I Googled Sardar Biglari and it was definitely not him!
What is your motto in life?
Life is short so take the time to do things that light your soul on fire. Work hard, stay humble, be grateful for what you have and give back to the world/those in need.
What's next for you?
Any exciting projects on the horizon you can share with us?
I'm currently in Los Angeles attending the Baron Brown Acting Studio in preparation for a lead role.
Finally, where would you like to be in five years?
On the Ellen Degeneres show talking about my career as a model and actress.
STATUS UPDATE
NAME: Bella Baez
HOMETOWN: San Diego, CA
BORN: January 23, 1985
INSTAGRAM: @bellabaezofficial
MODEL BELLA BAEZ (@BELLABAEZOFFICIAL)
PHOTOGRAPHED BY BRIAN B HAYES (@BRIANBHAYES_PHOTO)
MAKE-UP BY ADRIANA M (@MAKEUPBYADRIANAM)
SWIMWEAR BY BEACH BUNNY SWIMWEAR (@BEACHBUNNYSWIMWEAR)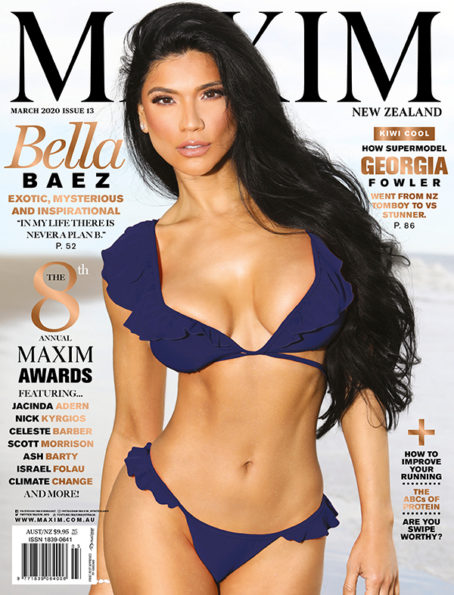 For the full article grab the March 2020 issue of MAXIM New Zealand from newsagents and convenience locations, or a digital copy from Zinio and Magzter. Subscribe here.