With her massive social media followings, you don't have to be Einstein to work out why ELIZABETH CHEVALIER is setting the world on fire…
Tell us a bit about your shoot – where, when, the idea behind it, etc…
The shoot was a blast! Arthur, who is not only an amazing human being and close friend but also a FANTASTIC photographer shot these photos. The shoot took place at a mansion in the Malibu hills called the "Ravens Eye" overlooking the ocean. The red outfit was all colour-coordinated with custom silk strap Louboutin heels and a red silk choker to match the red bikini, where I laid across a one of a kind grand piano. The handmade crystal bikini shots were in the pool and I felt like a goddess.
Are there any other funny anecdotes you can share about this shoot?
Yes! The team had to carry around a huge mirror behind Arthur for the majority of the shoot because it helped me check my pose, etc. Haha the mirror was not light, but VERY heavy.
Have you ever been to New Zealand?
I've never been to New Zealand, but I want to go very soon!
Where would you like to visit?
I already have a list! I heard Cathedral Cove in Coromandel NZ is out of this world, Christchurch NZ, and White Island NZ.
When do you feel sexy and why?
I feel sexy all the time, but that took a lot of work from inside and learning self-love. I feel sexiest naked and with no makeup and in the water hither that be singing in the shower, pool, or even a beach!
What is your best asset, physically and otherwise?
I believe my eyes are my best asset, but I love my bum as well.
Give us a little more background about yourself and your life story so far.
Growing up, I attended Catholic grade school, high school, and college in San Diego, CA. I played soccer for Scripps United Competitive Soccer team and was a varsity cheerleader at my high school. I attended Marymount College University (in Rancho Palos Verdes, CA.) pursuing a degree in Psychology freshman and sophomore year. I transferred to LMU (in Los Angeles, CA.) for my junior and senior year and switched my major to Biology. I graduated with a B.S. in Biology from LMU (in 2016). I was signed right away with a major modelling agency at 16, then transitioned to several Los Angeles-based modelling agencies around the ages of 21-24. As my Instagram platform grew I started receiving huge opportunities like modelling on the covers of major magazine publications, billboards, and music videos.
What would people be most surprised to know about you?
Many things… I have a B.S. in Biology, I grew up extremely Catholic, I love sitting in bed watching YouTube videos, I'm obsessed with dogs, I love sweets, I have a USPA A License (skydiving), PADI card (for deep-water diving), and currently in the process of getting my motorcycle license.
How would you describe yourself in five words?
Loving, feisty, witty, spontaneous and loyal.
How long have you've been modelling and what would do if you weren't modelling?
I started modelling at 16, and if I wasn't modelling I would be a marine biologist.
What have you learned about men over the years?
Some men grow up, and some men never do.
What's one thing men should always know about women?
If you don't love her don't waste her time because there is another man who will.
What do you look for in a man?
Mental strength, honesty and integrity.
Describe your ideal date.
The perfect date for me is an amazing conversation. I find it's important to get lost in the person, not in the moment.
What can we get you at the bar?
A good vintage cabernet or gin and tonic.
Got a hangover cure?
Two Excedrin migraine capsules and a full glass of OJ.
What's your best hidden talent?
Snowboarding in a bikini.
Do you have any phobias?
Boredom
Who is your girl crush and why?
Doja Cat. She's wild and I love her music.
What's the freakiest/weirdest thing someone has sent you via social media?
I've seen many things that aren't exactly PG, but I give those people credit for having the guts to send it. LOL!
What is your motto in life?
"Don't be so worried about what other people think about you because, surprisingly, most people are only focusing on themselves or what you think about them."
What's next for you? Any exciting projects on the horizon you can share with us?
I'm currently in the British Virgin Islands wedding scouting, and that's the biggest most exciting project I'm currently working on.
Finally, where would you like to be in five years?
Married to my fiancé and making beautiful babies with that amazing man.
Status Update
FULL NAME: Elizabeth Chevalier
HOMETOWN: San Diego, (CA) California
BORN: April 9th, 1994
INSTAGRAM: @marieechev
SNAPCHAT: @marieechev
FACEBOOK: https://www.facebook.com/Elizabethchevaliermodel
PHOTOGRAPHED BY ARTHUR ST. JOHN (@ARTHURSTJOHN)
HAIR: PETER ANTHONY PEREZ (@PETERHAIRBH)
MAKE-UP: ALEXANDER SANDOVAL (@EEXLA)
MAKEUP ASSISTANT: SANDRA MARCIE
TAN: HEATHER HENTSCHEL (@HELLA_TAN)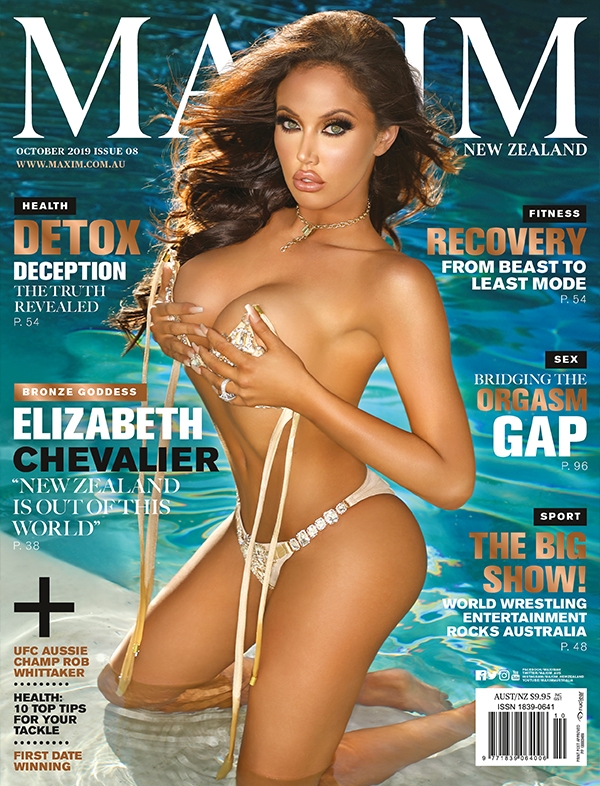 For the full article grab the October 2019 issue of MAXIM New Zealand from newsagents and convenience locations, or a digital copy from Zinio and Magzter. Subscribe here.