We chat with KEITH JONES, CEO and Founder of local romantic adult products company Sensuous, to talk start-ups, sexual enhancement and their superb range of "lotions and potions"…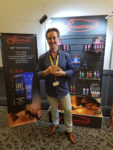 G'day, Keith, for the uninitiated can you describe what Sensuous is all about?
Sure. Sensuous is an all-Australian company which produces a range of, what is known in the business as, "lotions and potions". These romantic adult products are designed to enhance your sex life and bring you and your partner even closer. Wherever possible our products are formulated using natural ingredients and the great news is that they are all made here in Oz.
Why did you decide to create this company?
Sensuous was set up in 2003, initially as an importer of adult products. These were brought in mainly from the U.S. and China and sold to adult stores around Australia. About nine years ago we decided to create our own brand of home-grown sexy lotions and potions so we could become completely independent and not rely on overseas suppliers and, at the same time, offer our customers something new and exciting.
Tell us more about your products.
We have a range of products which include sexy kissable massage oils, delicious chocolate body paints, glycerin free personal lubricants and sexual stimulants for women. Our two standout (no pun intended) and bestselling products are Edge™ and Raging Bull™ and probably, for MAXIM readers, these two are of most interest. After all, who doesn't want to perform like a porn star?! Edge is a discrete, all-natural delay gel which gives you ultimate control and as it is non-numbing, so you get to feel all those great sensations. Raging Bull is a great penile enhancement cream which helps with libido and size.
Why do you feel the market needs Sensuous?
We have created a great range that not only enhances people's sex lives but being made in Australia means that you can buy with confidence.
What separates you from the competition?
Apart from great quality, and great products, our range is extremely discrete and looks as much at home on a shelf in an adult store or your local pharmacy.
Nice one! Why do MAXIM readers need Sensuous in their lives?
Seriously, if you are not interested in great sex then you don't need Sensuous in your life.
INTERVIEW BY SANTI PINTADO
For the full article grab the September 2019 issue of MAXIM Australia from newsagents and convenience locations. Subscribe here.