FULL NAME: Hannah Jeffs
HOMETOWN: Hamilton, New Zealand
BORN: 03/06/1992
INSTAGRAM: @misshannahjay (personal) / @homesolariumsaustralia (business page)
FACEBOOK: Hannah Jay (Personal) / Home Solariums Australia ( Business )
Tell us a bit about it – where, when, the idea behind it, etc…
We shot down by the Brighton bathing boxes on the beach in Melbourne. Rocky thought this would be a good place because it reminded us of New Zealand (we are both Kiwis!). NZ has a lot of beautiful beaches.
Are there any other funny anecdotes you can share about this shoot?
We both didn't think to check the weather, it was 35 degrees and neither of us bought water. Rocky even brought a jumper thinking it was going to get cold.
When do you feel sexy and why?
When I'm at work dancing on the stage.
What is your best asset? Physically and otherwise.
I think my brain is my best asset. I've also been told my smile and legs.
Give us a little more background about yourself and your life story so far.
I grew up in Hamilton NZ and lived there until I was 22. I started dancing while I was at University, studying Computer Graphic Design, after I graduated I moved to Australia to continue dancing, now I am finally putting my design skills to work with my new company, Home Solariums Australia. I still travel to NZ often to visit friends and family.
What would people be most surprised to know about you?
A lot of people only see me on the weekends when I'm partying and having fun, so they are shocked if they see me during the week reading a book or doing a puzzle.
How would you describe yourself in four words?
Fun, Smart, Loving, Free-spirited
How long have you've been modelling and what would do if you weren't modelling?
I have been modelling on the side for a few years it has never been my full time job, dancing has always been my main job since finishing university.
What have you learned about men over the years?
That they're a pain in the butt!
What's one thing men should always know about women?
We are always right, even when we are wrong. Haha.
What do you look for in a man?
Smart, funny, loyal are what most girls want, I think.
Describe your ideal date.
Jumping out of a plane into an empty field with a picnic waiting when we land.
What can we get you at the bar?
Grey Goose, lime and soda. Don't even think about ordering me Smirnoff.
Got a hangover cure?
Have another drink.
What's your best hidden talent?
Hidden? I make sure everyone knows all my talents. Haha.
Do you have any phobias?
Mice and Rats ill start crying if i see one
Who is your girl crush and why? (OK to name a few if you want).
Haylee Adams. Shhh, she doesn't know.
What's the freakiest/weirdest thing someone has sent you via social media?
I couldn't pick just one, I get send some pretty weird things.
What is your motto in life?
You don't fail unless you quit.
What's next for you? Any exciting projects on the horizon you can share with us?
Right now I'm working on my new company, Home Solariums Australia. I sell sunbeds for home use. I am hoping to be bringing it to New Zealand in the next 6 months.
Finally, where would you like to be in five years?
It doesn't matter where I am, just as long as I'm happy.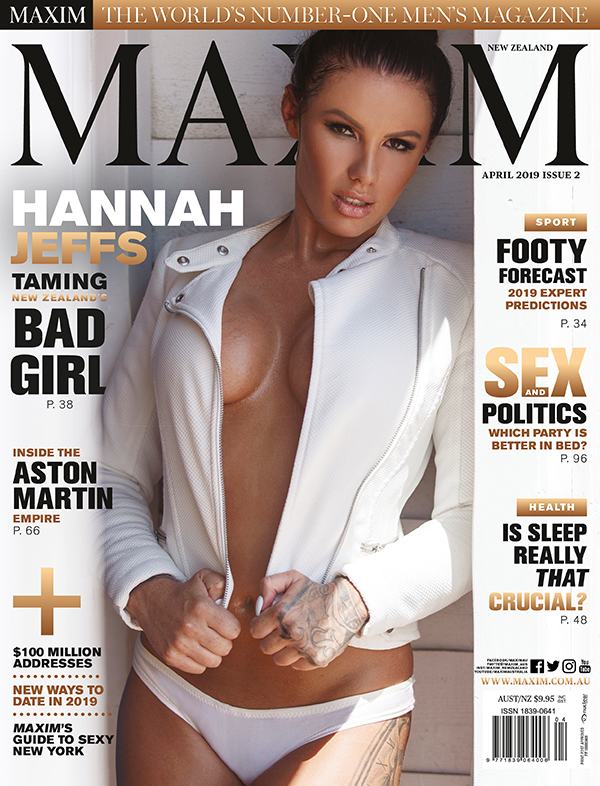 For the full article grab the April 2019 issue of MAXIM New Zealand from newsagents and convenience locations, or a digital copy from Zinio and Magzter. Subscribe here.