In his latest book, master sommelier JURGEN LIJCOPS guides readers on a journey to 150 of the most extravagant bars throughout the world — each having a unique story to tell. Here's 15 of his favourites…
AQUA SHARD — United Kingdom
The Shard, 31 St Thomas Street, London, SE1 9RY
You will remember the lavatory forever.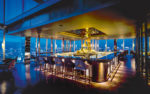 Aqua Shard, located on the 31st floor of the Shard, serves innovative British cuisine. The cosmopolitan establishment's restaurant, private dining rooms and spectacular three-floor atrium bar offer breathtaking views of the city. The bar is open all day with no reservation needed and boasts a wide range of cocktails inspired by the botanicals you so often see in the worlds of gin and British tea. Aqua Shard lets you take in the London skyline from sunrise to sunset.
ATLAS BAR — Singapore
600 North Bridge Road, Parkview Square, Singapore
The magnificent collection of spirits, which includes all of Jacques Selosse's cru champagnes, is truly unique.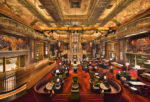 Atlas graces the ground floor of Parkview Square, an iconic building in Singapore's Bugis neighbourhood. Yet this bar will make you feel as if you are in contemporary New York. Not in a speakeasy way, but with a certain light elegance. Atlas Bar, headed by Roman Foltán, is known for its sophisticated cocktails and its gin and champagne collections, which took more than two years to compile and contain true treasures. In addition to champagne and gin, Atlas also boasts exceptional wine (50,000 bottles) and whisky (10,000 bottles) collections gathered from the private collection of C.S. Hwang, the founder of the Parkview Group. The drinks list is divided into 'The Golden Age', 'The Gilded Age' and 'The Crazy Age'. Foodies are suitably pampered, too, by executive chef Daniele Sperindio, who prepares dishes using skills that he has acquired in Michelin-starred restaurants all over the world.
STOCKTON — China
32 Wyndham Street, Central, Hong Kong
The roast-beef sandwich is truly delicious.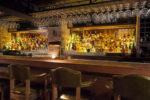 Stockton is pure rock 'n' roll, complete with oil paintings of David Bowie and Bill Murray, depicted as generals, hanging on the wall. The playfulness of the interior is reminiscent of chaotic punk. The cocktail menu is just a bit less chaotic. The 'Minds Undone' series pays homage to the great writers of our time and other inspirational figures behind Stockton's DNA. The 'Hidden Lady', for example, is inspired by Truman Capote and combines Ketel One Vodka with sake, apricot, orange sherbet, lime, mace, verbena syrup and house-made orange bitters. This bar is is not easy to find, hidden as it is in an alley just off Wyndham Street. Look for a short flight of stairs and set foot in this somewhat atypical, but definitely must-visit, cocktail bar.
EMPLOYEES ONLY — United States of America
510 Hudson Street, New York, NY 10014
The bar undergoes a transformation when the sun goes down. The ambience and vibe are simply unique.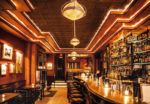 In 2004 Dushan, Henry, Igor, Jay and Billy had a common goal: to open a local bar that would honour the craft of cocktail preparation. The result of their hard work and creativity is Employees Only, a grandiose bar with superb cocktails. It is also known for the thorough training it provides to its employees, ensuring that your cocktails are shaken and stirred by real pros. From its opening to today, Employees Only has offered a groundbreaking drinks menu whose best-known cocktails include the signature 'Manhattan' (to which they add Grand Marnier), the seasonal 'Ginger Smash' and the 'Amelia'. In the kitchen, chef Julia Jaksic takes a no-nonsense European-American approach to her dishes. Employees Only is a real success story, as evidenced by its expansion to Singapore, Panama City, Hong Kong and Miami. In their own words, they want to conquer the whole world.
BETA BAR — Australia
238 Castlereagh Street, Sydney, NSW 2000
They serve delicious martinis in white-marble martini glasses.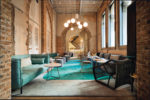 Beta Bar is located above Alpha, a popular Sydney restaurant. It is an initiative by the Hellenic Club, an association founded by the Australian city's Greek community in 1924. Expect dramatic decoration, generous mezze dishes and cocktails with a hedonistic twist. Needless to say, they serve nice ouzo, and should you get hungry, you cannot go wrong with their home-made moussaka.
BLACKTAIL BAR — United States of America
2nd floor, Pier A Harbor House, 22 Battery Place,New York, NY 10004
This bar specialises in cocktails from the Prohibition era.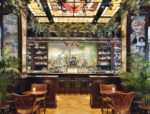 The BlackTail Bar, located in Lower Manhattan in Battery Park, is a Cuban cocktail bar with a difference: that is, it does not just serve mojitos and cuba libres. While these are great drinks, the BlackTail Bar specialises in cocktails from the Prohibition era. Back in those days many Americans would take a quick flight to Havana to quench their thirst for alcohol. The planes flying them back and forth were called 'black tails'. The influx of weekend revellers caused an increase in the number of bars in Havana as well as new cocktail recipes for the Americans. The team behind BlackTail claims to have brought those Prohibitionera Cuban drinks to New York. The bar is reminiscent of Floridita, the birthplace of the daiquiri, on Havana's Obispo Street. The menu is divided into 'Highballs', 'Punches', 'Sours', 'Old-Fashioned', and 'Cocktails'. If you want to play it safe, then go for one of the well-known, classic Cuban cocktails, because they are fantastic. However, we also recommend something more adventurous, such as a 'Yankee Dollar' (bourbon, peated Scotch, peach, barley syrup, lime and soda) or a 'Gulf Stream' (mezcal, Irish whisky, rum, falernum syrup, apple, dill, lime and maraschino).
JIGGER'S — Belgium
Oudburg 16, 9000 Ghent
Olivier Jacobs was the first Belgian bartender to attain international fame.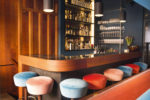 Owner Olivier Jacobs earned his stripes in Café Theatre near the courthouse in Ghent, opening his own speakeasy cocktail bar in 2012. Jigger's was an instant hit, repeatedly winning a place among the world's 100 best cocktail bars. Jacobs himself was crowned best Benelux bartender in the 2011 and 2012 editions of the Diageo World Class Bartender competition. Now, five years after its inauguration, he has expanded his bar. There is no doorbell any more, and patrons can enjoy the most surprising drinks in the basement bar, the new bar on the ground floor, and the front and back terraces. The bar's name, too, has been expanded, from Jiggers to Jigger's Coolers & Cocktails. 'Coolers' are for easy drinking, while 'Cocktails' refers to more refined, original flavours. Everything is made in-house, except the spirits themselves. The Jigger's Team continues to go out of its way to serve the perfect cocktail and create a worldly atmosphere, alongside its challenging and innovative menu.
BAMBOO BAR — Thailand
Mandarin Oriental Hotel, 8 Oriental Avenue, Bangkok, 10500
The chef 's taster — Oscietra caviar with sea urchins, potatoes
and champagne sauce – is heaven on earth.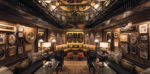 The Bamboo Bar in the Mandarin Oriental is a shrine for music lovers and trendy people from all over the world, with live jazz on almost all week. The space itself has an exotic feel and a clubby ambience. This hotel bar has provided a getaway for those wishing to escape the hustle and bustle of the city since its inception in 1953. Not only are the music and vibe top-notch, but the cocktails are, too, and the award-winning bar team often draws inspiration from well-known jazz legends. All the 'Bamboo Bar Originals' are worth trying and have a permanent place reserved for them on the drinks list.
LE PARFUM — France
55 Rue de la Cavalerie, 34090 Montpellier
Both the sophistication and presentation of the drinks will have you thinking you are in Japan.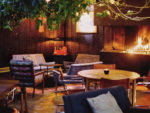 Many people will recognise the name of this Asian-oriented cocktail bar, inspired as it is by Patrick Süskind's masterful novel Perfume: The Story of a Murderer (1985). The bar's owners serve cocktails as 'perfumed' and diverse as the scents mentioned in the book. The cocktails are creatively combined with equally perfumed snacks called dim sum, a Cantonese speciality. The whole decor also has an Asian feel, providing quite an unusual experience. Make sure you don't miss it!
THE ALCHEMIST — United Kingdom
6 Bevis Marks, London, EC3A 7BA
The bartenders boldly mix what no one has mixed before: molecularly inspired mixology.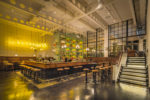 The Alchemist in London is a 'link' in an inventive cocktail chain that has several venues in the United Kingdom. The bar's name refers to its use of molecular mixology. The Alchemist is located in the heart of London, a stone's throw from 30 St Mary Axe, known as the Gherkin. Its light-filled interior is modern and the cocktail menu very diverse, ranging from classics like the mojito to house-made drinks that spark the imagination. The Alchemist is proud of how it works magic with ingredients, often surprising and confusing tipplers. Rare ingredients, chemical reactions, cocktails served in refillable hip flasks… anything goes. They also teach master classes, and their restaurant serves excellent food.
CANON BAR — United States of America
928 12th Avenue, Seattle, WA 98122
Nothing is too outlandish or far-fetched at the Canon Bar. Have you ever had a drink served to you in a plasma bag? Ask for a 'Transfusion 4'.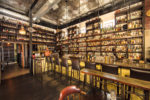 In the Canon Bar you have choice aplenty, for it boasts over 4,000 different brands of spirit. No wonder the bar looks like a library, with bookshelves chock-full of bottles and even a ladder to reach the top shelves. The Canon Bar is all about whisky and bitters, so much so that they literally ingrained the bar's wood with Angostura bitters, giving it its rich, brown colour. The owner has done everything possible to satisfy everybody's preferences and tastes: from simple three-piece cocktails to spectacular shows of smoke and fire.
BAR TRENCH — Japan
1-5-8 Ebisunishi, Shibuya, Tokyo
Talking to the manager/bartender with the Zorro moustache and the Portugese roots in Portuguese immediately breaks the ice. Another tip: ask for a cocktail based on Nikka whisky.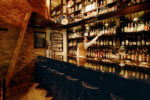 This magical cocktail bar (Bar Tram's little sister) lies hidden in the streets of Ebisu, near the train station. No doubt thanks to head bartender Rogerio Vaz's weakness for absinthe, Bar Trench stocks a wide range of herbal liqueurs that he will gladly tell you all about. The cocktails, too, are inspiring and lively. Do try the artichoke mojito, or the 'Go Lassi' with absinthe, lime, dill, cucumber and yogurt. While the drinks list is not extensive, it still does not make choosing any easier. The place has a Parisian vibe and the drinks are top-quality.
Little Red Door — France
60 Rue Charlot, 75003 Paris
This bar became famous under the flamboyant Remy Savage, who is now in charge at the renowned Artesian in London.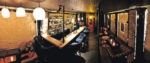 As the name of this small, cosy bar implies, you enter through a little red door. At least, you usually do, because sometimes the door is locked, in which case you just use the one next to it. Once inside, you are welcomed by an extremely intimate ambience: flickering candlelight, snug corners, and affable bartenders. The creative cocktails are served in attractive vintage glassware. If you have particular tastes, let the bartender know and he will make something special that will completely surprise you. The Little Red Door is an absolute must-try in Paris, but bear in mind that it can get very busy at weekends and waiting lists are long.
PLEASE DON'T TELL — China
15 Queen's Road Central, Central, Hong Kong
Ask the head bartender a question about a spirit or trendy bar bite and he will immediately entertain you with a story.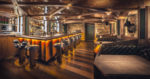 Please Don't Tell or, in short, PDT, is the long-awaited speakeasy of the eponymous bar in New York. Head bartender Adam Schmidt first earned his stripes in New York and now handles the shakers in Hong Kong. His knowledge and skills go way beyond mixing up drinks: ask him a question about a spirit or trendy bar bites and he will immediately entertain you with a story. After its success as a pop-up in Hong Kong in 2016, the bar has now permanently settled above MO Bar in the Landmark Mandarin Oriental. A secret phone booth provides access to the cosy PDT. Its cocktail menu may not be extensive, but qualitywise it is up there with the best. Try the cocktail-hotdog combination and be amazed!
BAXTER INN — Australia
152–156 Clarence Street, Sydney, NSW 2000
They have an eye for detail, serving top-notch whiskies in brandy glasses.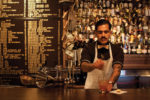 Picture this. A rough-and-tough whisky bar down an abandoned alleyway with a few smokers standing next to the entrance. The Baxter Inn has a huge whisky collection that you will only reluctantly leave behind when you are forced out at closing time. Behind the bar are shelves upon shelves full of whisky bottles. The cocktails, ranging from classics to contemporary blends, will also make your jaw drop, but to be honest, what you come here for is the atmosphere and the whisky. The Baxter Inn is one of the coolest places in Sydney today. Make sure you try their home-made pretzels!
For the full article grab the November 2018 issue of MAXIM Australia from newsagents and convenience locations. Subscribe here.