Looking for a stronger erection and an increased libido that'll improve your sex life? This quality male genital moisturiser has the answers…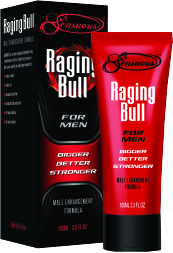 Following the phenomenal success of Edge™, their Delay Gel for Men, the team at Sensuous looked to create another great product for men — this time not for delaying orgasm, but for improving it. So, they set their chemists the challenge to formulate a natural product that would help all round male performance.
Enter Raging Bull — a trusted, all natural, made in Australia, topical gel which helps improve libido and blood flow to the penis. Based on real research, Raging Bull has been uniquely formulated using a proprietary blend of herbal ingredients — each one chosen for its traditional sexual health benefits including improvements in penile strength, penile size, stronger erections and increased blood flow, libido and desire. And it works!
Launched in January this year, Sensuous has been thrilled with the feedback and sales have increased month on month. Moreover, many men report incredbly favourable results and are impressed by the positive outcomes from using the male enhancement formula.
Many guys who are using penis pumps and/or jelqing have reported that they are experiencing better and more lasting results using Raging Bull as part of their daily exercise routines, as well as helping them with size, desire and providing them with stronger erections.
What's not to love, fellas? Try it today! Here's a starter tip — for the best results, Raging Bull is applied morning and night and is massaged onto the penis and surrounding areas. Do yourself a favour! ■
For more info and help go to www.sensuous.com.au
For the full article grab the October 2018 issue of MAXIM Australia from newsagents and convenience locations. Subscribe here.