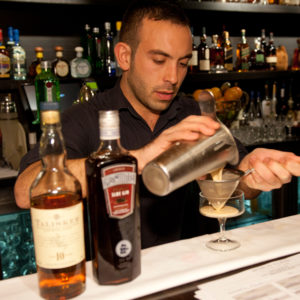 Tim Philips is the Australian Bartender of the Year. That's why we got him to write this column – and not the motoring page
It's a time for firsts. This is my first column for MAXIM Australia, and I recently placed first in the World Class Australian Bartender of The Year competition. That means I got a very large, very phallic trophy and – if I may be modest for a moment – the right to call myself the best bartender in the country.
Keeping with the theme of firsts, I'd like to talk about the first booze ever made. I'm talking good, old-fashioned, distilled hard liquor.
Our ancient Arab brothers distilled the first wine around 3500BC. This stuff – which was later banned under Islamic law – was used as perfume and medicine. And I use the term "medicine" loosely, considering some time later pints of pure alcohol macerated in coriander seed and cassia bark were widely used as a "cure" for food poisoning.
The first cocktail, on the other hand, will not cure you of anything. In the grand scheme of alcohol, the cocktail is quite a modern invention. A bone of boozy contention among alcohol academics is when it actually originated.
The first written reference to the cocktail was actually around 1806. The drink being referred to was the Bittered Sling – spirit, bitters, water, sugar and lemon. Sound tempting? Not really. That's why I've provided a vibrant variation on it over to the left there.
Your homework for this month is to either try making one at home or get your local barkeep to whip one up. Cheers!
If you have a burning question for Tim, be it about alcohol or how to get rid of that burning sensation, direct it to: maxim@maxim.com.au. And maybe see a doctor about the burning sensation.
For Tims full feature, drink recipes, drink reviews and more grab a copy of the August 2011 issue of MAXIM Australia – available from Woolworths, Coles, Coles Express, 7-Eleven, BP or your local newsagent until August 17, 2011. Or click here to subscribe. (Australian residents only).