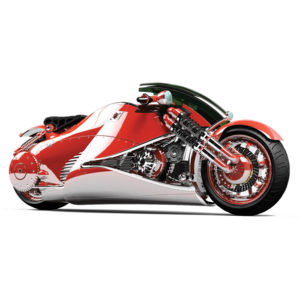 Turns out you can save the world while tearing up the bitumen.
Spec check
Tryton MM2
Engine: Electric
Top speed: 260 km/h
0-160km/h: 4.4 seconds
Weight: 100kg
Designed by Vil "E-Vil" Tsimenzin, this concept is for those hybrid humans who enjoy insane speed but are also environmentally conscious. The bike itself is a fusion of the freaky future inspired by the pretty past.
Electric batteries sparked up from a power point allow the Tryton MM2 to keep rolling for 212km per charge. The onboard battery pack can be refueled in the same time it takes to watch The Lord Of The Rings without the mountain of special features that only hardcore nerds care about – so about 2.5 hours.
E-Vil used carbonfibre and reinforced thermoplastic body panels in his plans, so this demon machine is made to be green and lightweight!