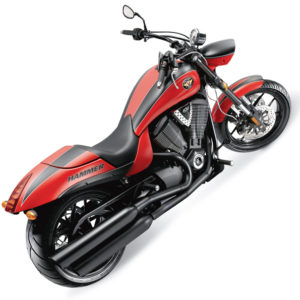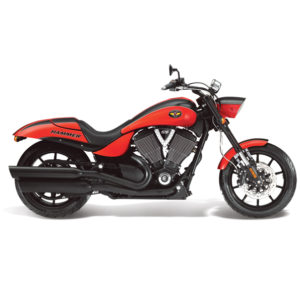 If you're after Conan-style muscle, the Victory Hammer S nails it!
Spec check
BIKE:
2011 Victory Hammer S
Price:
$27,495
Engine:
1731 cc 4-stroke V-Twin
Power:
72kW
Transmission:
Six-speed
Weight:
305kg
Seat height: 26.5in
Flex appeal
If muscle is what puts the sauce on your burger, then prepare to gorge yourself – this aptly named beast has enough hammer to make Thor bow down. Adding to the action, the long 65.7in wheelbase and fat 250mm rear hoop help it perform like Rambo on a mission to find a steroid sandwich.
Always bet on black
The stealthy black exhaust system and 18in wheels complement the sort of design that would get Batman excited. And with dual 300mm floating discs equipped with four-piston calipers, the Hammer S has some serious stopping power.
In your face
The speedometer and tacho are side-by-side in a chrome bracket for easy heads-up viewing. The super-bright multi-LED taillight provides the added assistance a rider wants in traffic or when fighting crime.
Easy does it
The inverted telescopic forks along with the handles and seating position give smooth steering and a riding experience second to no other cruiser on the market. And just to drive the superhero angle into the ground, the S in its name was inspired by the one on Superman's chest…we think.