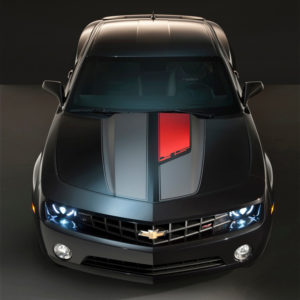 Chasing a Chevy? Go for the 2012 Camaro!
CAR:
2012 Chevrolet Camaro 45th Anniversary
Edition Price: $45,000
Engine:
6.2L V8
Power:
313kW
0-100km/h:
3.4 seconds
Living the dream
The Camaro has long been the dream car of speed freaks and petrol heads alike. We're talking about guys who value the rumble of a small-block V8 as much as paparazzi value a drunk Lindsay Lohan. And the 45th Anniversary Edition Camaro is going to put enough lead in their pencil to transcribe War And Peace.
Sound investment
For your entertainment needs, there's a 245-watt nine-speaker system – perfect for drowning out the smug voice on your GPS system. XM satellite radio is standard, along with power door locks and super-quick electric windows.
In the bag
Front and rear airbags cover every angle, and a front passenger detection system senses stray kids and short-arse adults. About a billion crash-test dummies gave their sturdy lives to bring you this nifty feature – possibly.
Get a grip
StabiliTrak control and 20in aluminum wheels are your rally resources here. She tips the scales at about 1682kg, but has an ideal 52/48 weight distribution. That's like having 31 Heidi Klums at your disposal.
Rear of the year
This baby has really got your back. A rear vision package adds a rearview camera, and an auto-dimming mirror helps the rear park assist feature. Rear spoilers also come standard.