By combining a rich history with modern flexibility, the luxury British automaker has managed to appeal to buyers old and new…
The late W.O. Bentley founded Bentley Motors with the aim of achieving utter perfection in his cars. But the company's current design director, Stefan Sielaff, is a fan of subtle imperfection — the Cindy Crawford's mole kind of flaw that is more an exclamation mark on perfection than a detraction from it. "You get into a Bentley and you see that it's done with love and care," Sielaff says. "You can see the human touch and that it was not done by robots. You need this little touch of imperfection. If something is too perfect and too precise, it's not natural anymore; it's artificial."
Sielaff believes that humans innately seek these indications of mortality amid the sublime. "If you have that little dark spot on the cheek, it's lovely and human and absolutely beautiful. That's why it's called a beauty spot."
Bentley earns its place in both the country club valet lot and the NBA player's parking space because of its unique ability to blend traditional luxury and modern performance. This dissonance provides the creative energy that keeps Bentley fresh to a younger generation of buyers, while other brands risk becoming musty and outdated. A brand like Ferrari stands for performance, and Rolls-Royce means opulence. Bentley's unique history allows it to bridge the two, thanks to the company's record of racing success at the 24 Hours of Le Mans and historical races at venues such as Brooklands, in England. Without that racing pedigree, Bentley's traditional stately styling and sumptuous, leather-wrapped, wood-paneled cabins, combined with the company's old boys' club ambience, could otherwise doom it to irrelevance among customers with more years still ahead of them than behind.
Bentley strives to balance these competing demands, aiming to ensure a connection to the company's rich heritage without being trapped by it. The company was founded in 1919 in Cricklewood, Northwest London, and delivered its first car in 1921, with the goal of producing automobiles that would rise above the dangerous, unsophisticated, and noisy vehicles of the era. That very first car carried Bentley's now-traditional radiator housing and "Flying B" hood ornament.
Success on the racetrack was a critical endorsement of a car's durability in those days, so Bentley entered the daylong Le Mans sports car race. The company's team of "Bentley Boys" won the fabled event in 1924, 1927, 1928, 1929 and 1930, building an enduring reputation for speed.
Bentley's flagship Mulsanne model draws its name from the famed Mulsanne Straight at Le Mans, where cars travelled flat out for 6km before organisers installed two chicanes in 1990 to slow them down. Because Bentley's success came not with lithe sports cars but hulking luxury machines, the company was dubbed "the world's fastest lorry" — British for truck — possibly by Ettore Bugatti.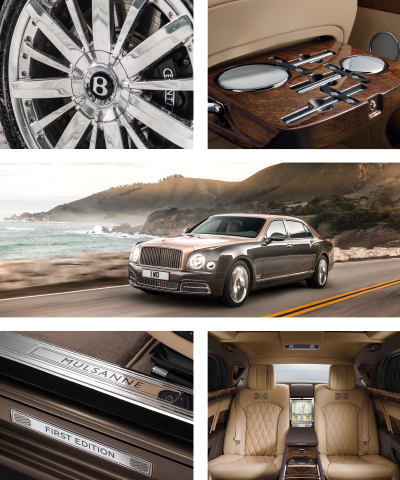 Clockwise from top left: As with most Bentley features, the wheels can be customised in multiple finishes; Comprising 50 vehicles across Bentley's Mulsanne line, the First Edition is the pinnacle of Mulliner's custom shop, featuring custom wood veneers, exclusive colours and materials and even a sterling silver vanity kit; The Mulsanne Extended Wheelbase is Bentley's way of providing first-class air travel at sea level; Extended rear legroom and reclining seats provide the epitome of comfort and luxury for those who prefer to be driven by a chauffeur — the Mulsanne EWB First Edition features airplane-style seating and an optional Champagne cooler; Sold in China, the Continental GT Speed Black Edition is a one-off creation, taking the exclusivity of Bentley to a new level
The company backed that up with an astounding feat of speed on public roads. Bentley chairman Woolf Barnato (who personally drove in the 1928, 1929, and 1930 Le Mans wins) bet £200 that he could drive Bentley's Speed Six coupe from the glitterati holiday spot of Cannes, on France's southern coast, to Calais, on the north coast, in less time than it would take the "Train Bleu" express train to make the same run. He did it easily, establishing the legend of the Bentley "Blue Train."
Bentley cemented its stature in 1952 with the R-Type Continental, a car described at the time by Britain's Autocar magazine as "a modern magic carpet which annihilates great distances." The R-Type Continental was not only the fastest four-seat luxury sedan in the world; its clean lines tapering behind its towering Bentley grille established the template for Bentley design that endures today. "This bodywork was extremely modern in the 1950s," Sielaff says. "It contains everything we are now doing with the new Continental we delivered at the [International] Motor Show" in Frankfurt in September.
The R-Type Continental's body was built by Mulliner, which was established in the 1500s as a shop for horse-drawn coaches. Mulliner continues today as Bentley's special projects group, which builds customers the most mind-boggling specialty models imaginable. Only two things restrain Mulliner's capacity for customisation: good taste and government regulations, Sielaff says. Customers who want tacky modifications or ones that upset people, such as animal fur, must turn to the aftermarket for their modifications.
Sometimes, however, customers are even willing to pay for exclusive custom bodywork. Mulliner built a series of 10 extended-body Mulsanne Grand Limousines for a "royal household in the Arabian world," Sielaff says. These machines are three feet longer than a regular Mulsanne, and feature four rear seats in rows of two that face each other. Other recent specials include the Bentayga Fly Fishing and the Bentayga Falconry, two specially-fitted SUVs that combine exclusive sports of the wealthy with a posh, go-anywhere vehicle able to deliver owners to their destinations.
These models provide the chance to try new materials that will help keep Bentley appealing to a new generation of customers, Sielaff believes. Traditional materials convey the warmth that is central to the atmosphere inside a Bentley, so buttery leathers and gorgeous woods remain key ingredients in the Bentley mélange. But the Bentayga Falconry by Mulliner, for example, tests a new cork fabric on its flight station and refreshment case, and the company is looking at ceramic finishes to give hard surfaces an appearance different from that of traditional polished or plated metal. "We are experimenting with these materials," says Sielaff. "They are not the cheapest, but they look brilliant."
And with interest from younger customers in upholstery that provides the sensation of leather without the involvement of an animal, Bentley is developing alternatives. "Millennials have a lot of money to spend and obviously they want something a bit more youthful," Sielaff says.
But any change will be measured. "The front end and the headlights: I'm not saying it must have four round headlights, but it should have something rather soft and round and not harsh, insect-like eyes." He adds, "Though we are pushing into a more modern statement, a Bentley should always still be immediately recognisable as a Bentley." ■
For the full article grab the November 2017 issue of MAXIM Australia from newsagents and convenience locations. Subscribe here.