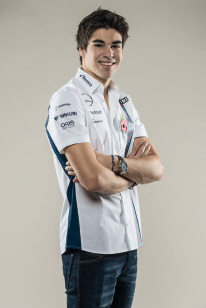 How are you feeling about your debut F1 season and how much of a step-up are you expecting it to be?
I'm expecting it to be a big step but I think I'm preparing myself well over the winter, so I'm really looking forward to it. It should be a really exciting season.
You smashed the European F3 championship this year. What lessons can you take from it into F1?
I think it's just generally a great championship to compete in, and to win. It's a long championship with 30 races; all tracks pretty much that we do in Formula 1 as well, on the European calendar. So that's good — and the competition level is really high. It's really important to manage the championship well, and that is a good lesson for Formula 1. For any championship you need to be consistent, you need to score good points every and I hope to bring that into Formula 1.
Williams is an historic name to make your debut with, your countryman Jacques Villeneuve doing the same in 1996. Was this a dream team for you growing up, and have you spoken with Jacques since signing?
I have spoken with Jacques, just briefly. He wished me luck and we got to know each other a little bit in Abu Dhabi, at the last race. I've always had a lot of respect for Williams, but I have to say my dream team has always been Ferrari just because my idol is [Michael] Schumacher and he was in the red car. I'm just happy to be on the F1 grid, and it's a bonus driving for Williams Martini Racing with so much history!
Talk us through your preparations for the 2017 season.
From the beginning of January until the first race, to the last week of March, I will pretty much be flat-out training and getting ready in the gym, and as well as in the factory, understanding the car and all the things that will be important to know for the first race. As much preparation as possible and there's the official test in Barcelona, I think the eight days, that will be really important to get a feel for the car before heading to Melbourne.
How are you preparing for the sport's hottest races like Singapore?
Again, just training in warm conditions and when we get to Singapore it's important to get used to the heat, to train in the heat and make it normal. Obviously it's going to be difficult, but it will be difficult for everyone. That's part of what's going to be cool about the new cars, they're going to be so different and they should be really physical to drive and I think it's going to be a good challenge for everyone.
Your father is a successful businessman and billionaire, what advice has he given you and how do you keep grounded?
I think keeping my feet on the ground is something I've been taught since I was a kid. My parents have educated me, just like other people. I've been told not to lose my way, and told not to be too cocky, just always be humble. It's really important to be like that. In terms of advice, he's not given me too much about racing since I started. I know a little bit more about driving a car than he does but he's just really supportive of what I do. He just wants me to enjoy what I'm doing every day and work as hard as I can in what I'm doing and again be humble and just enjoy the journey I think.
What would you consider a job well done this year?
I obviously want to be competitive and I want to do well. No-one knows where they will be with the new regulations, so the team, the car, will hopefully be in a good position. I want to improve every single race and want to get better and better and be stronger and stronger, but I really hope to just be a solid driver. There will be a lot to learn throughout the year, a lot to understand and improve on. I'm just going to push as hard as I can, help the team as much as possible and extract the most out of the car. And hopefully that will be the maximum. ■
For the full article grab the April 2017 issue of MAXIM Australia.
To grab a digital copy CLICK HERE. All past issues available for download.
To subscribe CLICK HERE. Australian residents only.
iPad Application also available. CLICK HERE. All past issues available for download.