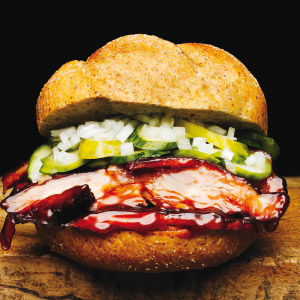 The king rib
Time – 10 minutes
Serves – 4 Sandwiches
● 500g leftover rib meat (horizontally cut off the bones from one rack)
● 1 cup BBQ sauce
● 4 x 15cm sandwich rolls or buns, split
● 8 dill pickle slices
● ½ cup finely chopped sweet onion
1. Wrap meat in foil and store in refrigerator. When ready to make the sandwiches, cut meat into four equal portions and warm on a baking sheet in the oven or toaster oven at 180°C (or in a large skillet over medium heat), three-to-four minutes each side.
2. Pour the sauce into a large shallow bowl. When the pork is thoroughly heated, use tongs to dip each piece of meat into the sauce to completely cover on both sides.
3. Lay one pork piece on the bottom of each roll. Arrange two slices of pickles on top of the pork. Scatter 2 tbsp of the onions over the pickles and pork. Cover each sandwich with the top of the roll. Serve immediately or, if you like, microwave each sandwich for 15 seconds to give it that "fresh from under the fast food lights" heat.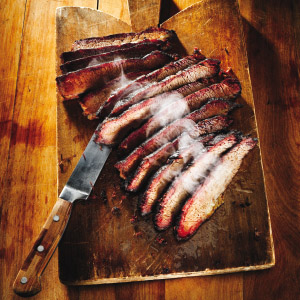 Smoked Brisket
Time – 14 Hours
Serves – 8-10
● 3.5kg – 4.5kg beef brisket
● 2 cups Bub City Brisket Rub (1 part coarse black pepper, 1 part kosher salt, ¼ part cayenne pepper)
1. Pre-heat smoker filled with hickory to 105°C.
2. Coat brisket with the rub.
3. Let brisket sit at room temperature until the rub begins to "sweat" – about an hour.
4. Place the brisket fat side down and let it smoke for 12 hours. After letting it rest for one hour, slice against the grain and enjoy!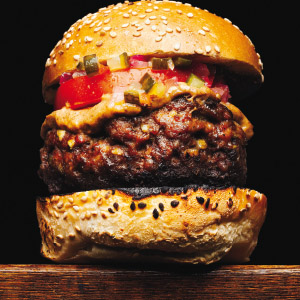 Five-Spice Lamb Burger
Time – 2 Hours
Serves – 4
FIVE-SPICE AIOLI
● ½ cup mayonnaise
● Juice of 1 lime
● 2 tsp five-spice powder
Mix ingredients in a small bowl. Store in refrigerator.
CUCUMBER RELISH
● 1 tsp coriander seeds
● 1 tbsp vegetable oil
● ½ red onion, finely diced
● 1 red finger chilli, seeded and diced
● ¼ cup white wine vinegar
● ¼ cup sugar
● 1 English cucumber, seeded and diced
● Kosher salt
● ½ bunch fresh mint, stemmed and chopped
1. Toast the coriander in a sauté pan over medium-high heat until fragrant. Drizzle in the oil, add onion, and cook, stirring, till translucent. Stir in the chilli and vinegar, then stir in sugar till it dissolves.
2. Add cucumber and cook 5–7 minutes over medium heat, and reduce slightly, achieving a light glaze consistency. Season the relish with salt; let mixture cool.
3. Just before serving the relish, stir in the mint, and season with salt (to taste).
● 1kg ground lamb
● 1 shallot, minced
● ½ tbsp fresh ginger, minced
● 1 clove garlic, minced
● 1 egg yolk
● 1 tbsp five-spice powder
● Kosher salt and freshly ground black pepper
● 4 buns
● 1 ripe tomato, sliced
1. Put the lamb, shallot, ginger, garlic, yolk, and spice powder in a bowl, and mix well. Season with salt and pepper. Divide and shape the lamb mixture into four 225g burger patties. Place the patties in the refrigerator for one hour to allow the flavours to infuse.
2. Preheat a grill to medium-high and lightly oil the grate. Grill the lamb patties until they are seared on both sides and cooked through. Remove patties from the grill and set aside. Put buns on the grill, cut-side down, and toast until golden.
3. Put the lamb patties on the toasted buns, slather with the Five-Spice Aioli, pickled cucumber relish, and sliced tomato.
For the full feature and images grab the February 2014 issue of MAXIM.
To grab a digital copy CLICK HERE. All past issues available for download.
To subscribe CLICK HERE. Australian residents only.
iPad Application also available. CLICK HERE. All past issues available for download.