Bérénice Marlohe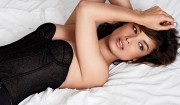 It's been 50 years since the most enduring movie franchise of all-time exploded onto the big screen with the line "Bond. James Bond." The series' mix of cool charisma, mind-blowing gadgetry, and scorchingly beautiful women continues with the 23rd instalment, Skyfall. So what better way for MAXIM to help 007 get his semi-centenary on than in the company of the smokin' new Bond girl? Presenting, for your eyes only, French-Cambodian-Chinese beauty and Skyfall star Bérénice Marlohe.
Is Skyfall the best Bond movie of all-time?
It's a terrific script. And I think they've never had such a great cast, like Ralph Fiennes, Daniel Craig, Javier Bardem, Judi Dench… and Bérénice Marlohe.
Tell us about your character, Sévérine.
I like the word enigmatic, because I created her in a way that she is not obvious. You can't put her in a field like bad or good.
Are there any behind-the-scenes stories you can share about filming?
Well, I missed Daniel Craig naked, unfortunately. I think I'm going to commit suicide right now.
What kind of training did you do for the role?
I did some fight training and trained with guns. Big guns.
Are you good at shooting now?
I am. Yeah, baby!
That's hot. Are you single?
Yes, I am. A good Bond girl is a single Bond girl.
So does a MAXIM man stand a chance?
If they know how to cook, how to give Thai massages, how to… a lot of things, actually.
What should we cook?
Thai stuff and Italian. Real Italian pasta, like grandmothers do. And desserts, too. Very important.
What's the worst pick-up line a guy has ever tried on you?
One time on the subway, this show-off got on, saw me, and started flexing his muscles and grinning at me with this stupid "I'm going to seduce you" look. As he was looking at me, he turned and walked right into a pole – took it right in the face! It was like a comedy scene.
Do you have any crushes?
Christopher Walken. He's one of the most talented actors, and I really like his charisma.
What if Walken asked you on a date but then he burped and farted?
It would be like a divine expression of his love, so I would allow him to do that. Like, you know, when babies do a poop, it's like a present for their mother. So I would consider that an honour! If you're reading this, Christopher Walken, I love you!
For the full feature and images grab the December 2012 issue of MAXIM Australia.
To grab a digital copy CLICK HERE. All past issues available for download.
To subscribe CLICK HERE. Australian residents only.
 iPad Application also available. CLICK HERE. All past issues available for download.